12 Fall Decor Items to Buy at the Thrift Store
Please note that this post contains affiliate links. As an Amazon Associate, Rewards Style influencer and Jane Influencer, we earn from qualifying purchases and any sales made through such links will reward us a small commission – at no extra cost for you.
12 Fall Decor Items to Buy at the Thrift Store
Welcome to our monthly installment of Thrifty Style Team! This is the place where we get together with our talented and creative blogger friends every month. We each makeover, repurpose or transform something from our homes or thrift stores. This month we offer 12 fall decor items to buy at the thrift store. Let's get started!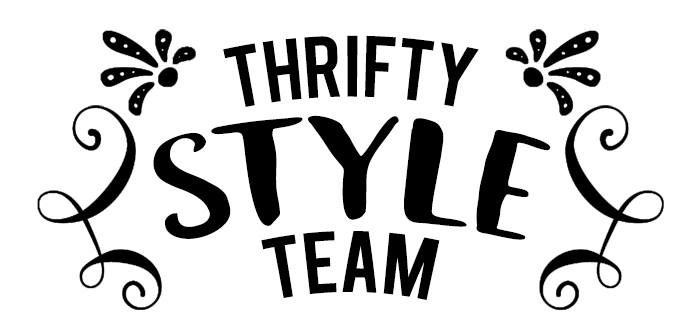 This is our first official post for the fall season. It seems that folks are either holding onto summer with all of their might, or they are already breaking out the flannel and making pumpkin-spice-everything! We are definitely Team Flannel over here!
Some of our best fall decor came from thrift stores. So that you're ready for our favorite season, we are sharing the top fall decor items to buy at the thrift store.
Copper Items
We think that copper is a perfect metal to mix in with your other decor. If the patina is darkened – even better!
This next photo was taken in a high-end design store. The copper and wooden dough bowl were inspiration for when we made DIY Spice Candles in a Copper Mug.
Copper molds can be displayed in a variety of ways.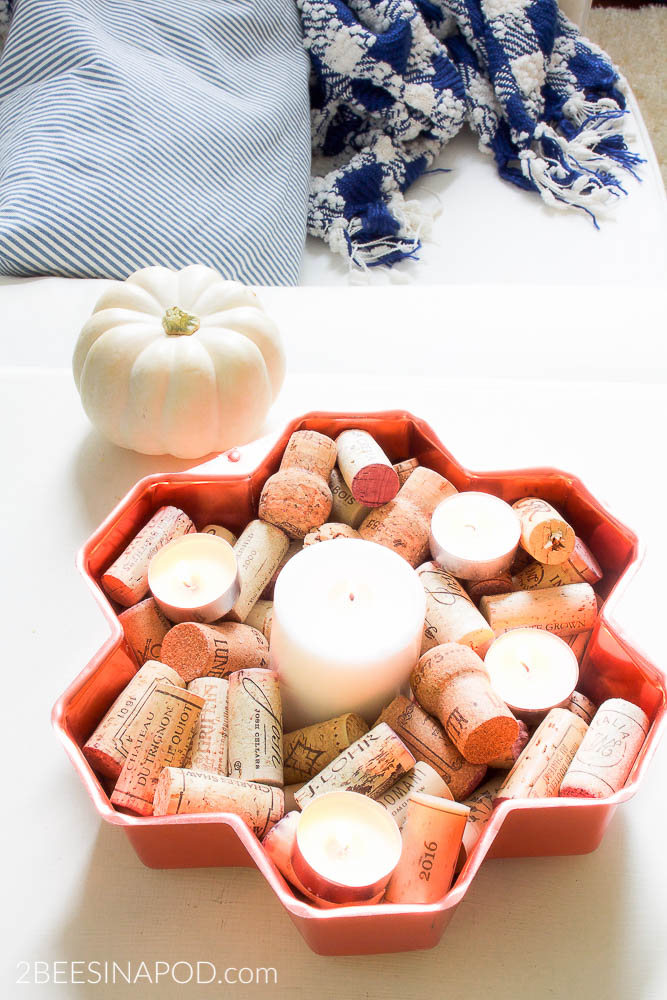 Books
If you have followed 2 Bees for any amount of time, you know how much we love to decorate with books. Most times, thrift store books are one step away from being incinerated. We prefer to breathe new life into them by using them in our home decor.
Frames
Every visit to the thrift store, we find loads of frames in a variety of sizes, shapes and styles. Frames are perfect for a makeover or as a way to showcase a fall printable.
Wooden Bowls and Wooden Containers
Although We have never personally found a dough bowl at a thrift store, we know a few people that have.
Here's a cutie that we did buy at the thrift store.
It made for the perfect fall floral centerpiece.
Trays
Trays are a weakness for us. They are perfect to collect as they don't take up a lot of space. You can use them in a variety of ways to quickly change out your tabletop decor. Our sunflower centerpiece came together within a few minutes. It looks perfect on this wicker tray.
A Dutch tulip crate makes for a perfect tray as well. We typically include it for our fall family room tour.
Candle Holders
You can usually find loads of candleholders at the thrift store – especially brass or glass. Brass blends perfectly with copper for a beautiful tablescape.
Wreaths
We look for wreaths year-round. Lots of times we buy thrifted wreaths strictly for the base, especially if the are large grapevine wreaths.
This oversized embroidery hoop was found at a local store. Jenn created a beautiful fall hoop wreath with it.
Pumpkins and Gourds
This just might be our favorite category. We have found so many fabulous gourd and pumpkins at the thrift store. A lot of people pass up natural gourds because of they are dirty or they don't like the color. Here are our best tips for gourds.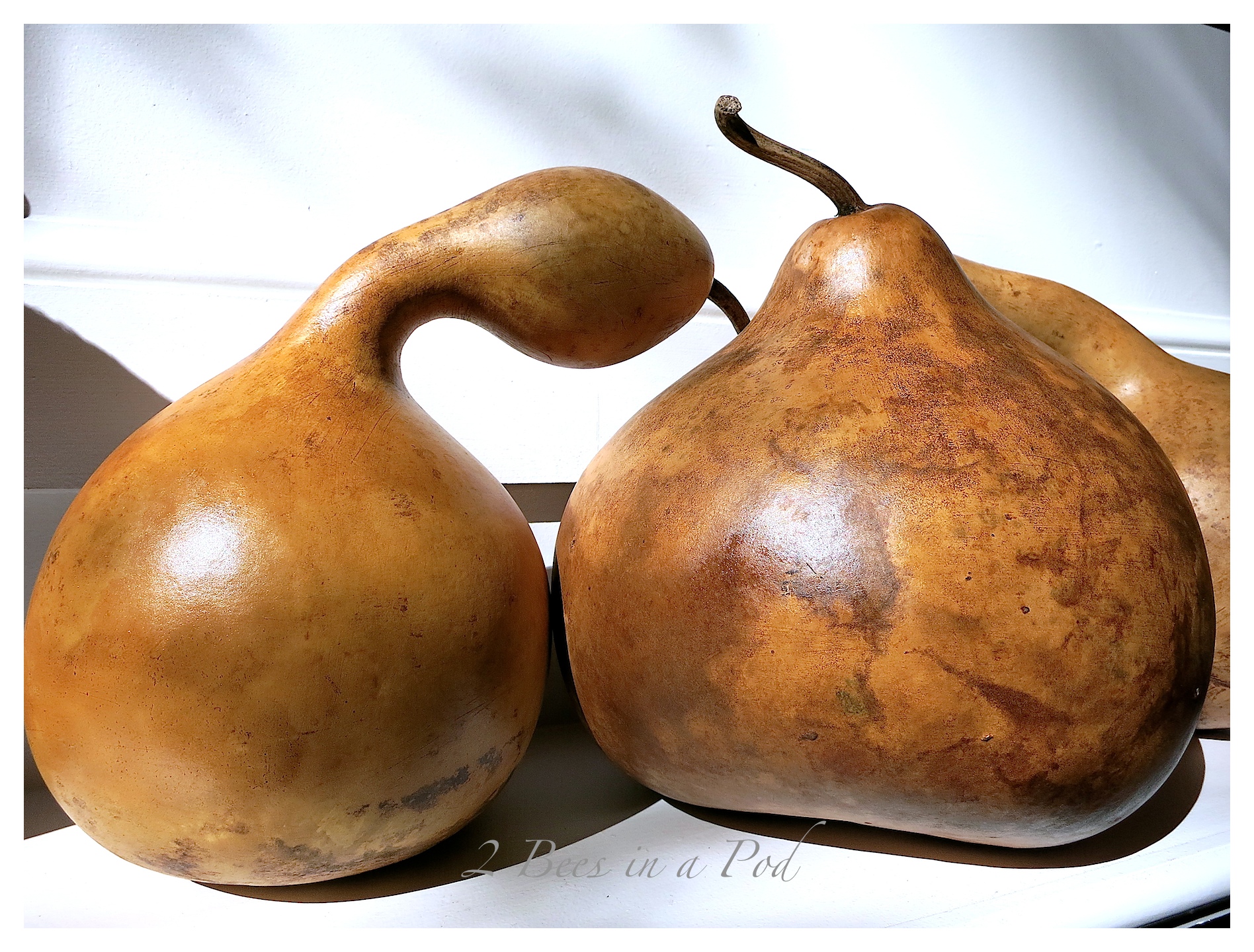 Any faux pumpkin can be altered to make it look the way that you want it too. It is so cost effective to buy these at the thrift store instead of the craft store.
We took a humble plastic jack-o-lantern to the next level. From this:
To this:
A little bit of chalk paint does wonders for these painted pumpkins.
Right?
Baskets
Baskets can be pricey, no matter where you shop.
Look for all shapes and sizes.
Fall Colored Glass
Colored glass does wonders for your home decor – no matter the season. Over the years we've collected purple and amber glass.
They look beautiful displayed throughout our homes. Here's a tablescape that we created a few years ago for a fall wine dinner.
These amber bottles look great in a tiered tray display.
Throws
Throws add instant warmth and coziness to a space.
We love to use them inside and outside of our homes.
You never know when you might catch a chill when sitting out on the front porch.
We especially love to have them handy – draped over a chair or on a sofa.
Glass
This category is different than colored glass. Here we are specifically talking about the inexpensive, clear glass pieces.
We love to alter these with spray paint to fit our personal decor tastes.
These pieces got a copper mercury glass finish.
We hope that you have been inspired in some small way today!
Don't forget to Pin this to your favorite Pinterest board!
Now lets see what our Thrifty Style Team members have to share!