Painted Plastic Jack-O-Lantern Makeover
Please note that this post contains affiliate links. As an Amazon Associate, Rewards Style influencer and Jane Influencer, we earn from qualifying purchases and any sales made through such links will reward us a small commission – at no extra cost for you.
Who knew that a painted plastic jack-o-lantern makeover could look this good?
Admittedly, I am overly-excited to share this post today. This is because my painted plastic jack-o-lantern makeover project cost me a grand total of 10¢. And I love how it turned out! An added bonus for you is you will find links to the other Thrifty Style Team members and their below.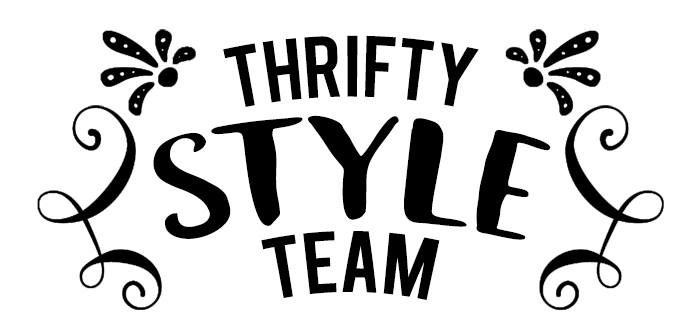 Cheap and Garish
We've all seen these plastic pumpkin jack-o-lanterns. Typically they are used by kids going trick-or-treating. I purchased mine at the thrift store for jus ten cents.
Using wire cutters, I easily clipped the pumpkin handle for removal.
All other materials were in my craft stash.
This is how you do it
Use an off-white craft paint color for best results.
Paint 1 good coat of craft paint. Let dry completely.
Paint another coat of paint, checking coverage. You don't want any bright orange showing through.
After the jack-o-lantern is completely dry, begin adding flowers.
Flowers can be faux or real, being that the jack-o-lantern is water tight.

The craft paint covered well after two coats.
My plastic jack-o-lantern had a bit of texture which lends to an authentic look, after painting.
Again, using florals from my stash I created a casual and pretty arrangement.
When creating an arrangement, it is best to cut the stems apart for a more authentic look.
All of the florals and most of the greenery was scored at the Dollar Tree.
Does anyone know what this twisting vine thingy is called? I've been using it in many displays and arrangements for years. Take a look at my cozy and inviting fall porch last year.
Creamy white silk flowers look soft and pretty with the greenery.
Next week I'll be sharing my fall mantel decor. Stay tuned!
Now, lets see what the other Thrifty Designers have created this month! Just click the links below!
Don't forget to Pin this to your favorite Pinterest Board!