Thrift Store Planters – Thrifty Style Team
Please note that this post contains affiliate links. As an Amazon Associate, Rewards Style influencer and Jane Influencer, we earn from qualifying purchases and any sales made through such links will reward us a small commission – at no extra cost for you.
Avoid expensive indoor garden containers by using thrift store planters.
Yesterday, we shared our best spring container garden tips and ideas for beginners. Today, our focus is turned indoors using thrift store planters.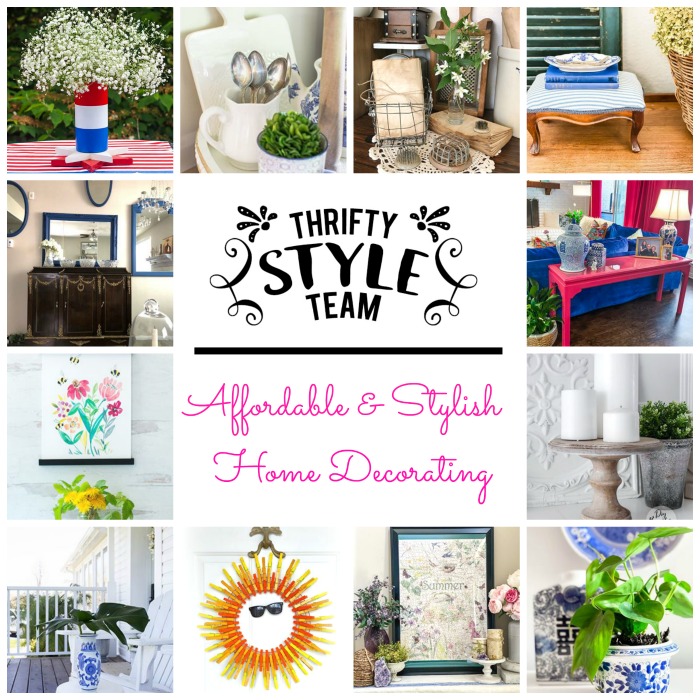 Welcome to this month's installment of our Thrifty Style Team.This is the place where we get together with our talented and creative blogger friends every month. We each makeover, repurpose or transform something from our homes or thrift stores. Let's get started!
Easy Peasy
A couple of years ago we shared our thoughts on the easiest plants to grow indoors. Hands-down winner for us is pothos ivy. This pretty green plant is hardy, grows in soil or water and is practically impossible to kill. Trust us, we know! All of the plants in our thrift store planters were started from this plant. Over time, we just clip off a few leaves and stick them in a mason jar of water. When the roots sprout, we transplant the leaves into a planter.
Shopping the thrifts stores, we are always on the hunt for blue and white items. This little cutie cost a whopping .50¢.
It makes for a perfect planter filled with water and some pothos ivy leaves. Even the pretty pagoda is from the thrift store.
This gorgeous planter was a gift from my friend Linda.
I separated the large plant and transplanted part of it into this planter.
Serendipity shined down upon us with this adorable "dig" planter. You see, I had purchased the exact planter at HomeGoods awhile back.
Once I arrived home, I opened the liftgate of my SUV and the planter rolled out and onto the ground. It shattered without ever being taken out of the shopping bag.
On my last thrift store shopping outing before current stand in place requirements, I found an exact replacement. The saucer is a thrifted find as well.
We know that shopping thrift stores currently is not advisable. You can shop your own home or garage for planter ideas. You might surprise yourself with what you find.
teacups or mugs
bowls
cans – remove labels and paint or decoupage
mason jars – you can paint them like THIS
Let us know what you use as an indoor planter.
Don't forget to Pin this to your favorite Pinterest Board!
Now let's see what our talented team members have created this month!