6 Items To Look For At The Thrift Store
Please note that this post contains affiliate links. As an Amazon Associate, Rewards Style influencer and Jane Influencer, we earn from qualifying purchases and any sales made through such links will reward us a small commission – at no extra cost for you.
Our homes are decorated with a lot of our thrifted finds and makeovers. Here are 6 items to look for at the thrift store.
We get a lot of questions from you about our thrift store shopping adventures. Jenn and I love to thrift, bargain shop, yard sale and estate sale. Also, we get excited over a great deal and the thrill of the hunt! You've asked us what we look for and ultimately buy. We typically look for items that can be used in our own homes and that don't cost very much money. These are the 6 items to look for at the thrift store.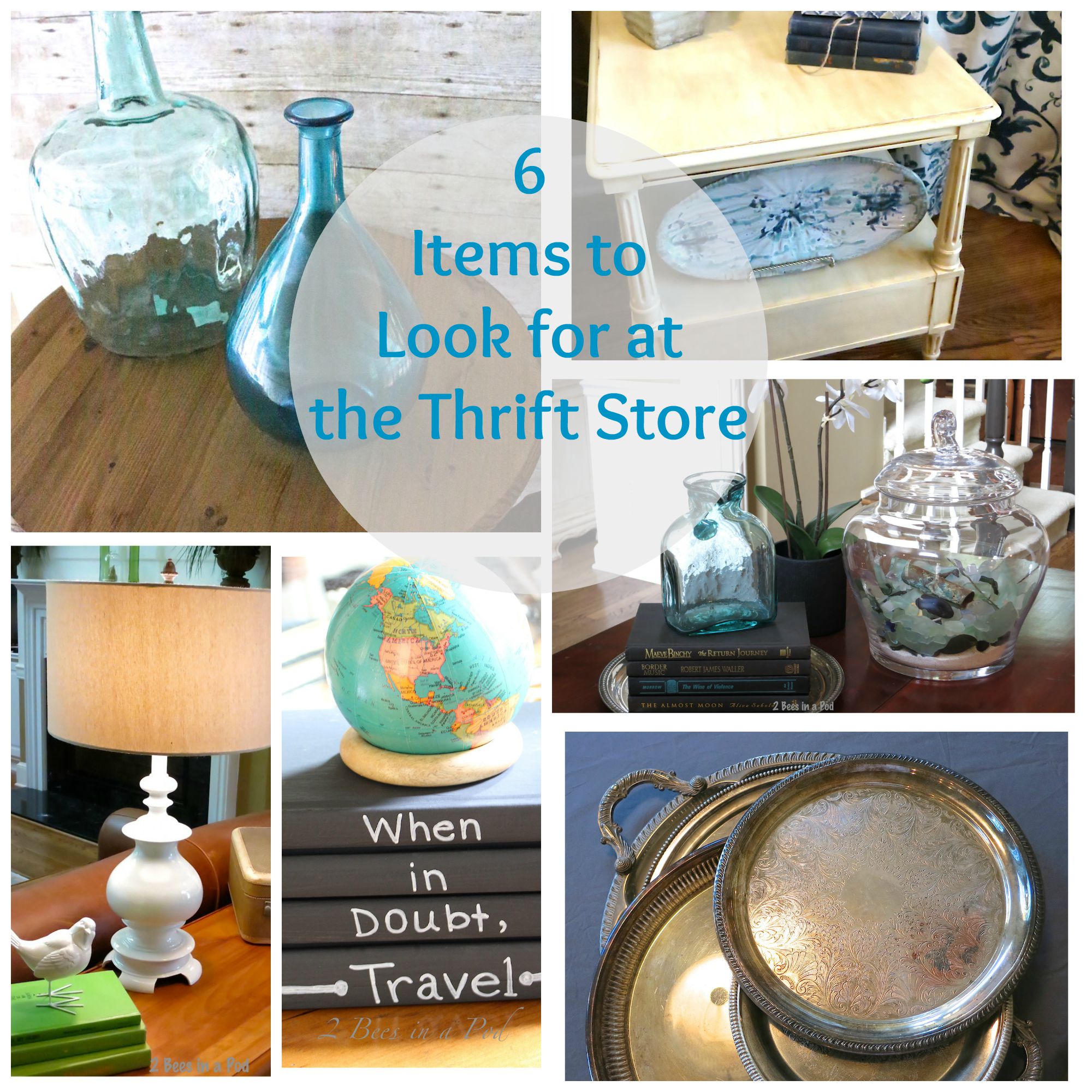 Today, this post is for you! Here are our top 6 Items To Look For At The Thrift Store:
1. End Tables
We are addicted to end tables. I know that sounds crazy but let me explain. End tables are small and they can be used in home decor in a multitude of ways. They can be tucked in a corner, used at the end of a bed, extra seating for dining or as a foyer table. And of course – they can be used in the traditional way as a side table.
I bought this table for $10. I love the spindle legs and its size. The color is a different story. After painting it in a creamy white this table has been used in my foyer, upstairs office area and Jennifer's front porch.
$10 Thrifted Table Gets a Makeover
Our end table was a $5 deal because it was missing a drawer. The size was perfect for my living room and I really liked the shelf at the bottom. The missing drawer didn't bother me at all…I turned that side to the wall and you would never know. Don't discount a find like this. You could also use a basket for the opening space.
2. Lamps
Lamps are some of the best purchases you can make – especially brass lamps. They are inexpensive, heavy, sturdy and easy to paint.
With just a coat or two of spray paint you can achieve an updated look in minutes. This lamp was painted in glossy white…
Our brass lamp was spray painted as well..
…with Looking Glass spray paint that looks like Mercury glass.
Easy Lamp Makeover with Spray Paint
3. Silver Trays and Platters
Trays and platters can be used in a lot of ways. We never spend more than $5 for each tray.
They can be used as plate chargers…
Using Silver trays as Plate Chargers
Here's one that I painted with chalkboard paint for the dining room…
4. Frames
You can take a grouping of mismatched frames…
…and give them a cohesive look by painting them all the same color.
Thrift Store Frame and Printed Book Page Art
This frame was .50 cents! I added book page art – which brings me to our next category
5. Books
We are always on the hunt for books to use in our decor. We try to always spend 25-50 cents for each book. By removing these covers…
…you can find books that all have the same cover color.
We have also painted the book covers to achieve the look that we want…
6. Items to Repurpose
Last, but not least is items that can repurposed. Be on the lookout for things that can be reused or reworked in a different way.
Like this cutting board…
…that became a new table top.
Cutting Board into New Table Top
Or these furniture legs…

…that we used as curtain rod finials.
* Tips
Here are some other thrift shopping tips that are our standard guides:
Keep a running list of items that you are looking for.
Designate a budget and stick to it. Lord knows, we can get carried away sometimes.
Take a tape measure. You don't want to make a purchase only to discover that it is too large for your space.
Consider buying holiday items in off-season. You get better deals this way.
Keep an open mind. You never know what you will discover.
Go down each aisle twice – in opposite directions. You will be surprised by what you missed the first time.
When buying furniture, check it carefully. Specifically look at the condition of the body, if there are drawers make sure they slide easily and check for odors. Chairs need to be in great condition. If they are not sturdy this can be a difficult and costly repair.
I hope this list is helpful. What are your best thrifting tips? We love to hear what your good deals are!
Until tomorrow,