10 Ways to Add Coastal Style to Your Home
Please note that this post contains affiliate links. As an Amazon Associate, Rewards Style influencer and Jane Influencer, we earn from qualifying purchases and any sales made through such links will reward us a small commission – at no extra cost for you.
10 Ways to Add Coastal Style to Your Home
Unfortunately, most of us don't live on the beach. Wouldn't it be nice if we did? I like to add bits and pieces of decor that remind me of the beach and special vacations. Here are 10 ways to add coastal style to your home.
Create Pretty Decoupaged Oyster Shells
Several months ago I showed you how to make decoupaged oyster shells. They are so easy to make and look cute in vignettes. You can even place them on a vanity for rings and jewelry.
Make a Rope-Wrapped Candle holder
When I visit a beach, I can never resist picking up shells. I intend to go for a walk, but the next thing I know my head is down and I'm looking for seashells in the sand. A rope wrapped candle holder is a great way to add a coastal touch to your home. You can use some of your beautiful, collected seashells.
Succulents, Sand and Shells
Several years ago, I was looking for a way to add succulents and shells to my decor. I created these pretty coastal inspired succulent gardens.
Display Souvenir Shells in Unique Ways
Look at all of these gorgeous blue seashells! Being an east coast girl, I had never seen blue mussel shells on the beach before. Needless to say…some of these came home with me. After giving the shells a good cleaning, I decided to display them in vintage silver sugar bowls.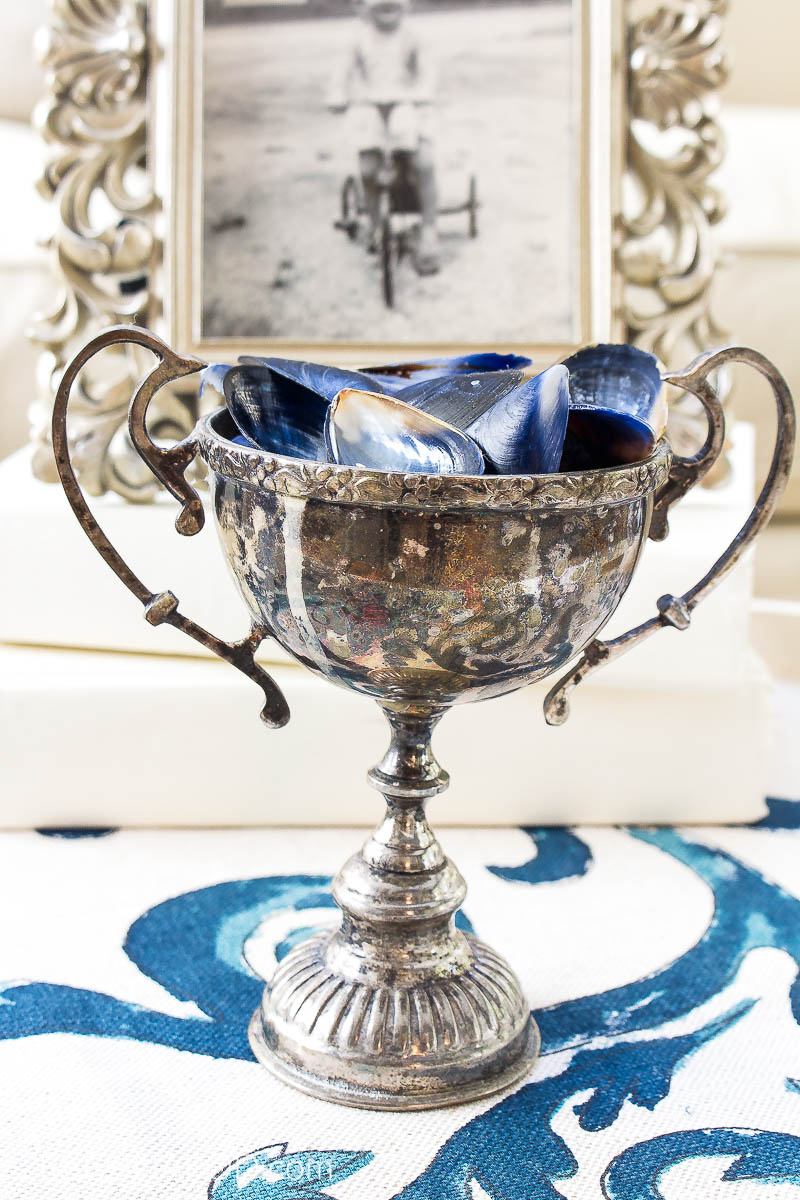 Showcase Vintage Bottles
This vintage bottle was lucky find from a beach in Cape Cod. I love that the bottle had started to collect barnacles. The color is perfect for beach decor.
Make a Nautical Sign or Art Piece
You can even make a sign. This DIY burlap canvas beach art took minutes to create by using rope, hot glue, shells and sea glass. You can read the tutorial HERE.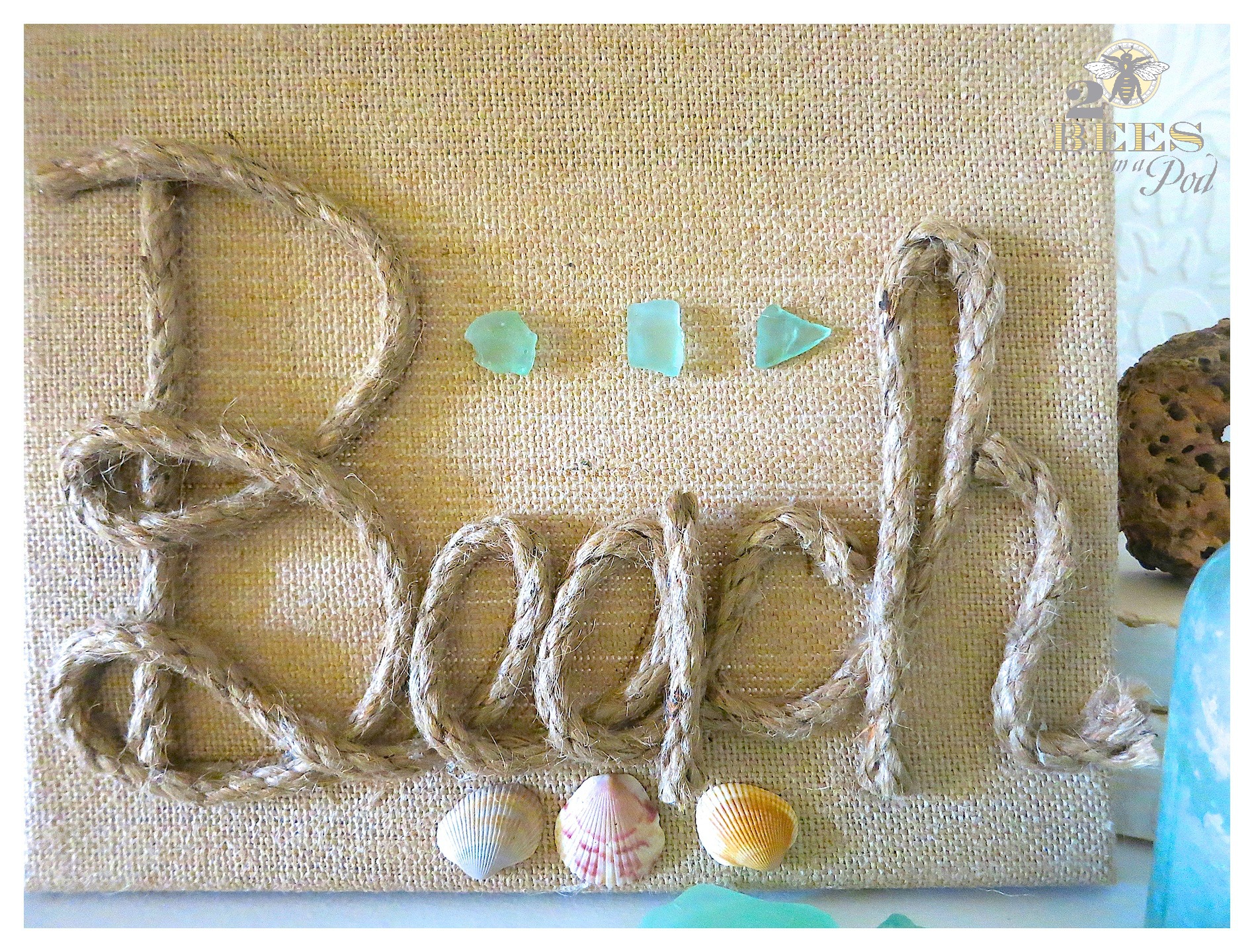 Add a Starfish
It doesn't take much to create a coastal vibe in your home. All I did for this coffee table grouping was add a starfish.
Beach Colored Glass
Grouping same-colored glass bottles is an instant beachy vignette. Especially when those bottles are in shades of aqua's or blue's. If you don't have enough bottles, we've got you covered. Follow our tutorial on How to Make Sea Glass Bottles.
Display Sea Glass
Over the years I have been fortunate enough to visit a lot of beaches. It has taken me a looooong time to find and accumulate enough sea glass for displays. I love adding the sea glass with some beach sand inside clear-glass containers. In this particular display, I also added a piece of metal that I found while collecting shells.
You can also separate sea glass by color. In this vignette, I used all of the emerald green sea glass.
Make Napkin Rings
Several years ago, while on a beach vacation, we had a very rainy day. I decided to make napkin rings with some of the shells that I had already collected.
Hopefully, you have been inspired in some small way today. Do you add coastal items to your home decor? We'd love to hear about it!
Don't forget to Pin this to your favorite Pinterest board!