10 Easy Ways to Add Summer Style to Your Home
Please note that this post contains affiliate links. As an Amazon Associate, Rewards Style influencer and Jane Influencer, we earn from qualifying purchases and any sales made through such links will reward us a small commission – at no extra cost for you.
Officially, the first day of summer is just three short weeks away. Here are 10 easy ways to add summer style to your home.
Hello friends! Hopefully you had a wonderful holiday weekend. In our area the weather did not cooperate, but it was still a very relaxing weekend. We binge-watched movies and favorite Netflix shows, read magazines, ate delicious home-cooked food and gave ourselves permission to be lazy. It was wonderful! Children in our family are already out of school for the summer and most people we know are already on vacation. This weekend I moved a few things around the house to create more of a summertime vibe. I created a list of 10 easy ways to add summer style to your home.
It really doesn't take a lot of time to lighten things up.
Change Out Your Pillows
Use lighter and brighter colors during summertime.
It's fun to use a favorite quote too.
Add Beach Color Glass
Think of the colors of the ocean – aqua, turquoise, green and blue. Any variation of these colors will look beautiful added throughout your home.
Even glass water bottles look pretty.

Vintage glass bottles look perfect as well.
Seasonal Harvest
Even your groceries and farmer's market purchases become part of the summertime decor in my opinion.

At this time of year we always have a plentiful amount of fresh fruit and veggies. Luckily for us, most of them are locally grown.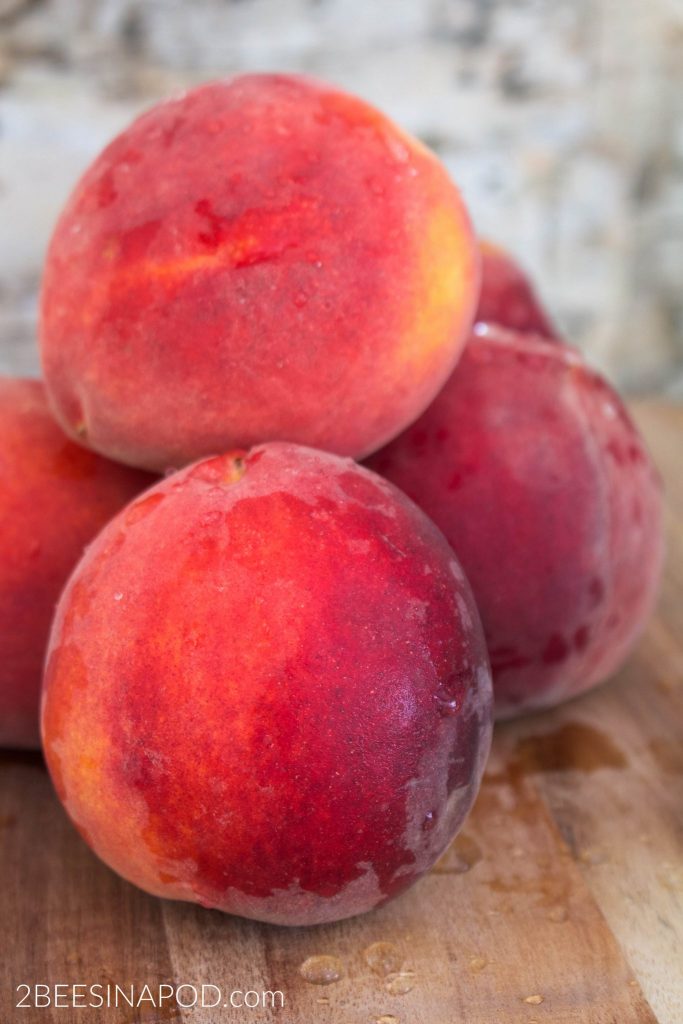 I always keep a big bowl of all of these fresh goodies on our countertop so that they are easily accessible. During the summer months we eat lots of fresh tomatoes, watermelon, berries and peaches.

Rearrange Vignettes
This is the perfect time to make a few tweaks to your vignettes. Nothing drastic – unless you still have Easter or Spring related items displayed. You might be surprised by what a few changes might make in the overall look of your room.
Display some of your favorite summertime collections or photographs.
Maybe you like decorating with blue and white like I do. Go for it!
Pull it all together in one big collection.
Add Greenery and Plants
Bring the sunshine and outdoors inside the house. Clip some greenery from outside if you don't have any plants. Add it to a vase or glass container with water.
Move your existing plants to another location in the house for a different look.
Add Coastal Elements
Now is the perfect time to bring out those seashells that you have collected. I added some shells to these Coastal Inspired Succulent Gardens that I created.
Or how about this miniature brass telescope and coral?
In this display I just added seashells to a wooden bowl.
My collection of seaglass looks beautiful displayed in this apothecary jar.
Think of using books in your favorite colors of summer.
Casual Summertime Tablescapes
Summer is the perfect time to be more casual and laid back. Use colors of the beach…
…the summer holidays…
…or whatever strikes your fancy. Anything goes.
Flowers From the Garden
Jenn and I are so fortunate to each have hydrangea bushes growing in our yards. This year seems to be the best growing season for us. Depending on the soil, sun and when we clip them – the bloom can be purple, blue, lilac, white or pink.Whether you have hydrangeas, roses, peonies or other flowers growing in your yard – clip some blooms and bring them in the house.
You will appreciate them more inside the house.
At least, I do LOL.
Change Out Artwork
We never have expensive art pieces, so it's easy for us to change it out seasonally.
Little pieces like this one cost about $4.00 and they look so cute on a nightstand.
This is a sentiment we can all appreciate.
How cute are these sweeties at Jenn's back door?
Summertime Recipes
What better way to bring summertime into your home than with good food? Some of our favorites are Easy Homemade Peach Ice Cream.
I hope that this list of 10 easy ways to add summer style to your home has inspired you. What are your favorite ways to celebrate summer in your house?
Don't Forget to Pin This to Your favorite Pinterest board!