Please note that this post contains affiliate links. As an Amazon Associate, Rewards Style influencer and Jane Influencer, we earn from qualifying purchases and any sales made through such links will reward us a small commission – at no extra cost for you.
Hey y'all…we hope that you had a wonderful weekend. Here in the big city of Atlanta our temperatures dipped considerably but we have had perfect Fall weather. Crystal blue skies, first fire in the fireplace and homemade soup simmering on the stove.
Exactly one year ago today, I had pneumonia – I know, this hasn't been my year 🙂 I remember trying to breathe and get relief by any means possible. I should have bought stock in Vick's Vapor Rub…I went through multiple tubs of that stuff and I love it. I put it on the bottom of my feet, rubbed it all over my neck and chest and also dropped some in my hot bath tub.
Even though I was so ill at the time, I decided to make myself a heating pad.  My sweet Honey Bee carried Big Bertha, my sewing machine, downstairs for me.  I found a cute fabric remnant in the closet and I sat down to work.
Since this heating pad was for me I didn't get too detail oriented with my design. I free cut two squares approximately 12×12.  I wanted the heating pad to be large enough to cover my chest.
With the right sides of the fabric facing each other, I sewed three of the sides together.
I clipped the corners and turned the fabric right side out – almost like a large pocket.
I then created four channels by sewing a stitch from the bottom seam of the pouch towards the top of the pouch. I left about a 1/2 space to allow for a hem later.  These stitches are about 1 1/2 inches apart.
I then filled each channel with dry white rice. I filled it almost to the top stitch, being careful not to overfill it.  I wanted the rice a little loose and with the channel seams, the heating pad can be easily molded to fit where you want it.  For example, it feels great rolled and placed under my neck.
After the channels were filled with rice I folded the open seam twice and sewed it closed.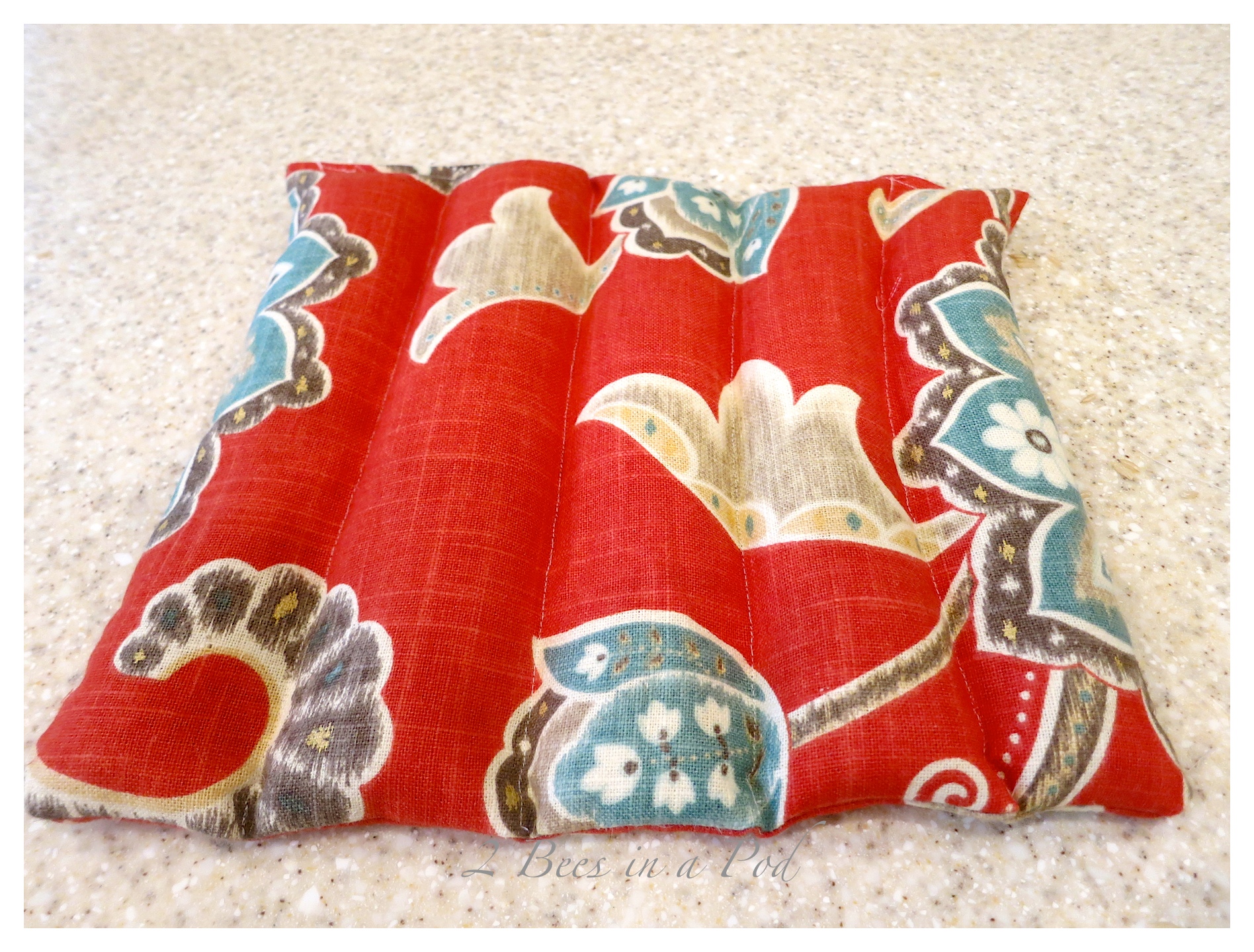 This heating pad can be placed in the microwave for safe heating.  I placed it in my microwave for two minutes and the heat temperature was perfect.  The rice holds the heat longer than a commercial heating pad and it is so soothing.
I have since made many more of these heating pads in various sizes. They are great to use on your abdomen if you have cramps or tummy troubles. I used mine on my chest to help with breathing. You can basically use one for all of your aches and pains. Remember it's that time of year when people tend to get sick – be sure to take care of yourself 🙂 But, just in case – you may want to make a heating pad to have on hand …and some Vick's 🙂