Please note that this post contains affiliate links. As an Amazon Associate, Rewards Style influencer and Jane Influencer, we earn from qualifying purchases and any sales made through such links will reward us a small commission – at no extra cost for you.
I'm having a pity party…I have been sick for almost four weeks now!  I started out with pneumonia which was no picnic to deal with. It was like two elephants sitting on my chest and uncomfortable to breathe.  I was dutiful in taking all of my antibiotics, prednisone and used a nebulizer.
I still have a cough and a bad case of laryngitis.  I haven't heard the sound of my own voice for two weeks now.  Which also means no one else has heard my voice either.  Very frustrating!  Yes, I have been feeling very sorry for myself as of late.  To pull myself out of my funk I decided to make something to make me feel a bit better.
Warm heat on my chest feels so good.  I've already gone through almost an entire tub of Vick's Vapor Rub, but man I love that stuff.  I decided to make myself a heating pad.  My sweet Honey Bee carried Big Bertha, my sewing machine, downstairs for me.  I found a cute fabric remnant in the closet and I sat down to work.
Since this heating pad is for me I didn't get too detail oriented with my design. I free cut two squares approximately 12×12.  I wanted the heating pad to be large enough to cover my chest.
With the right sides of the fabric facing each other, I sewed three of the sides together.
I clipped the corners and turned the fabric right side out – almost like a large pocket.
I then created four channels by sewing a stitch from the bottom seam of the pouch towards the top of the pouch. I left about a 1/2 space to allow for a hem later.  These stitches are about 1 1/2 inches apart.
I then filled each channel with dry rice. I filled it almost to the top stitch, being careful not to overfill it.  I wanted the rice a little loose and with the channel seams the heating pad can be easily molded to fit where you want it.  For example, it feels great rolled and placed under my neck.
After the channels were filled with rice I folded the open seam twice and sewed it closed.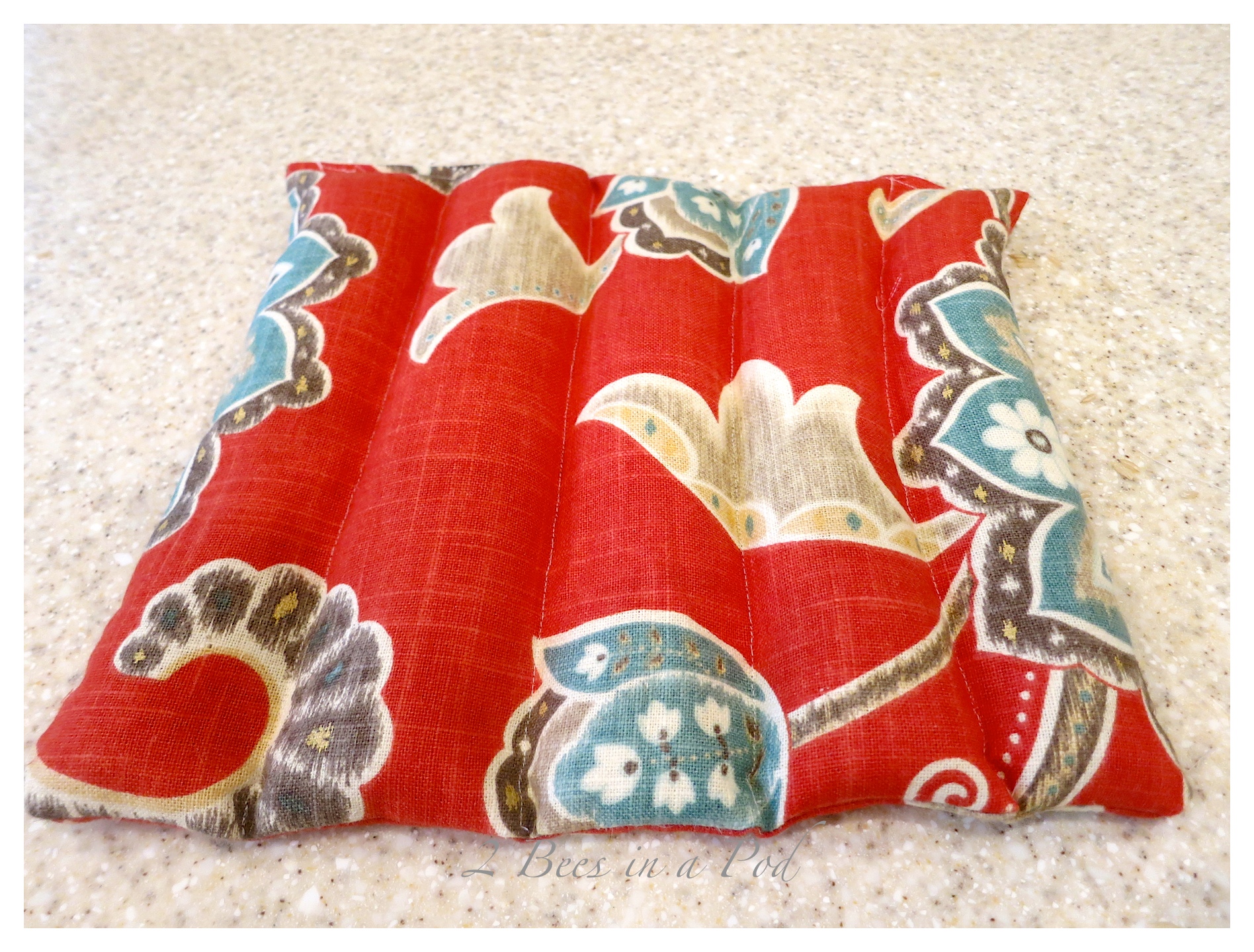 This heating pad can be placed in the microwave for safe heating.  I placed it in my microwave for two minutes and the heat temperature was perfect.  The rice holds the heat longer than a commercial heating pad and it is so soothing.  My current survival kit is my new heating pad, Vick's, throat lozenges, tea and patience.
I love my new heating pad and it gives my breathing great joy 🙂  Dreaming of the day when I can hear my own voice again.  Anybody have a remedy for laryngitis? I'm all ears 🙂