Guest Bathroom Makeover – One Room Challenge Week 4
Please note that this post contains affiliate links. As an Amazon Associate, Rewards Style influencer and Jane Influencer, we earn from qualifying purchases and any sales made through such links will reward us a small commission – at no extra cost for you.
Welcome to Week 4 of our Guest Bathroom Makeover for the One Room Challenge.
We can't thank y'all enough for cheering us on from the sidelines! This has been a big week for the Guest Bathroom Makeover – One Room Challenge Week 4. So much progress has been made. Let's get started, shall we?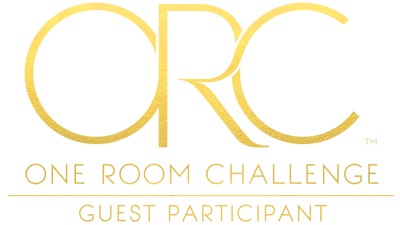 As always, we extend a special thanks to our gracious hosts, Linda at Calling It Home , One Room Challenge and sponsor Better Homes and Gardens.
Some big decisions were made last weekend for this guest bathroom makeover. We decided to replace the bathroom floor tile. In the end we felt that the 4×4 inch square tiles were too dated and they were starting to look more beige than white. You know how it goes. You think that you can live with certain existing home decor items. Maybe it's a sofa, end tables, curtains – whatever. But then you start to obsess about these things until they become an albatross around your neck. LOL Anyone else like this? Anyway, the tiles were looking more dark by the minute.
New Tile
Before we demoed the floor tile, we made another trip to Floor and Decor to be sure that we could find affordable tile that we loved. It also had to fit in with our 1901 Victorian home. Cue the angels!
This is the same tile that mom used for her Kitchen Backsplash. Honeycomb tile is classic in design and style. Many Victorian homes were built with this tile in the bathrooms.
Paint Color Choice
Another big decision was the paint color for the vanity and accent wall. Initially, we were set on a dark gray color. Then we decided that in the sea-of-white tiles, we really wanted more color. We even took a poll on Instagram in our Insta Stories. You can follow us on Instagram HERE. And the winner is:
Secretly we were thrilled, because we love the Dark Teal paint by Benjamin Moore.
We've started to paint the vanity and it looks amazing! So so happy with the color choice. And we got some fun new hardware for the vanity as well, which is going to go great in the bathroom.
Where we are today
As more and more gets done for the guest bathroom makeover, we can really start to see our vision come together. The entire bathroom was pretty much gutted this week, with the exception of the tub. Tile has started to go in and we are so excited and anxious to see it all done.
We still have a lot more to do, like install the rest of the tile, grout, install the vanity, light fixture, faucets, etc., but we are almost at the finish line. Mom and I will also be doing a little shopping on Saturday for accessories…our favorite part! Be sure to check back next week for our last update before the big reveal. Eek!
You can view our previous ORC room makeovers here:
Master Bedroom Closet, She Shed Makeover, Blue and White Bathroom Makeover
Catch up on our weekly ORC posts here:
Week 1 / Week 2 / Week 3 / Week 4 / Week 5 / Week 6
So, here's our To-Do List (so far) Guest Bathroom Makeover – One Room Challenge Week 4:
Paint the walls
Demo/remove existing tile from bathtub
Demo/remove existing floor tile
Remove vanity for floor tile installation
Remove toilet for floor tile installation
Shop for new tile
Add new tile for bathtub area
Add new floor tile
New light fixture
Paint vanity
New vanity top
Add/install vanity back into the bathroom
Add/install toilet back into the bathroom
New vanity hardware for doors and drawers
Paint accent wall
Sink faucet
Tub faucet
Towel Hooks
TP Holder
Hand towel ring
Rug
Mirror
Artwork