Guest Bathroom Makeover – One Room Challenge Week 5
Please note that this post contains affiliate links. As an Amazon Associate, Rewards Style influencer and Jane Influencer, we earn from qualifying purchases and any sales made through such links will reward us a small commission – at no extra cost for you.
The guest bathroom makeover is almost complete!
When we left off last week, we gave you our week 4 update. We were literally fist-pumping and high-fiving how well the guest bathroom makeover was going. Insert foot and forehead-smack! We knew better than to feel that confident and braggadocious, let alone voice it out loud.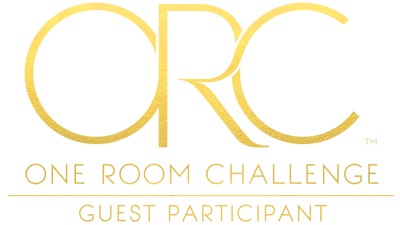 No sooner had we pressed the "send" button to publish our post, there was a problem. A big problem. Our beautiful and brand new tub faucet and shower-head combo needed a different installation than the current one.
Alert
Even though we alerted the tile installer (BTW fabulous and professional work) of the new faucet, he didn't realize that the new faucet needed 4 holes. He had already cut and laid the tile, creating 3 holes. And do you know how hard it is to cut holes in tile?
After many panic-inducing phone calls, a solution was created. The tile installer consulted a plumber and they hashed it out.
Let there be Light
As the week progressed we had another problem, the new light fixture. By "new" we mean that we shopped at our favorite Habitat for Humanity store and found the perfect light fixture. It needed just a bit of brassy gold paint before we hung it above the vanity. After the paint makeover it was beautiful. Upon removing the existing light fixture it became quickly evident that this new fixture wouldn't work. The new fixture had a completely different configuration on the back. After visiting several hardware and large box stores to no avail, we gain needed another solution. Hopefully this week we get this figured out.
What Did Work
With all of this said, a lot was still accomplished this week. All of the tile work is complete. The existing vanity has been painted in a gorgeous dark teal. New hardware and vanity top have been attached. Accessories have been sourced and purchased. A lot of big ticket items were accomplished this week.
Now, we just need to get the light fixture situation handled.
You can read our to-do list below. Just a few more things to check off.
We can't wait for the big reveal next week!
As always, we extend a special thanks to our gracious hosts, Linda at Calling It Home , One Room Challenge and sponsor Better Homes and Gardens.
You can view our previous ORC room makeovers here:
Master Bedroom Closet, She Shed Makeover, Blue and White Bathroom Makeover
Catch up on our weekly ORC posts here:
Week 1 / Week 2 / Week 3 / Week 4 / Week 5 / Week 6
So, here's our To-Do List (so far):
Paint the walls
Demo/remove existing tub tile
Demo/remove existing flooring
Shop for new tile
Add new tile for bathtub area
Add new floor tile
New light fixture
Install new light fixture
Paint vanity
Re-install vanity
New vanity top
Install new vanity top
New vanity hardware for doors and drawers
Install new Sink faucet
Install new Tub faucet
Towel Hooks
TP Holder
Hand towel ring
Rug
Mirror
Artwork
Accessories