Guest Bathroom Makeover – One Room Challenge Week 3
Please note that this post contains affiliate links. As an Amazon Associate, Rewards Style influencer and Jane Influencer, we earn from qualifying purchases and any sales made through such links will reward us a small commission – at no extra cost for you.
Excited to continue to share our progress for our Guest Bathroom Makeover!
This past week we for the guest bathroom makeover, we focused on shopping for tile, fixtures, etc. And let's be honest, that's the fun part! We also decided to take the plunge and redo the bathroom floor as well. Eek!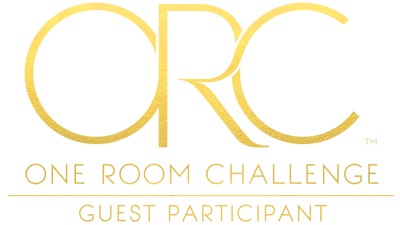 As always, we extend a special thanks to our gracious hosts, Linda at Calling It Home , One Room Challenge and sponsor Better Homes and Gardens.
You can view our previous ORC room makeovers here:
Master Bedroom Closet, She Shed Makeover, Blue and White Bathroom Makeover
As much as I loved doing the demo, I wanted to leave it to a professional to actually install the tile. We're in a little bit of a holding pattern until he can start, but we went ahead and started gathering all of the materials. I thought for sure I would do subway tile for the tub surround. But after going to Floor & Decor on a few occasions, I have decided to switch gears and go with a tile that is still classic, but definitely very different than what I envisioned.
For the floor, we are doing a honeycomb tile, which I love! And we'll do the same grout throughout to help blend the two tiles together.
We'll be painting the vanity, but it is in desperate need of a new top. We wanted to keep it light, so we just went with a pure white vanity top.
One of the hardest things to find has been a tub faucet. There isn't a shower in this bathroom and we can't really add one due to the construction and size of the room. Because of this, I definitely wanted to include a handheld shower in an antique brass. The options I was finding either had to be attached to the wall (which doesn't work for us), was out of stock, or was very expensive. I ended up finding this awesome faucet on Amazon for a great deal. And I think it will work…fingers crossed!
To stick with the antique brass look, we've also gotten great accent pieces to incorporate like a towel ring and hooks from Pottery Barn.
We also lucked out and found a light fixture at the Habitat Restore that will be perfect in the bathroom makeover. It just needs a little paint to match the look of what we're going for. Mom also has these prints that I would love to incorporate into the space.
There is still a lot to do, and of course I am out of town this weekend, but we always work great under pressure. Next weekend we hope to get a lot of things checked off the list for the bathroom makeover. And then the tile install will begin!
Catch up on our weekly ORC posts here:
Week 1 / Week 2 / Week 3 / Week 4 / Week 5 / Week 6
So, here's our To-Do List (so far):
Paint the walls
Demo/remove existing tile
Shop for new tile
Add new tile for bathtub area
Re-grout floor tile with dark grout
New light fixture
Paint vanity
New vanity top
New vanity hardware for doors and drawers
Paint accent wall
Sink faucet
Tub faucet
Towel Hooks
TP Holder
Hand towel ring
Rug
Mirror