15 Painted Furniture Makeovers – Before and After
Please note that this post contains affiliate links. As an Amazon Associate, Rewards Style influencer and Jane Influencer, we earn from qualifying purchases and any sales made through such links will reward us a small commission – at no extra cost for you.
15 Painted Furniture Makeovers – Before and After
Jenn and I always say, the power of paint is magical. Whether you paint your walls or your furniture, the transformation is a thing of beauty. Here are 15 painted furniture makeovers – before and after!
Long before we were blogging, we painted furniture. Keep in mind that we have never painted over precious, antique wood furniture. Our painted projects were curbside discards, thrifted finds, damaged pieces or had yellowey/orangey finishes. We love good before-and-afters, don't you? Just click on any link or photo to take you directly to the post. Let's get started!
Painted Wing Chair – it Worked!
This painted wing chair is currently our most viewed post of all-time. Every single year, it is a hands-down favorite. It recently surpassed our ever popular Weight Watchers Pumpkin Spiced Muffins. The most asked questions we receive about this chair are:
Is this really the same chair? Yes, it definitely is.
Did you really paint the fabric? Yes, absolutely!
Does the finish hold up? Yes, see for yourself below.
This photo was taken yesterday! The chair was painted over 7 years ago, and in all honesty it looks like it was just painted.
Weathered Wood Stain and a Table Makeover
Up next – this antique beauty was in very bad shape. We only paid $5 for it at an estate sale, not really sure how we were going to repair it.
Rest assured, we found a solution.
Trash to Treasure Table Makeover
This table was a true curbside find. It was discarded in the trash, and we just knew that it would be perfect with a fresh painted finish. Look at those legs!
Beautiful, right?
Painted Sideboard Buffet for the Dining Room
This sideboard was a thrift store score at just $59.oo. The makeover had some challenges – but they were all worked out in the end.
It looks great in the dining room.
Our rocking chair is a bit of a full-circle makeover. Jenn was rocked in this chair as a newborn. Now she rocks her newborn, Everett in the same chair.
She recently gave it an updated finish.
Painted End Table in Aubusson Blue
Side Table Makeover with Chalk Paint
rty
Office Credenza to Bedroom Dresser
asdf
Gray Painted Hutch Makeover That Made Me Cry
We are here to tell you that not all painted makeovers go as planned. This vintage hutch ran us through the mill. The hutch kept weeping too LOL. Gobs of orange goo.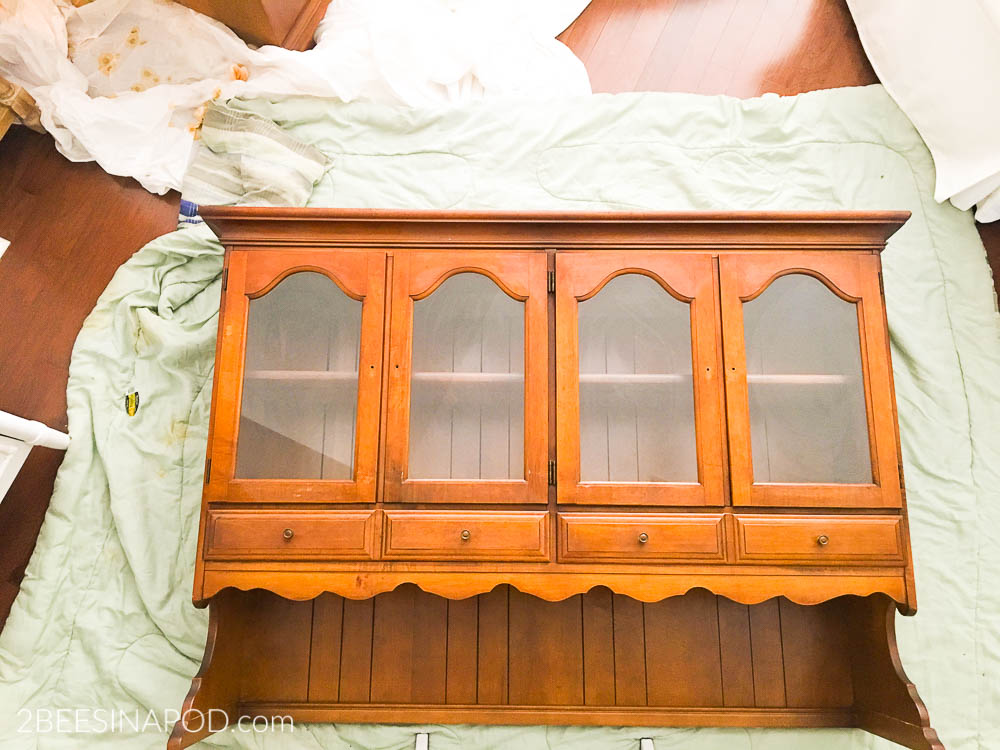 Luckily, in the end, it turned out beautifully. You really should read the entire post though ☺️
Chalk Painted Headboard – Cottage Style
w45
Chalk Painted Armoire Makeover
er
This is one of our most fun and creative makeovers!
You won't believe what we used for the dresser drawer fronts!!
Chalk Paint Makeover for a Pair of Tables
We hope that you have enjoyed some of our furniture makeovers. To see them all, just click HERE! You can also click the graphic below to see all of our best tips for chalk painting.
Don't forget to Pin this to your favorite Pinterest Board!