Roasted Artichoke with Parmesan
Please note that this post contains affiliate links. As an Amazon Associate, Rewards Style influencer and Jane Influencer, we earn from qualifying purchases and any sales made through such links will reward us a small commission – at no extra cost for you.
Hey y'all…Are you as busy as Jenn and I are? As much as we love this time of year it seems our calendars always fill up quickly until the end of the year. Don't get me wrong – it's all very fun stuff…weddings, bridal showers, family vacation, dinner parties, family time and that's just the October schedule!
We are really excited and energized about the week's ahead and will be sharing more as we go along. We just need to be sure to be organized and more importantly present and in the moment so that we don't miss a thing!
We definitely want to create more memorable moments like our Wine Dinner Party. Even though I love to cook I'm embarrassed to say I had never cooked fresh artichokes. I really wanted to make roasted artichoke with Parmesan, but I felt a tad intimidated by this spiky thistle. I have used them to decorate with like in my Fall Tablescape but I didn't even know where to begin.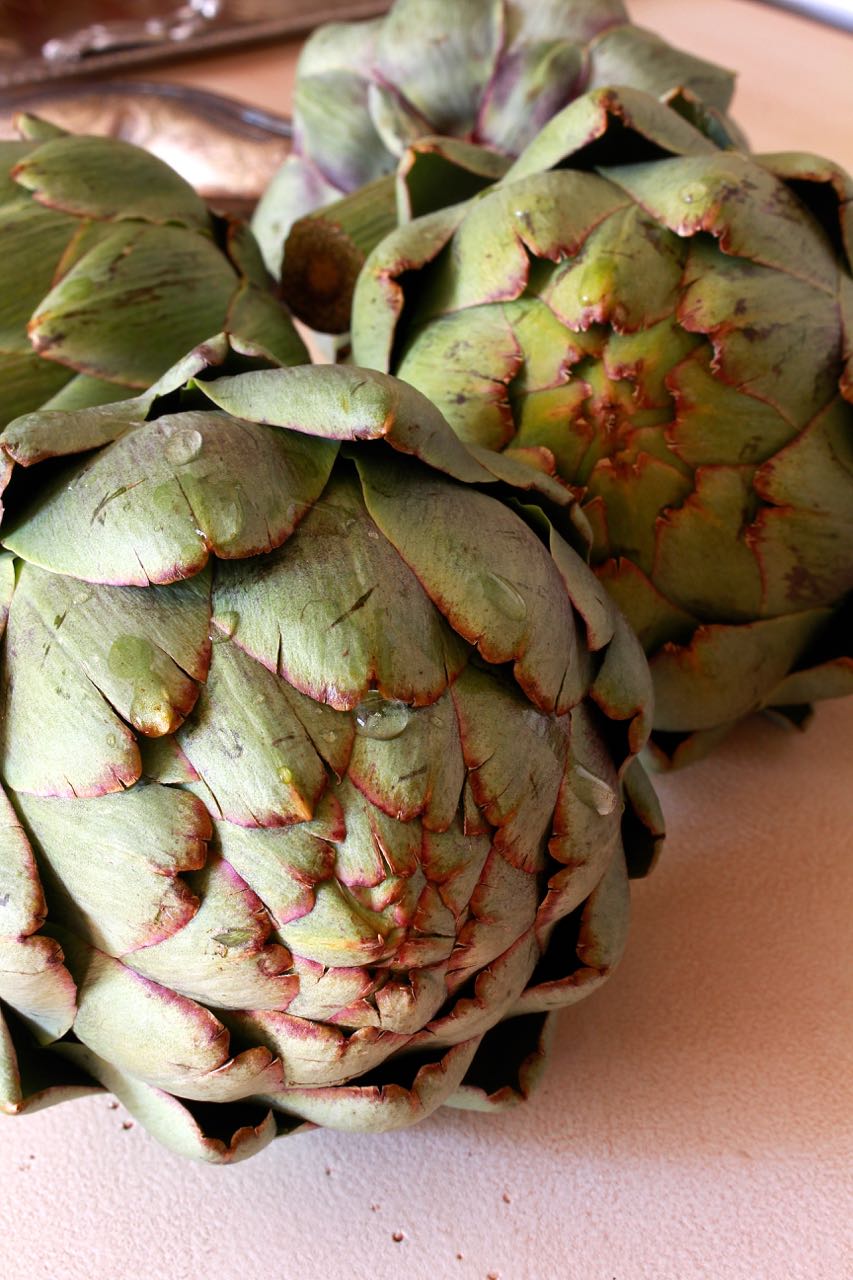 When I created the tablescape the market had a great deal on artichokes and I thought to myself "It's now or never". When in doubt of how to do something I turn to the internet. A big thank you to this guy with his great directions on how to clean and prep artichokes to cook The Bald Gourmet.
After I accomplished this, I felt more confident to create my own recipe:
Roasted Artichoke with Parmesan
Ingredients
3 whole, fresh artichokes without brown spots.
1 lemon
olive oil
salt and pepper
Fresh parmesan cheese
Instructions
Preheat oven to 375 degrees.
Wash and dry artichokes very well.
Cut the tip off of the top of the artichoke - approximate 1 inch off.
Slice bottom off stem for a fresh cut and clean off stem. I used a vegetable peeler.
Slice artichoke in half.
Remove the choke of the artichoke - the fuzzy center.
Drizzle with fresh lemon juice.
A generous drizzle of olive oil
Salt and pepper to tase.
Add grated Parmesan cheese to the top. I used 1 cup of cheese for 6 artichoke halves.
Cover with foil.
Bake for 20 minutes. Remove foil and bake for 10 minutes more - until cheese bubbles on top.
Top with fresh Parmesan cheese and lemon zest.
Serve immediately.
https://2beesinapod.com/roasted-artichoke-with-parmesan/
Fresh Parmesan and lemon make a big difference in flavor.
Cut off the top one inch of the artichoke.
Peel the bottom leaves and clean the stem.
Cut the artichoke in half and remove the choke or fuzzy center.
After roasting in the oven I added more freshly grated Parmesan and lemon zest.
This was so good!
Usually artichokes are steamed but I feel that makes them mushy. Roasting the artichokes brings out a natural nutty flavor. I can't believe I waited so long to cook with fresh artichokes. Plus, it impressed my guests and made me look fancy LOL.
If you've been intimidated by this spiky thistle, don't be. I promise you can make them too!
Until tomorrow,
XO~Vicki