Tomato Tart with Mozzarella and Parmesan
Please note that this post contains affiliate links. As an Amazon Associate, Rewards Style influencer and Jane Influencer, we earn from qualifying purchases and any sales made through such links will reward us a small commission – at no extra cost for you.
Here's our delicious recipe for Tomato Tart with Mozzarella and Parmesan.
It is hard to believe that we have entered the unofficial start of the summer season. Our thoughts turn to suntans, sunset boat rides, fireworks and the tasty foods that summer brings. Fresh corn-on-the-cob, sweet watermelon and juicy tomatoes are some of our favorites. We have been cooking a lot while staying-in-place, and we are sure that you have too. One of our creations is a tomato tart with mozzarella and parmesan. Don't fret – it's easier to make than you would think!
It all starts with the Phyllo dough. It is puff pastry found in the freezer section of the grocery store. Our Phyllo dough was found near pie crusts. Phyllo is paper-thin layers of dough. While puff pastry is created by incorporating butter into the dough, phyllo dough is virtually free of any fat—that gets added in right before baking.
Phyllo dough doesn't puff when it bakes—it crisps. The layers are crunchy, flaky, and shatter when cut or bitten.
Our local markets have already had some amazing fresh tomatoes. Big, red, ripe and juicy – just the way we like them.
Tomato Tart with Mozzarella and Parmesan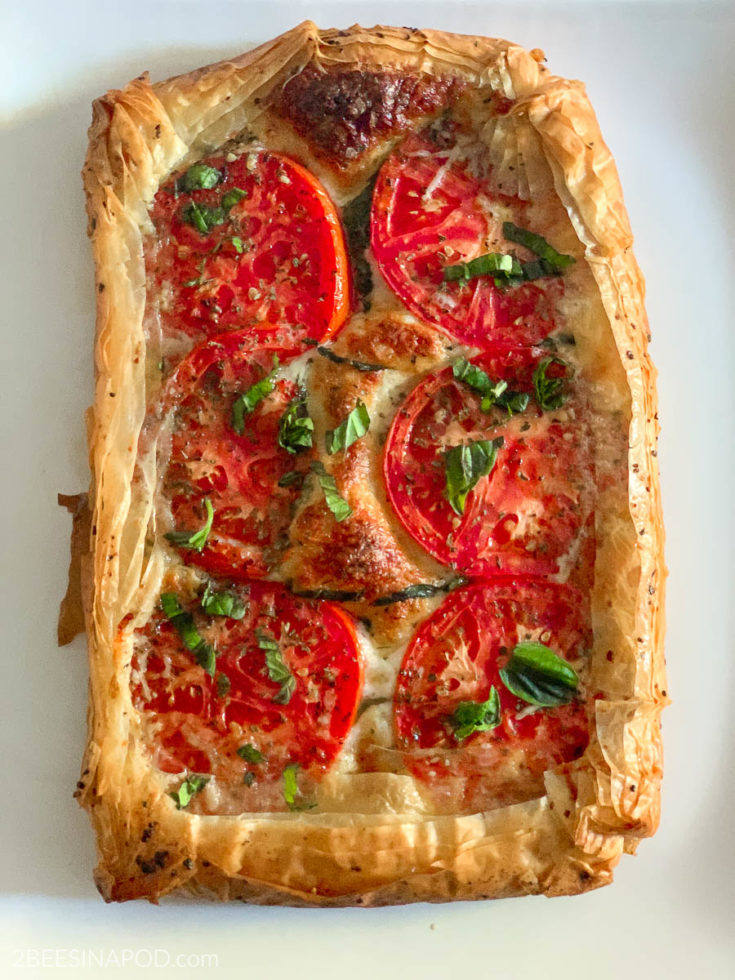 Flaky, crispy tomato tart with mozzarella and parmesan cheeses. Perfect for summer's bounty of fresh tomatoes!
Ingredients
7 sheets phyllo dough (14 inches x 9 inches)
1/3 cup olive oil
4 ripe tomatoes, thinly sliced
1/2 cup shredded mozzarella
1/2 cup shredded parmesan
1 tablespoons dried oregano
1 tablespoon minced fresh basil or 1 teaspoon dried basil
1/4 teaspoon salt
1/4 teaspoon pepper
Instructions
Preheat oven to 375°. Place one sheet of phyllo dough on a parchment-lined baking sheet. Brush the entire sheet with olive oil.
Sprinkle with 1 tablespoon shredded parmesan cheese. (Keep remaining phyllo covered with plastic wrap and a damp towel to prevent it from drying out.) Repeat layers, brushing oil all the way to edges.
Sprinkle final layer with mozzarella cheese.
Arrange tomato slices in a slightly overlapping pattern over mozzarella cheese. Sprinkle with oregano, basil, salt and pepper. Bring up the edges of tart to keep from over-filling.
Bake for 15 to 20 minutes.
Eat, enjoy!
Notes
This tart is easy to make. Use different cheeses and seasonings for your taste.
Sprinkling shredded parmesan cheese between the Phyllo sheets adds a nutty saltiness for your crust.
Feel free to add more or less of the seasonings per your taste.
Our house loves fresh basil.
After baking, more fresh basil is added to the top.
You can see how the gooey mozzarella cheese bubbles up around the tomatoes. Yum! 😋
Again, this tart is super easy to make but it looks like you worked on it all day.
We hope that you give our recipe a try. Have you ever made a tart before?
Don't forget to Pin this to your favorite Pinterest Board!