Dinner in a Flash – Broccoli Pasta with Parmesan
Please note that this post contains affiliate links. As an Amazon Associate, Rewards Style influencer and Jane Influencer, we earn from qualifying purchases and any sales made through such links will reward us a small commission – at no extra cost for you.
As many of y'all know already, I spend most of my days at a job that leaves little time for much else in the evening.  Because of this, I am always in search of easy recipes that won't take up the precious time I do have at night. As much as I love cooking, I would also like to enjoy that time doing other things too, like relaxing.  That's when we decided we should come up with a monthly series where we provide a simple recipe you can use for dinner called "Dinner in a Flash."
Most of us have fairly hectic lives and we hope that this monthly series will help make your life easier, even if it is with an easy recipe.  This month's Dinner in a Flash is Broccoli Pasta with Parmesan…yum!  Funny enough, when I was talking to a co-worker at work about this, she gave me this simple recipe and I thought it would be perfect for our first one.
To be honest, what makes this recipe so great is that there isn't really anything specific you have to follow. You can add as much or as little of each ingredient as you'd like.  I used a delicious olive oil I have that is infused with Tuscan herbs and used this to saute minced garlic, red pepper flakes, and broccoli.  You could add in other herbs as well, such as rosemary.
While this was sautéing, I cooked chicken, as well as angel hair pasta, which is my favorite.
Once this was all done, I combined the ingredients together, topped with parmesan cheese and it was ready to eat.  That simple!  It really was that easy to make and tasted sooo good.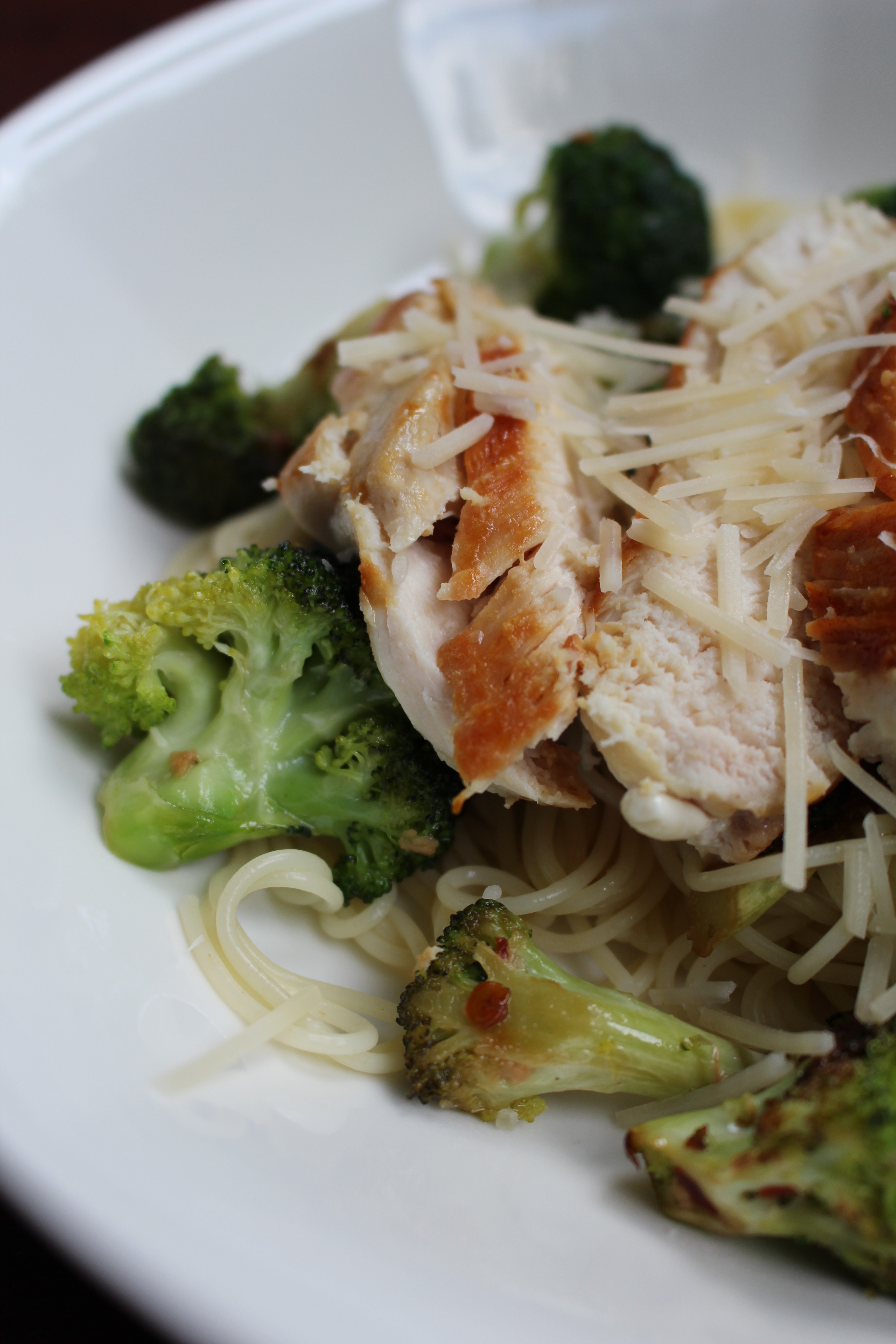 I am what I consider a strict recipe follower…I love following recipes. But with something like this, it was nice to just add what I thought the recipe needed and to use my instincts.  It does give me slight anxiety when I don't have a specific guideline to go by, but it was good to see that I can create something delicious for dinner without a recipe.  I hope you give it try and let us know how it turns out!
XO – Jenn