Perfect Fall Picnic Ideas – Back to Basics
Please note that this post contains affiliate links. As an Amazon Associate, Rewards Style influencer and Jane Influencer, we earn from qualifying purchases and any sales made through such links will reward us a small commission – at no extra cost for you.
Heading to see fall leaves and perfect fall picnic ideas.
Welcome to this month's Back to Basic Series! This month we are all about Fall picnics and tailgates! Here's how I came about creating the perfect fall picnic ideas. I've had a lot of experience with cooking, traveling and making meals on the-go.
First Fall Experience
Our family has had a tradition back to when we moved to North Carolina and we experienced the season of Fall for the first time. Being that we were born and raised in Florida, we pretty much had one season all year long. Witnessing first-hand cooler weather and the phenomenon and glory of trees turning beautiful autumnal colors was breathtaking to say the least. It was the first time we packed a picnic and headed to the mountains in search of "even better" fall colors.
Well, we soon discovered we weren't the only "color seekers". For us newbies, we had no idea that up on the Blue Ridge Parkway driving up to look at the changing of the leaves was like a sporting event. It was bumper-to-bumper traffic, picnic areas were packed and we were ill prepared to picnic on the side of the road. Right then and there I vowed that this wasn't going to happen to us again.
Be Prepared
Let me start with something that might be a little controversial. I use real plates, canisters, silverware, etc. Why? Because I have lost count of how many picnics, outdoor camping meals or cookouts that have been ruined by a gust of wind. One time an entire table was cleared of everything, all because it was cheap and lightweight paper.
Personally, I like to prep the night before. I want to make sure that I'm relaxed and get to enjoy picnic day too!
Bundle silverware and napkins
Pre-tag drinks and beverages with names. This way you easily avoid mix-ups later.
Pre-portion food into individual containers. No need for extra serving spoons.
Pre-make grab-and-go snacks. Our family loves popcorn. This eliminates having one giant bag that multiple hands are going into. Also, the big bag blows away. Just trust me on this one too 🙂
Pack the Car
Plastic – in case you picnic on the ground. Even on a sunny day, the ground holds moisture. You don't want to take a chance of ruining your blankets. I buy plastic tarps at the dollar store.
Blankets, throws and quilts are perfect ground cover. Bonus – if it gets cold, you can cover up 🙂
Ice Chest or Cooler. Clean empty liter soda bottles. Fill with water and freeze. We use these instead of ice and re-use over and over.
Water for drinking – always a good idea.
Baskets – filled with your goodies for the day.
Tins, Bread Boards, Baskets and Jars
A perfect fall picnic must include everyone's favorite foods. Snacks are at the top of the list for our family. I use muffin tins to corral everything together for ease and to keep everything from blowing away. The above tin has veggies and crunchies. Dips include blue cheese, ranch and homemade pimento cheese.
Another favorite for our picnics is French bread, cheeses and grapes. These are also very easy to serve.
Our family also has a sweet tooth. We cut up fresh apples that we buy up in the mountains. We then dip them in caramel and then the other fave toppings of choice…chocolate, butterscoth, granola, pecans or peanuts.
Popcorn is the perfect snack to make ahead. We eat it in the car and at our picnic site. I make it fresh at home and then divide into to brown bags.
Our family can't resist apple cider in the Fall either.
Now that we live in Georgia, our favorite fall color town is Ellijay. It is a cute place with lots of apple orchards and some antique shops. When we are in town we can't resist buying apple cider donuts and fresh pumpkins.
And I like to have fresh flowers…just because.
Even my picnics are vintage inspired LOL.
We don't picnic often so I like to go the extra step. As you know fall is special so why not make the picnic special too?
Pin this to your favorite Pinterest board!

I hope you liked my perfect fall picnic ideas.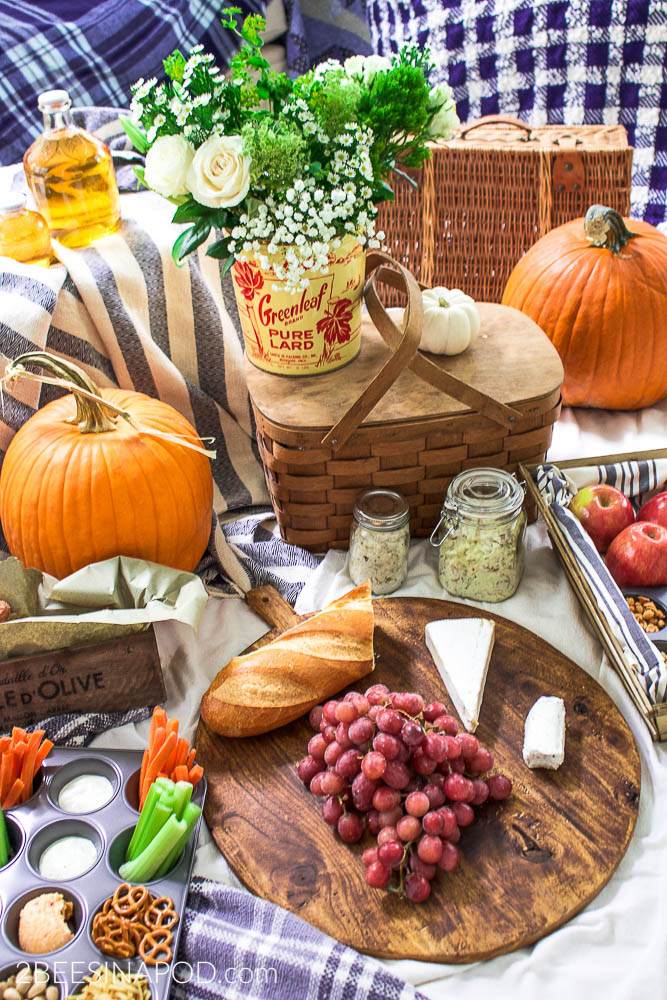 Don't forget to check out the other amazing bloggers and their fall picnic ideas too!
Until tomorrow!