Baked Pumpkin Spice Donut Muffins
Please note that this post contains affiliate links. As an Amazon Associate, Rewards Style influencer and Jane Influencer, we earn from qualifying purchases and any sales made through such links will reward us a small commission – at no extra cost for you.
Baked pumpkin spice donut muffins are delicious!
Even though there isn't a hint of fall outdoors, inside is a different story. My essential oil diffuser is emitting fragrances of clove, cinnamon and orange. The soup pot has been going with roasted butternut squash soup with bacon and the world's best white chicken chili. A new favorite candle, Sand & Fog Pumpkin Harvest, burns throughout the day. This weekend I pulled the trigger for fall treats and I made baked pumpkin spice donut muffins.
Bring on the pumpkin spice
It seems funny and odd that I don't like pumpkin pie. However, I love pumpkin spice – whether it be a pumpkin spice latte or baked goods.
While shopping this week I spotted this adorable mini bundt pan. You can find one for your very own kitchen HERE. How cute is this?
It was the perfect excuse to make delicious baked pumpkin spice donuts! Not that I needed excuse, mind you.
Baked Pumpkin Spice Donut Muffins
Ingredients
Pumpkin Donut Holes:
2 cups all-purpose flour
2 teaspoons baking powder
3/4 teaspoon cinnamon
1/2 teaspoon ground nutmeg
1/2 teaspoon ground cloves
1/4 teaspoon allspice
1/2 teaspoon salt
1 cup pumpkin puree (NOT pumpkin pie filling)
1/2 cup light brown sugar
1 large egg
1/2 cup milk
1/4 cup unsalted butter melted and cooled
1 teaspoon vanilla
For the Coating:
6 tablespoons unsalted butter melted and slightly cooled
3/4 cup granulated sugar
1 and 1/2 tablespoons ground cinnamon
Instructions
Preheat oven to 350 degrees. Spray a mini muffin pan well with non-stick cooking spray and set aside.
In a large bowl, whisk together the flour, baking powder, cinnamon, cloves, nutmeg allspice, and salt. Set aside.
In a separate bowl, mix together the pumpkin puree, brown sugar, egg, milk, unsalted butter, and vanilla until fully combined.
Add the wet ingredients to the dry ingredients and mix until just combined.
Spoon the batter into the mini muffin cavities about 3/4 of the way full.
Bake at 350 degrees for 11-13 minutes or until a wooden toothpick inserted into the donut hole comes out clean.
Remove from the oven and let cool in the pan for 5 minutes. Remove the donut holes from the pan to a wire rack to cool.
Meanwhile, add the melted butter to a small bowl. Add the cinnamon and sugar to a separate bowl and mix together well.
Take each donut hole and dunk it into the melted butter, making sure it is fully coated. Then dip it into the cinnamon and sugar mixture, making sure to coat well.

These are best served and eaten right away. If you can't eat them right away, place on a paper towel and cover. Heat for 10 seconds

Enjoy!
This recipe was given to me years ago by the pastry chef of a fabulous restaurant in Blowing Rock, NC. Sadly, after 20 years in business they closed in 2013. Thanks goodness I have this tasty recipe as a reminder of the delicious meals we used to eat there.
Oh my yum! These donut muffins are the perfect taste of fall.
Donuts are a Food Group
My family members are serious donut connoisseurs, as well as my bestie, Bambi. She and I have been known to send each other pics of a great donut discovery from our travels. So, donuts are pretty important in my life LOL.
Moist, pumpkin spice – and so good! They taste best served fresh. If you can't eat them right our of the oven, too bad. HAHA. Wrap a donut in a paper towel and heat in the microwave for just 10 seconds.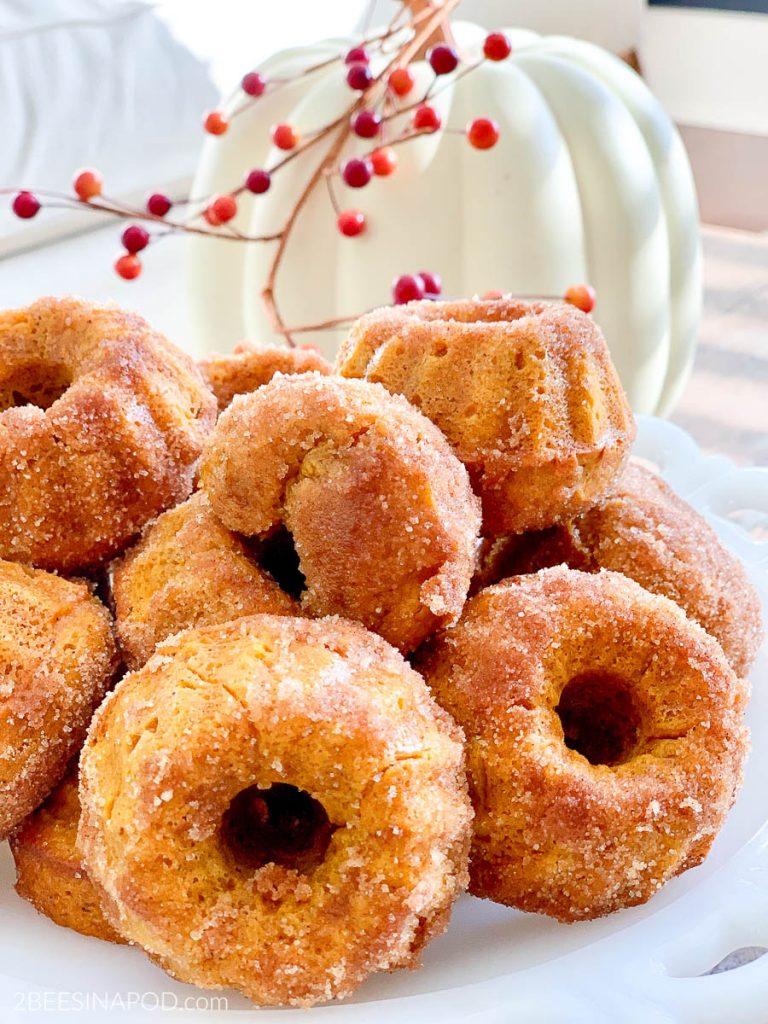 Do you like pumpkin spice?
Don't forget to Pin this to your favorite Pinterest board!