Painted Floor Lamp for Home Office Makeover
Please note that this post contains affiliate links. As an Amazon Associate, Rewards Style influencer and Jane Influencer, we earn from qualifying purchases and any sales made through such links will reward us a small commission – at no extra cost for you.
We painted a floor lamp for our home office makeover.
Have you priced floor lamps lately? Talk about sticker shock! Not many stores carry floor lamps. Typically they carry tabletop lamps in a variety of sizes. We even went to the thrift stores and didn't see a one. Then, we realized what was staring us in the face the entire time. The existing lamp was about to become our painted floor lamp project.
As a reminder, Erin from Lemons, Lavender, and Laundry started this challenge a couple of years ago. You can read more about that here. Basically a group of very talented bloggers get together to take on renovating a space for $100 or less! We have 1 month to complete the challenge and the hope is to have a swoon worthy room at the end, all while staying within budget.
Ask before you purchase
In our family, this lamp started out as an "unauthorized purchase". Unbeknownst to us, one day a few years ago, Honey Bee decided that he needed a floor lamp. Did he discuss this with anyone? No. He went to only one store which happened to be an expensive lighting store and purchased this beauty.

Now, it's not that this lamp is ugly. It's just shiny, modern and doesn't go with anything in our home. Plus he admitted that he didn't really like. He purchased it because he just wanted a floor lamp.
Flying Saucers
The three orbs look like flying saucers to me.
This is just too Star Trek for our taste.
PS – the dust adds character LOL.
So, our big plan was to spray paint the lamp. We determined it would only take one can and a few minutes of our time. Mother Nature had plans of her own. On this particular day our morning temperature was 26°. You may not be aware of this, but you cannot use spray paint with temps below 50 F.
Temperatures below 50 F (typically) can have a variety of negative effects on paint and paint application. Alkyd and oil-based paints are made with oils and resins that become more viscous (thicker) at lower temperatures. This can make it very difficult to apply the paint evenly or smoothly. Please trust us, as we have learned this the hard way.
Time to bring it indoors
So, after a little bit of debating we decided to hand-paint using a chalk mineral paint. This paint dries relatively quickly so we considered it a great option.
Dixie Belle paint in the color of Drop Cloth
Purdy 1″ paintbrush
Protected the lamp harp and cord with painter's tape and plastic grocery bags.
Apply one thin coat of paint and let it dry completely. (about 30 minutes)
Apply a second coat and again, let it dry completely
Mix light paste wax with dark paste wax to your desired color. We used 60% light to 40% dark.
Use a soft paper towel to rub on the wax mixture. Use sparingly as a little goes a long way.
These photos were taken in our foyer, but you get the idea of how it may look in the home office.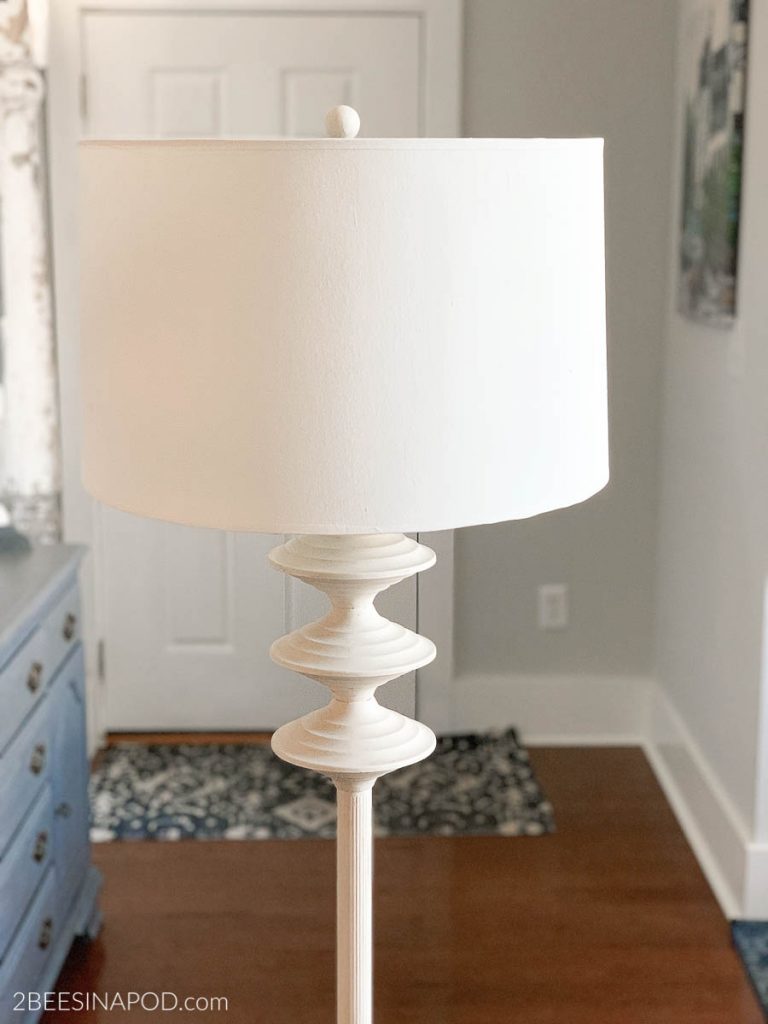 Buh-bye flying saucers.
Even the base looks so much better!
We hope that you have been inspired in some small way today. This is our final week of the home office makeover, and we are on the final push.
We did find a shelving unit at a thrift store. Sadly, they need to be assembled. Wish us luck!
To-Do List
Clear the room
Paint all of the walls
Go to storage unit to search for furniture
Lamp Solution
Create an art piece with vintage oars
Home for the computer
Storage solutions
Add new artwork
Move desk to new location
Furniture placement
Our budget so far:
1st Week $21.18 for wall paint
2nd Week 0
3rd Week 0
4th Week 0
Reveal
Check previous post updates here:
WEEK 1/WEEK 2/WEEK 3/WEEK 4/REVEAL
Now check our friends progress!
You are invited to the Inlinkz link party!