How to Make a Wood Bead Garland With Tassels
Please note that this post contains affiliate links. As an Amazon Associate, Rewards Style influencer and Jane Influencer, we earn from qualifying purchases and any sales made through such links will reward us a small commission – at no extra cost for you.
Home decor magazines and specialty shops are full of wonderful ideas and inspiration. Staying true to our "get-the-look-for-less" attitude we will show you how to make a wood bead garland with tassels.
Currently wood bead garlands are all the rage in home decor. Whether your style is traditional, farmhouse, boho chic or anything else these beautiful garlands fit right in. After a recent visit to my local thrift store, it became evident that now was the time to create one of these beauties for my own home. This is how to make a wood bead garland with tassels.
You never know what you will find at the thrift store
Last week I visited my local thrift store.  One of my favorite aisles is the one with all of the wood items. Typically there are cutting boards, frames and miscellaneous decor. On this particular day I spotted this novelty.
After a quick glance at it, I placed it back on the shelf. I even said to myself "who would want that"? It took a few seconds for my creativity senses to wake up, but thankfully they sprang to life. This odd looking object is a back massager. The idea is that you can lay on it and slide up down for back relief.
At just .92 cents I knew that I had struck DIY gold. Sometimes wood beads can be pricey.
My idea was to take this wooden massager apart and use the beads to make my wood bead garland! The ends weren't budging at all when I tried to pull them apart. Using my trusty hammer I literally bashed one dowel until it broke. Then the rest of the massager easily came apart.
I removed the beads and placed them into a bowl for easy access. Being that these wood beads are larger than most, I decided to add oversized tassels on both ends. Here's the part that you are waiting for – how to make a wood bead garland with tassels.
Let's get busy!
Have you got just 10 minutes? That's how long it takes to complete this entire project. Pinky swear promise – this project is quick and easy to do.
Steps to make a DIY Wood Bead Garland
Gather you materials together. Wood beads, jute, tape, yarn, scissors, large-eye needle and a small piece of cardboard
Wood beads. Only you can decide the size of the beads you want to use and how long you want your garland to be. There really is no wrong way to do this! My beads were not perfectly round – they are flat on two sides. I used 50 beads that had two different shapes. You should try and use different sized beads for interest and texture.
Jute twine. Be sure that the thickness of your jute is right for the job. The holes in my beads were pretty large, requiring a thicker jute. You want to be sure that your twine fits into the holes of the wood beads easily. When the ends are knotted the twine should easily keep the beads from falling off. Do not cut the jute off of the spool until you have threaded all of the beads.
Using Scotch tape, tape off one end of the twine to keep it from fraying.
Begin threading the wood beads. Keep going until all of the beads have been added.
After all of the beads have been threaded on the twine, carefully remove the Scotch tape and do a tight double knot. Be sure the knot is big enough so that the wood beads don't come off.
Now cut the twine off of the roll at the other end. Be careful that your beads don't fall off. Again tie a tight double knot making sure there are no gaps between the wood beads.
Steps to Make DIY Tassels
 Use yarn for each tassel. Cut a strip of cardboard (see photo above) approximately 8 inches long. I needed large tassels and I wanted them fluffy. Wrap yarn around the cardboard 50 times. Make sure to count because you want the second tassel to match.
Cut a single piece of yarn approximately 6 inches long.  This will be the loop or handle of the tassel.
Slip this piece of yarn underneath and in the center of the looped yarn pieces. See photo above.
Make a tight knot and turn the knot until it is hidden .
Cut another piece of yarn approximately 18 inches long. Have this ready for the next step.
Carefully remove the looped yarn from the cardboard. Immediately wrap the 18 inch piece of yarn toward the top of the looped yarn. This needs to be wrapped tightly since it holds your tassel together.
Lay the looped yarn flat and cut apart the bottom looped end.
Follow the steps and make a second tassel.
Using a large eye needle and single piece of yarn, sew your tassel into place – one on each end of the garland.
Isn't it beautiful?
I love how organic and natural it looks.
See how fluffy my tassels are? You can reduce the number of times you wrap around the cardboard for less-full tassels.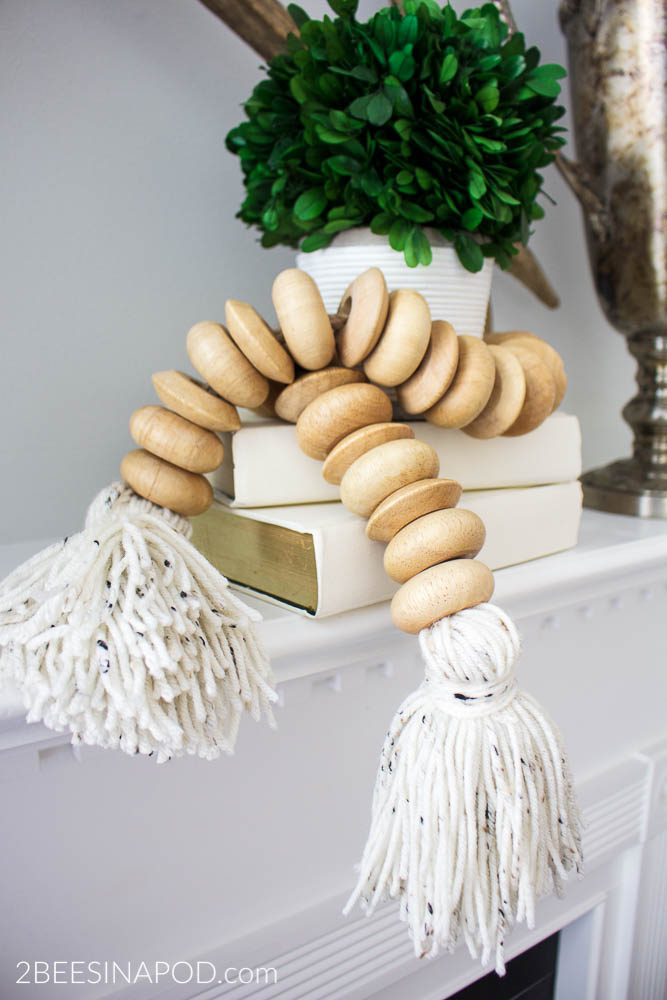 You can even use the same jute to make these tassels. If you don't feel like making tassels you can absolutely use store-bought ones.
We hope you enjoyed this tutorial on how to make a wood bead garland with tassels. You may also like some of our other DIY garland projects: How to Make a Pom Pom Garland, Wine Time Garland or our popular Book Page Garland Swag. Also, don't forget to check your local thrift store for supplies! You never know what you will find.
Don't forget to Pin this to your favorite Pinterest board!