How to Clean Vintage Linens and Fabric
Please note that this post contains affiliate links. As an Amazon Associate, Rewards Style influencer and Jane Influencer, we earn from qualifying purchases and any sales made through such links will reward us a small commission – at no extra cost for you.
We have collected vintage tea towels, pillowcases, tablecloths and clothing. Usually we have procured these items from tag sales, thrift stores or antique shops. Sadly, most of the white fabrics are heavily stained or yellowed from improper storage and time. This is how to clean vintage linens and fabric.
Have you ever held a piece of vintage fabric or linen in your hands? Typically the fabric feels buttery soft. It goes without saying that these fabrics have withstood the test of time for good reason. Fabrics were better-made, high quality and more than likely the piece itself is handmade. Caring for vintage fabric is important, especially if you want to display them. This is how to clean vintage linens and fabric.
Before we get started
We are not experts, we are sharing a cleaning method that works for us.
Determine how invested in your vintage linens you are. Are your pillowcases inherited from great-great-grandma or did you purchase them for $1 at a tag sale?
What condition is your piece in? Are there holes in it? Is the fabric rotten from age? Or is it already falling apart?
Take a Leap of Faith
After weighing the pros and cons, here is something else to consider. Are you really going to display or use your vintage piece with the gross yellow and brown stains? For example, take a look at this baby gown.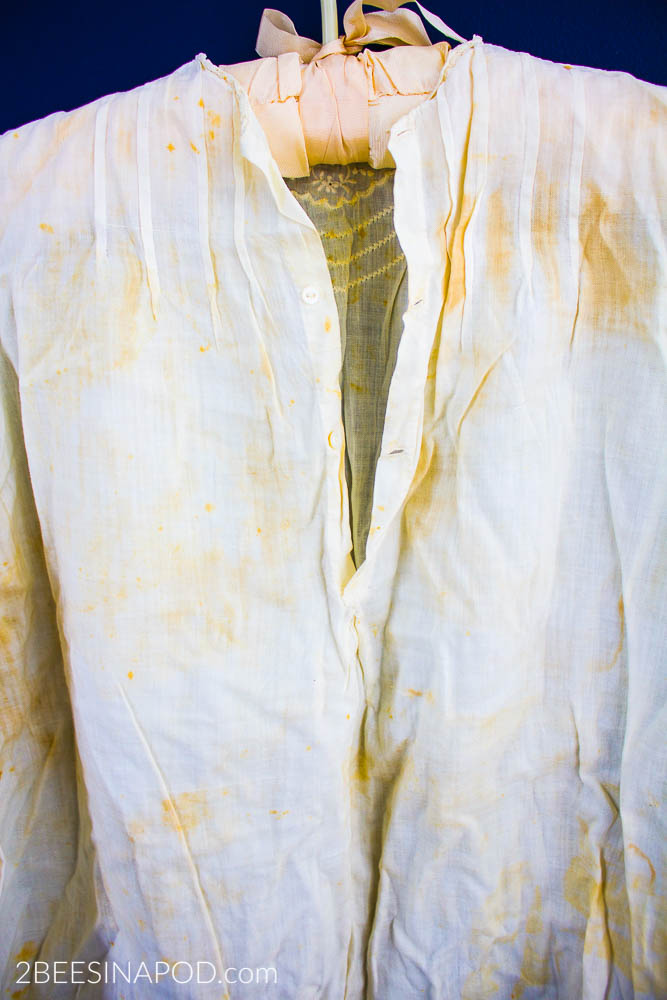 We wouldn't showcase this in our homes either. That's why we promote taking a leap of faith in cleaning our vintage fabrics. Otherwise a vintage baby gown like this would just be stowed away in a closet or box and forgotten about.
Banish the stains
Last week these vintage pieces were purchased at an estate sale for just $5. That's just $5 for 2 baby gowns, a lace blouse, a lace camisole and two yards of vintage lace! We were told that all of the clothing and trim were from the late 1800's. The baby gowns and lace had the most stains on them from age and years of being stored in a box. We decided to tackle these items first.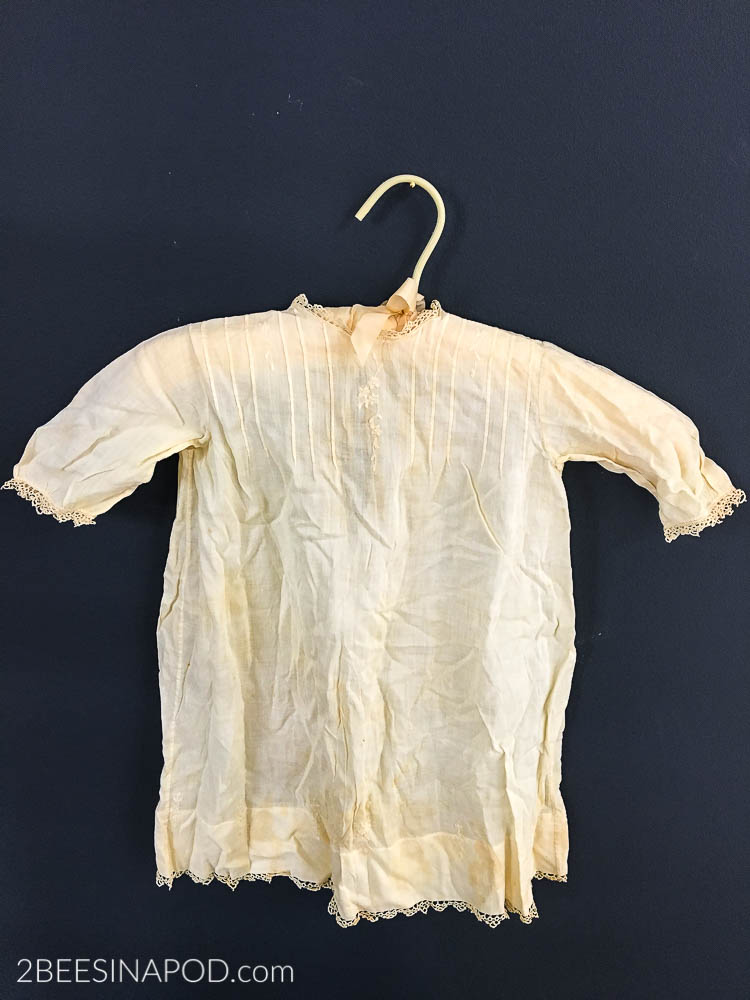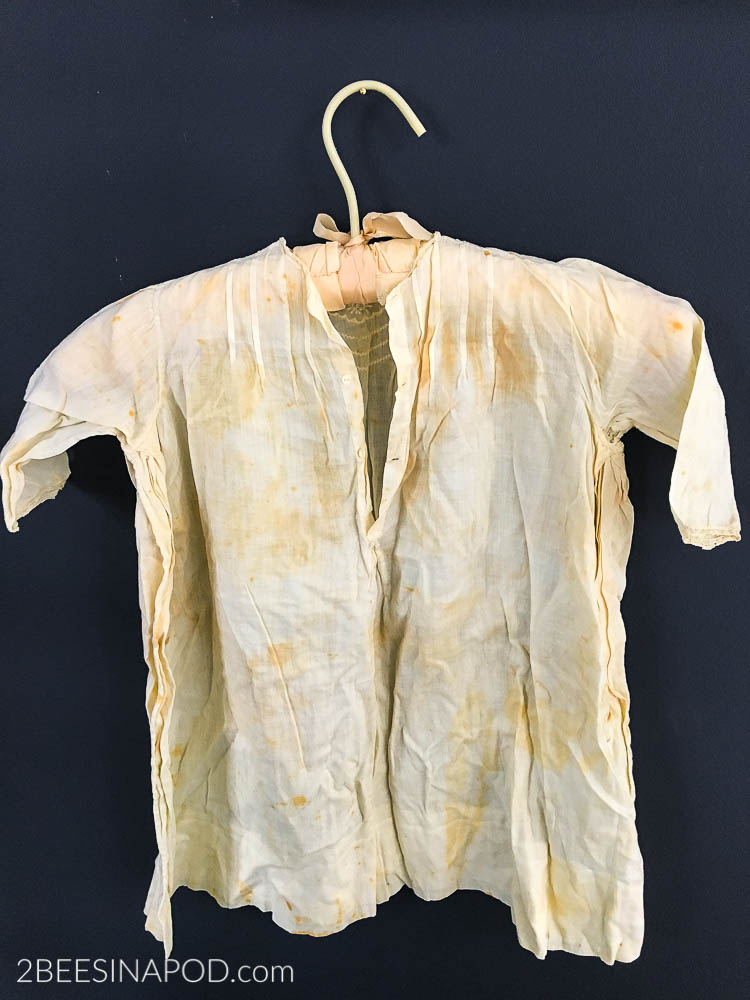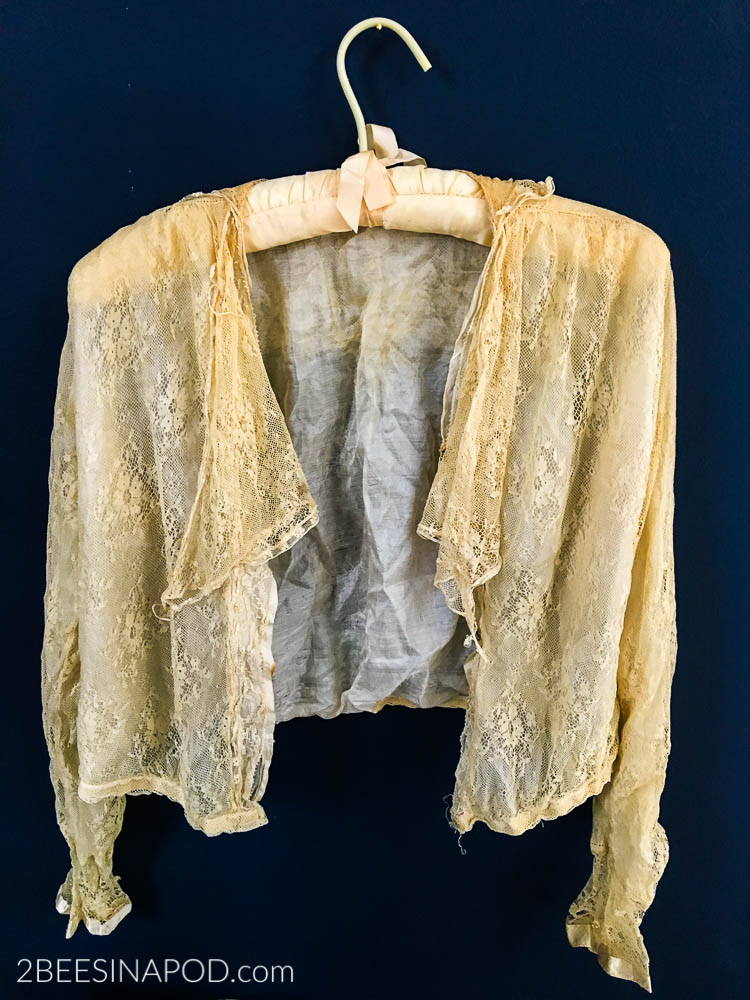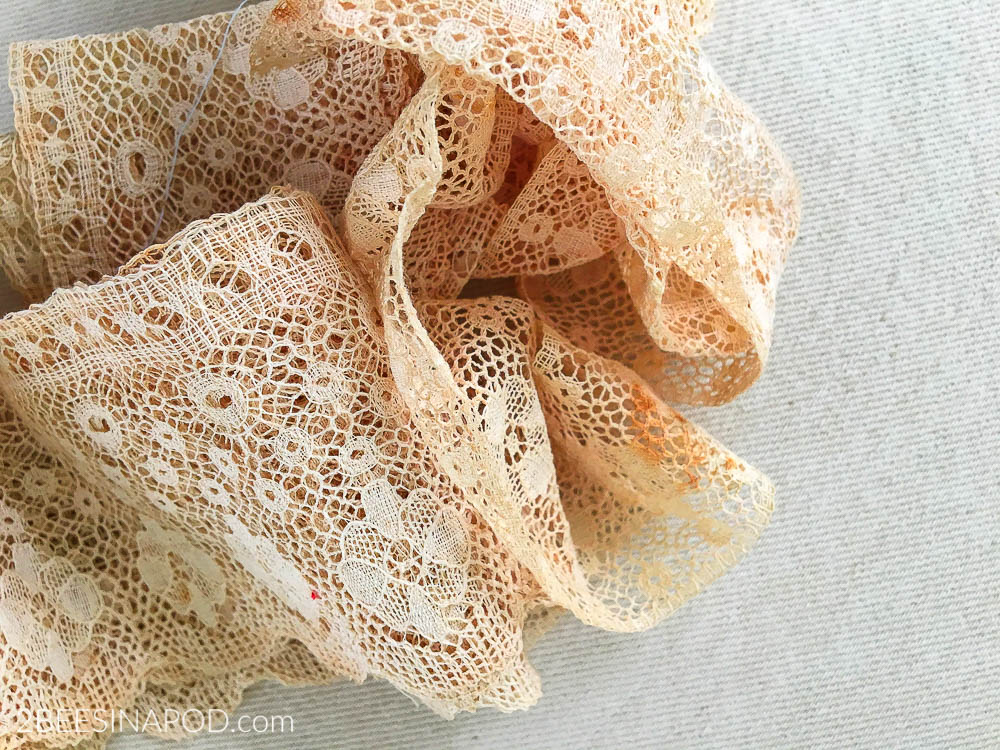 How to clean vintage linens and fabric
Read all directions before starting. Use safety and caution when boiling water and adding OxiClean.
Fill a 6 -8 quart pot of water, ¾  of the way full and bring to a rolling boil.
Remove pot from stove and take it to the bathtub or shower. Be sure to place it on a folded bath towel.
Carefully add 2 scoops of powdered OxiClean – keeping your face away from the pot. When you add the OxiClean the pot of water will bubble and foam over. Only do this in the bathtub or shower.
Add vintage linens or clothing to the pot. Using an old wooden spoon (not to be used for food or cooking)gently pat down the fabric into the hot water. Do not stir or pull fabric.
After one hour, empty the dirty water and gently rinse the clothing.
Repeat the above steps.
Leave clothing in the OxiClean for 5 hours.
Empty the pot and rinse clothing. Check to see if stains are all removed. If not, repeat the cleaning method. For us, all of our items were cleaned.
When all of the stains are removed gently rinse fabrics. Do no wring, pull or twist the fabric. To remove excess water, pat the fabric in between the palms of your hands. Kind of like making sand patties at the beach 🙂
Lay the linens, clothing or fabrics flat on a clean white towel. Allow to air dry.
Boil the Water
Boil the water on the stovetop but do NOT add OxiClean until the pot has been moved to the bathtub or shower!
This is a photo from an iPhone, but you can see how the OxiClean foams over the sides of the pot. Remember, only add the OxiClean after the pot of boiling water is placed in the bathtub!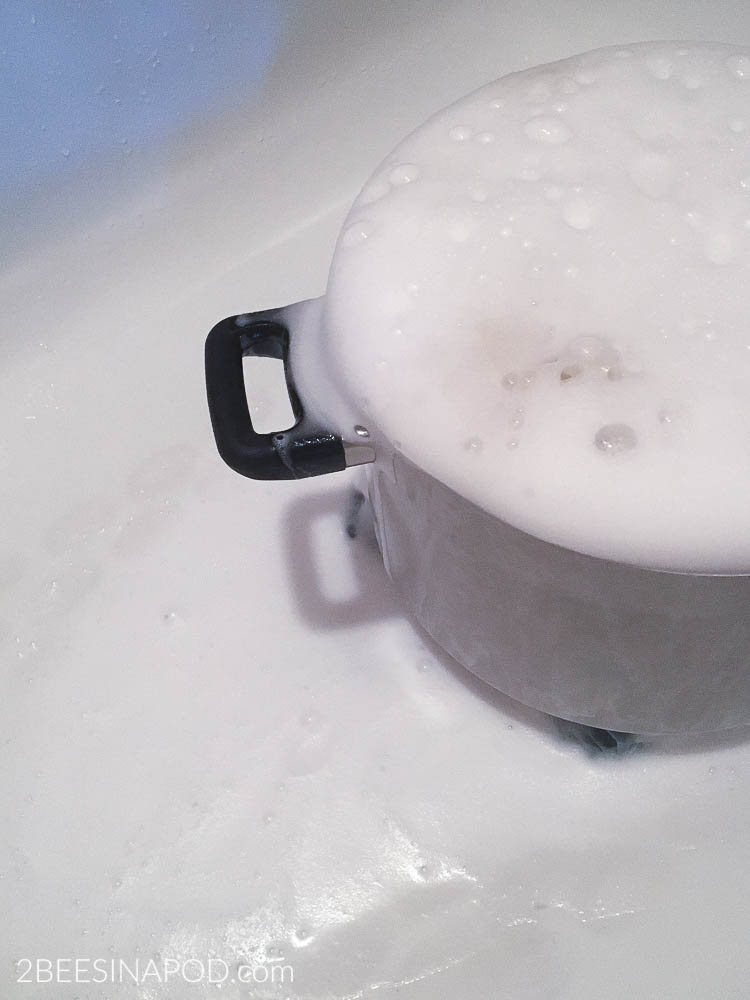 OxiClean does not contain any bleach of chlorine. The active agents are hydrogen peroxide and a salt compound.This is what the water looked like after just one hour – yuck!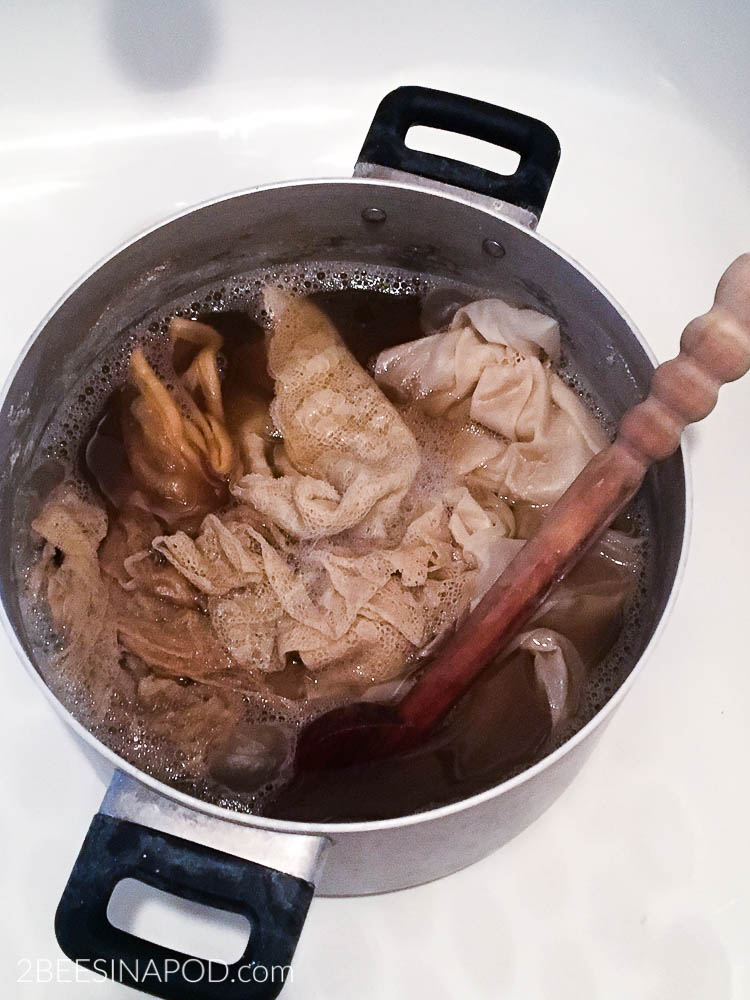 Prepare to be amazed!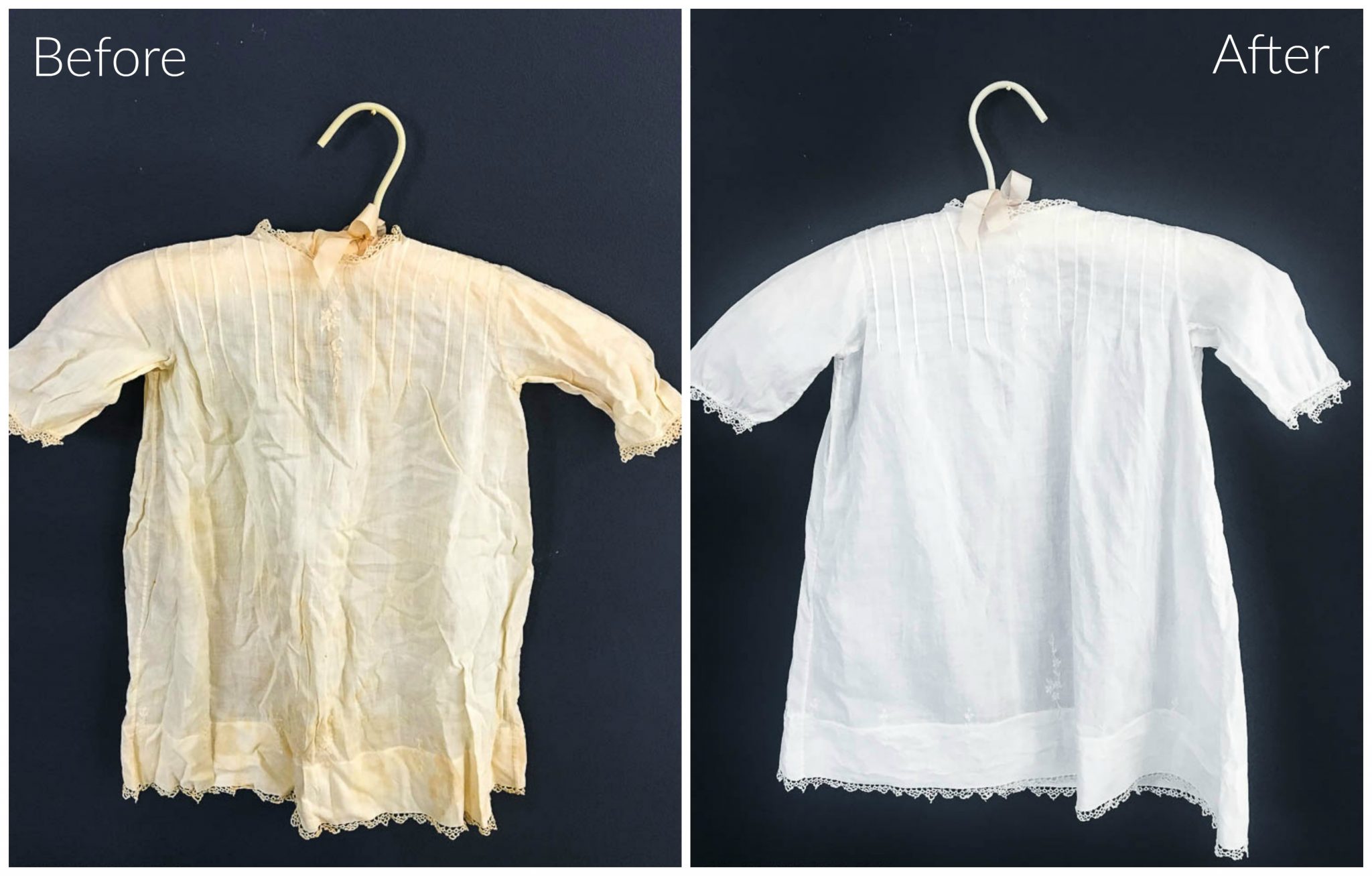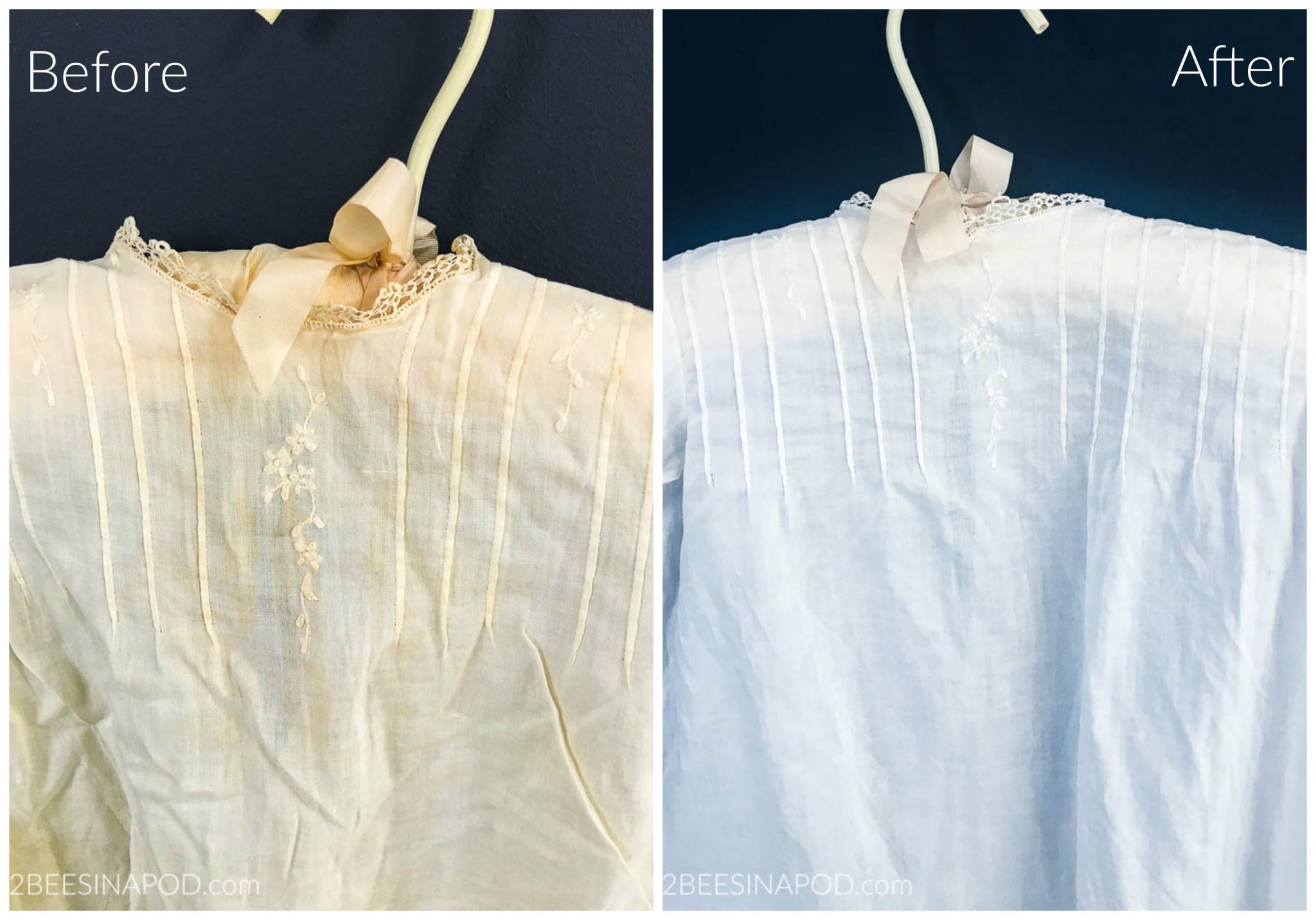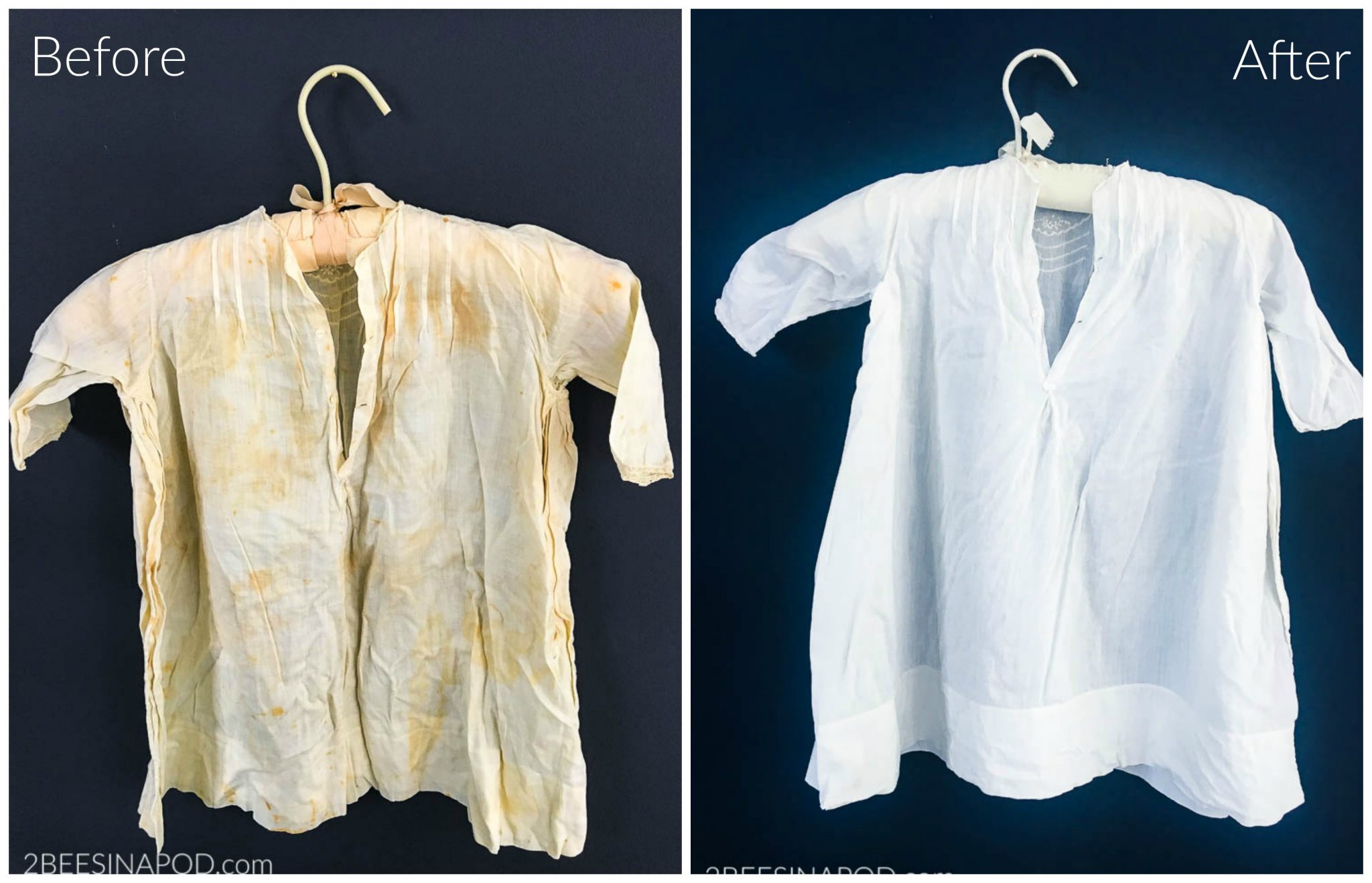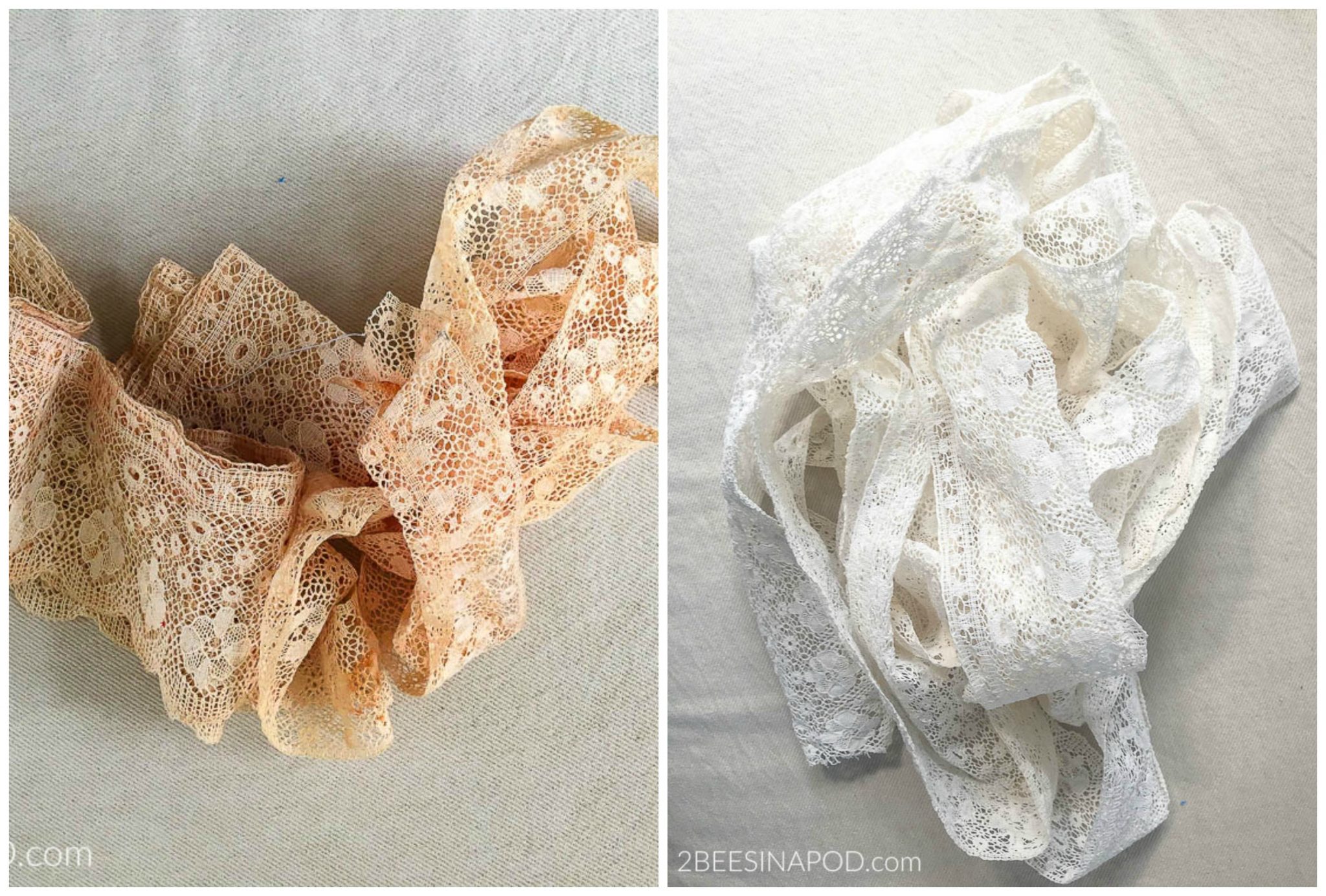 Night and Day Difference
Isn't the transformation amazing?

These precious baby gowns have been saved from ruin.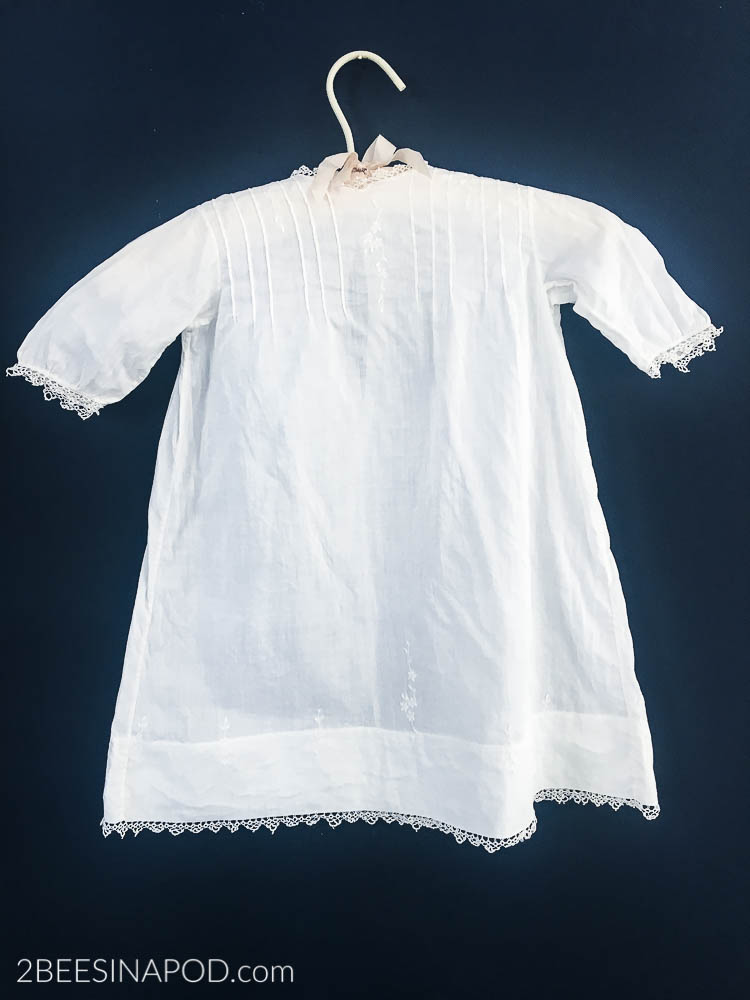 Normally we would never boil lace, especially lace that is over 100 years old.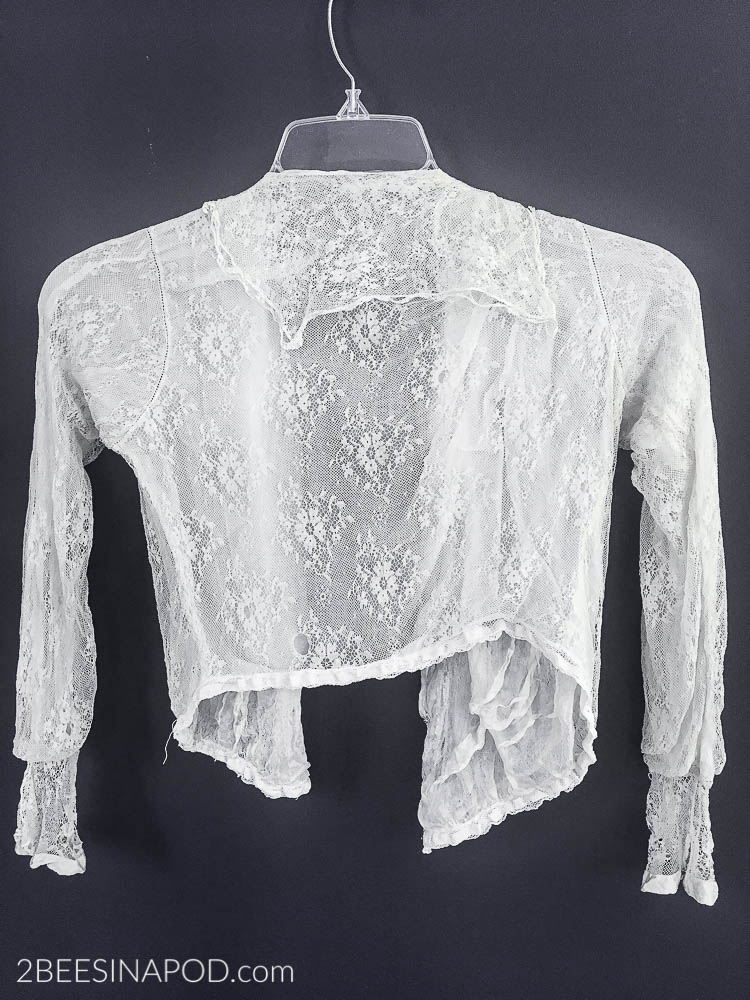 But then we remembered that boiling clothes was how laundry got done all of those years ago. And the lace blouse and lace trim were in such very bad shape we decided to give a try. We are so glad that we did! All of our pieces look beautiful now and we would proudly display them in our homes.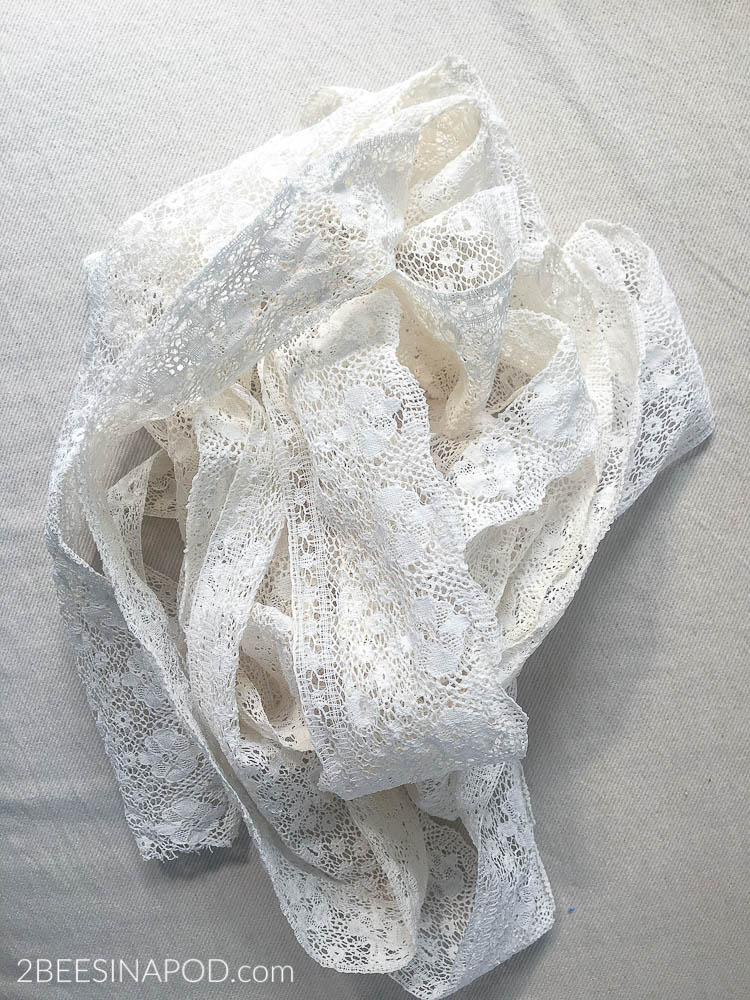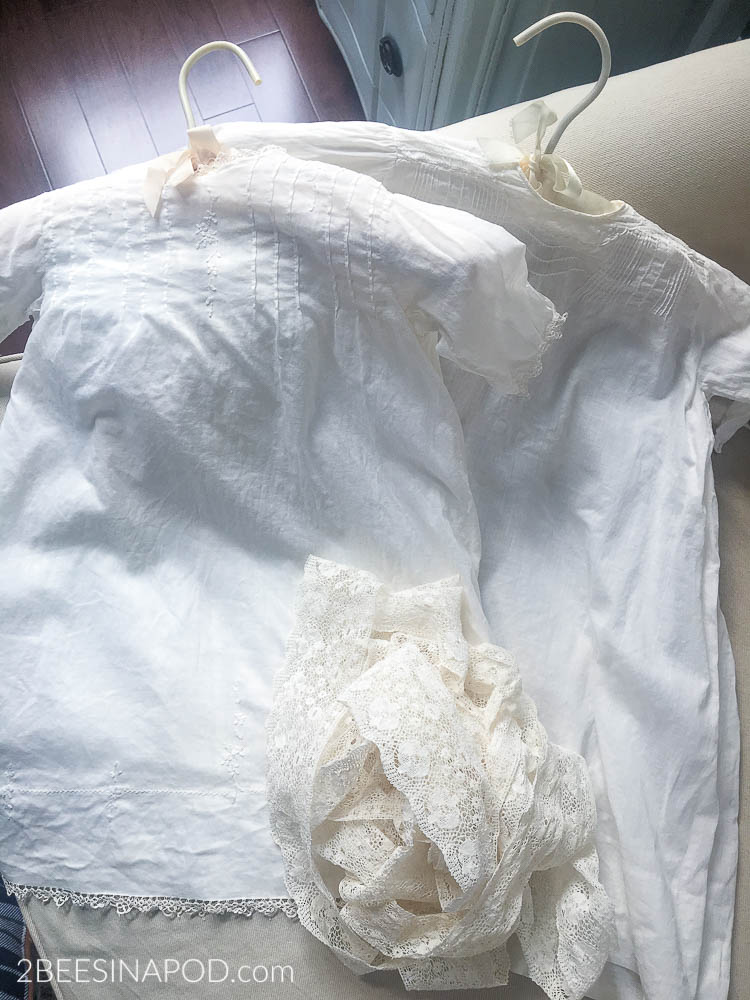 We hope that you have found this tutorial for how to clean vintage linens and fabrics helpful and informative.
Keep us informed of your success in cleaning your vintage linens.
Don't forget to pin this to your favorite Pinterest board!