Kitchen Makeover – Mood Board Plan and Design
Please note that this post contains affiliate links. As an Amazon Associate, Rewards Style influencer and Jane Influencer, we earn from qualifying purchases and any sales made through such links will reward us a small commission – at no extra cost for you.
Excited would be an understatement when I discuss my kitchen redesign. I can't wait to share all of the details with you for my kitchen makeover – mood board plan and design!
Kitchen renovations are typically the most expensive home improvement on the market. There are so many elements necessary to a kitchen. Cabinets, flooring, lighting, backsplash, countertops and more. Then you are offered endless possibilities for which materials to use for each of these items. Granite, stone, marble, wood, ceramic, porcelain, brass, copper – until you want to scream out ENOUGH! And we haven't even talked about paint colors for the walls. Being that I have a very tight budget I had to decide where my money would be best spent. This is my kitchen makeover mood board plan and design.
It all begins with a good plan
Honey Bee and I sold our big-city house and downsized to our vacation cottage townhome less than two years ago. We have owned this home for 11 years now and it was brand new when we purchased it. When this house was our vacation home we would visit on the weekends and long holidays. The kitchen was absolutely perfect the way it was. Now that we live in the house full-time, it's a different story. Let me try and explain
Dark and dreary
Our townhome is built as a multiple quad unit, meaning that our house is attached to 3 other houses.
Obviously this isn't drawn to scale. I would like for you to take notice of where the kitchen is located in my house. The kitchen does not have any windows or means of natural light, except for the windows on the opposite side of the house. It is like walking into a dark cave everyday. You can't use the kitchen unless you have overhead lighting turned on. The cabinets are dark cherry, the flooring is dark wood and the countertops are black granite adding to even more darkness.
Welcome to the Cave
Are you ready to see the kitchen in its current state?
Please keep in mind that the above photo was taken with ALL of the lights turned on and with an added light to the left of the refrigerator.
This next photo is a truer depiction of everyday life. It was photographed on a very bright and sunshiny day, yet look at how dark it is. And I turned lamps on just so that this wasn't a blank, black photo.
Look at how bright and beautiful the living room is! Sadly this natural light can't possibly reach the kitchen.
All of the following photos are enhanced with lighting.
What's a Girl to Do?
Since I can't knock out the walls to my neighbor's homes and there is no way to add windows, I have to be creative. My personal decor style is Cottage Traditional. Decorating with whites, greys, blues and greens is my comfort zone.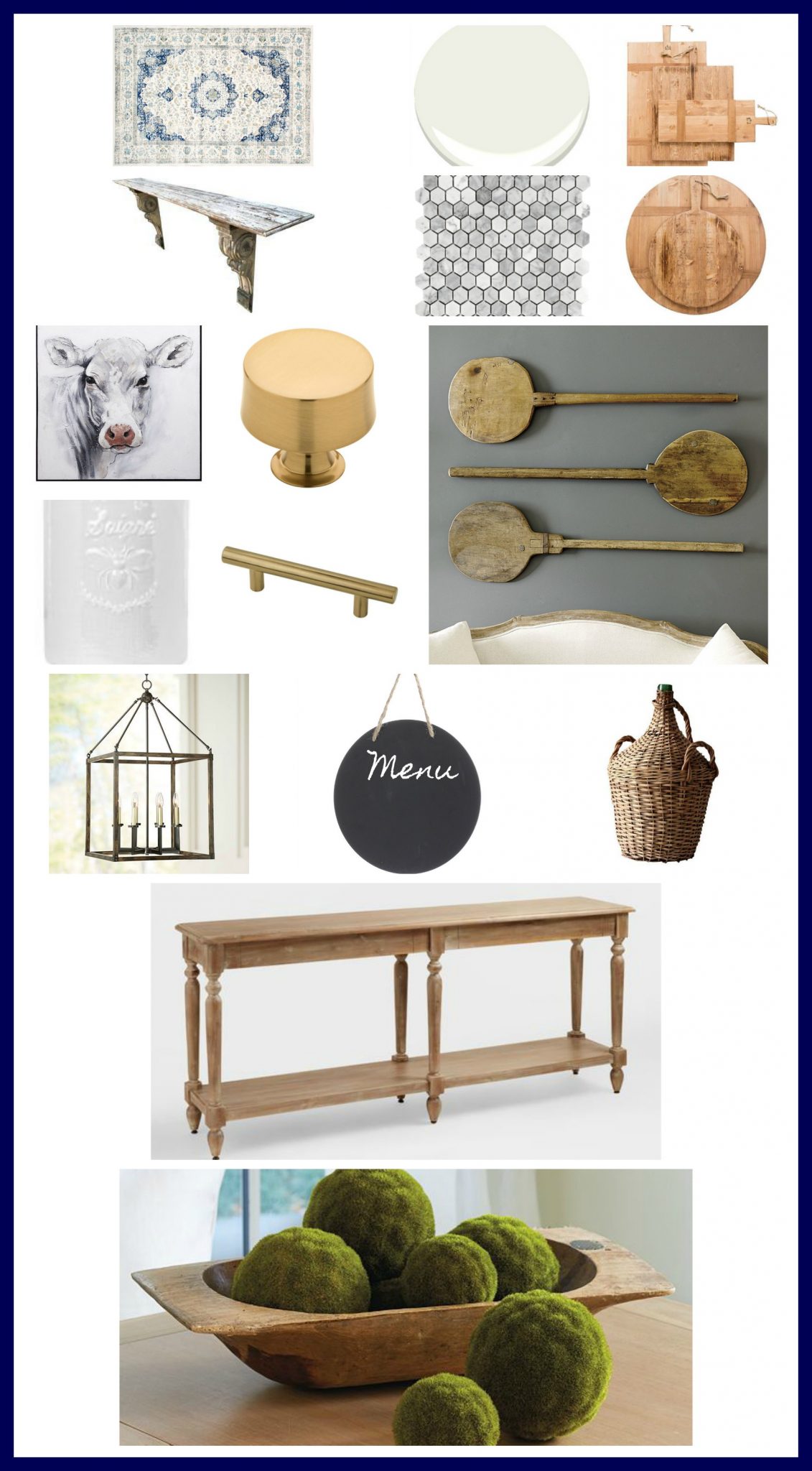 Game Plan
Paint the kitchen cabinets
New cabinet hardware
Add a backsplash
Find an oversized shelf with antique corbels
Add a new dining room chandelier to better enhance the kitchen
New rug with light background color
Move an existing table into the kitchen
Use some existing decor and add new decor in neutral tones and touches of blue/aqua
Pray everything goes to plan 🙂
Every week for the next five weeks I will show you my progress step-by-step. Hopefully, the final week will be a beautiful reveal of a completely refreshed kitchen! If you have any questions along the way, don't hesitate to ask. Please keep in mind that I haven't even visited a tile shop yet LOL. I will be heading to the "big city" tomorrow to price out backsplash options – wish me luck!
Don't Forget to Pin this to your favorite Pinterest Board!