Please note that this post contains affiliate links. As an Amazon Associate, Rewards Style influencer and Jane Influencer, we earn from qualifying purchases and any sales made through such links will reward us a small commission – at no extra cost for you.
Can you believe Christmas Day is in one week? EEK – are you ready? I finally feel like I'm in a good place to rest a little bit and enjoy the holiday. I still have packages to mail and some groceries to buy, but for the most part I am as ready as I'm going to be 🙂
Are you in need of last minute gift inspiration? Just yesterday I created some Lavender Bath Salts and they took minutes to make. I am extremely fortunate that we had lavender bulbs leftover from Jennifer's wedding. We used fresh lavender to toss at the happy couple as they left the wedding reception. It was fragrant, beautiful and memorable…and we purchased way too much lavender 🙂 So, I was able to create several gifts at one time using the fresh lavender.
We decorated this vintage galvanized pail with burlap and succulents…
…it held a lot of lavender 🙂
Here's what you need to create your gift of Lavender Bath Salts:
Epsom salt

Lavender
Mason jar – pint size
Lavender essential oil
Shaker top for Mason jar – optional
Decorative ribbon and lace – optional
Fill your Mason jar halfway with epsom salt. Add 5 drops of lavender oil. This oil is very potent.  I suggest adding just a little at a time. You can add more drops if you feel like you want a stronger fragrance. Place the lid on top of the jar and shake vigorously. Add a scoopful of fresh lavender – again place the lid back on and shake again.
Now, fill the jar with epsom salt and repeat the above process. You may want to channel your inner KC and the Sunshine Band…Shake, shake shake 🙂 The shaking disperses the fresh lavender so that it doesn't clump to the bottom of the jar.
I found these shaker lids from an Etsy shop and they fit the Mason jar perfectly. Your gift recipient can shake their bath salts into the tub easily 🙂
If you don't want to use the jars, you can make little bath sachets. I used white tulle ribbon – I cut two squares of tulle and placed them on top of each other. This keeps the salt inside the little pouch that you create..
I gathered the tulle up and knotted it at the top with lace to create a little package. These become individual use bath sachets…
I created gift tags – you know I had to use a bee 🙂
I used lace and bakers twine for the tag…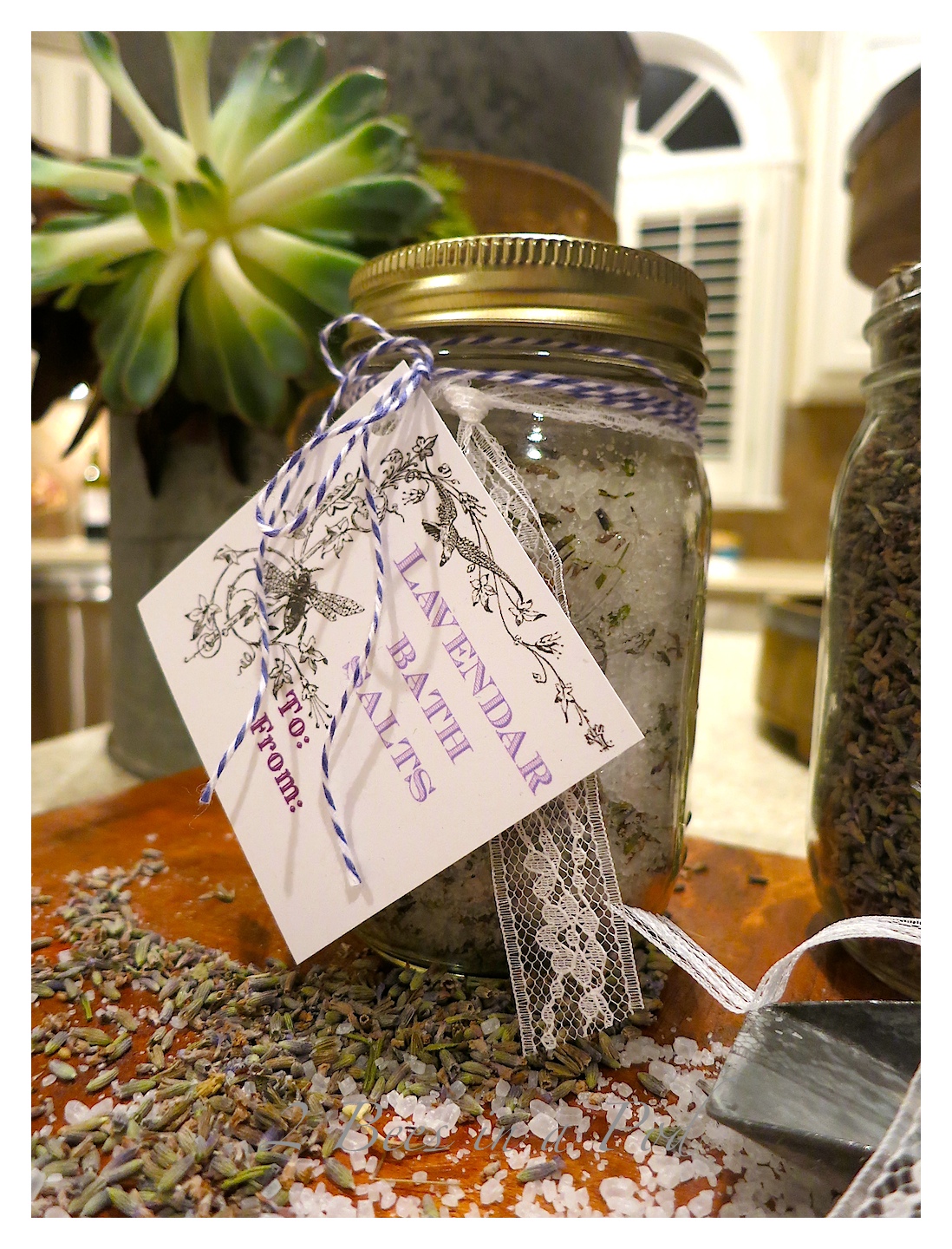 So, I hope this helps you with your last minute gift giving. After gathering my materials, I made six jars in literally 15 minutes! What gifts are you making at the let minute?