Please note that this post contains affiliate links. As an Amazon Associate, Rewards Style influencer and Jane Influencer, we earn from qualifying purchases and any sales made through such links will reward us a small commission – at no extra cost for you.
Hey y'all…Jenn and I know that you love when we create room and furniture makeovers. We hear you loud and clear. Today I can't wait to show you my laundry room makeover.
But first, can I whine a little? LOL! I know this isn't a great request to start a post but I just need to complain a little. My laundry room was almost impossible to photograph. It is very narrow and looks directly into a window. When I took my first test photo, it looked like I was being called to the bright light of heaven…and I'm not ready for that.
This laundry room space has some odd angles too. I did my best and I am excited to show you my laundry room makeover.
First…let me show you where I started and what the room used to look like. This is so embarrassing. Are you ready?
Why, yes that is bright orange. And, yes I did think it was a good idea at the time.
When I painted the room orange, I was at a place in my life where I needed bright cheerful color. As you can see, it was just too much color for this little space. But, life got busy and other projects took priority and I never got around to re-painting until now.
I still like color but I toned down the brightness with this pretty slate gray. It's from Valspar and it is Volcanic Ash.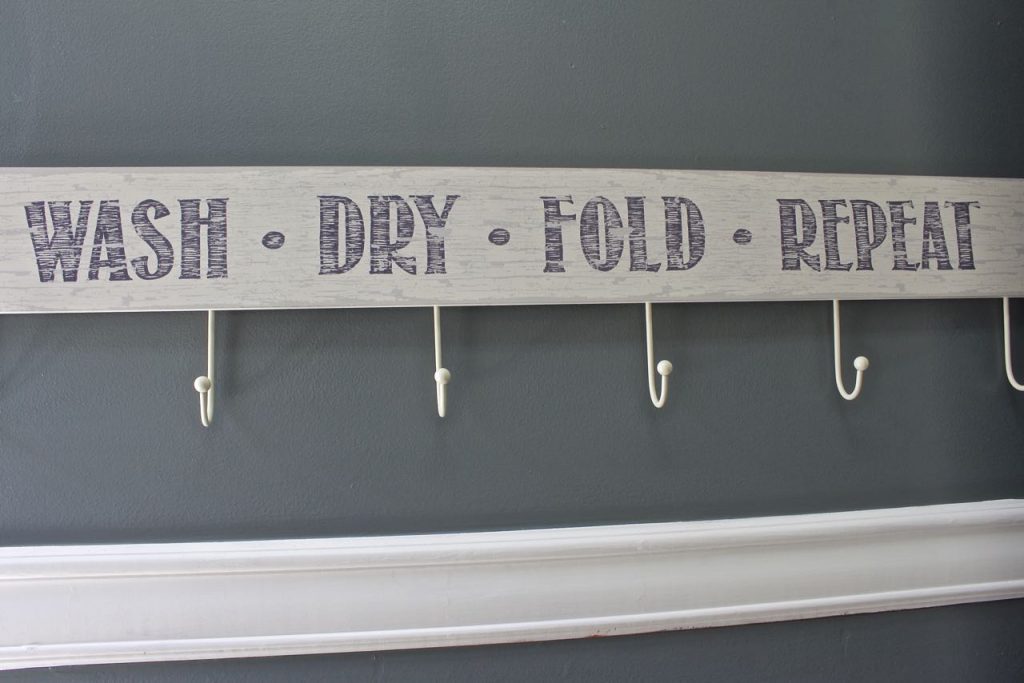 This rack is so cute and functional. The hooks definitely get a workout when I take clothes out of the dryer and place them on hangers.
Anybody that knows me, knows that I heart pigs. I think they are cute, adorable and I wish I could have one as a pet. I have a small collection of the decorative variety and I have placed a few in the laundry room.
This terra cotta succulent planter is a cutie and was a gift from Jenn.
This new rug matched the room perfectly and for $10 I couldn't pass it up.
Another update I did was changing out the cabinet door pulls. The brass was looking dated and worn…
…and I changed them out for large glass knobs.
Y'all know I had to add a bit of vintage…
These are my grandmother's wooden clothespins.
…and her clothespin holder. I remember grandma's backyard clothesline. If I close my eyes I can see her fresh washed sheets drying on the line, blowing in the breeze. This little bag always accompanied her outside when she took the clothes down. Sweet memories.
It's hard to believe that Clorox Bleach used to be packaged this way. This amber bottle is so pretty.
In my wildest imagination I cannot imagine having to iron clothes with this 3 ½ pound iron. Can you imagine how tired you would be after ironing a basketful of laundry? Thank goodness for our modern conveniences of today.
The starch box matches the room perfectly.
This makeover has been a long time in the making. I am so glad that the room is complete…and maybe now I won't mind doing laundry as much. Aww…who am I kidding? At least the room is pretty to walk by!
Until Monday…
XO~Vicki