Ikea Skala Tray Makeover with Paint and Fabric – Thrifty Style Team
Please note that this post contains affiliate links. As an Amazon Associate, Rewards Style influencer and Jane Influencer, we earn from qualifying purchases and any sales made through such links will reward us a small commission – at no extra cost for you.
Whenever I visit a thrift store, I always look for trays. On a recent trip I lucked out and found a few candidates. I chose an Ikea Skala tray that was given a makeover with paint and fabric.
A tabletop tray is a perfect decor accessory for every home. Trays come in a variety of styles, shapes and sizes.Unfortunately some of them are offered at very high price tags.Think outside of the design box when you think of trays – it could be a cutting board, basket, mirror, photo frame or lots of other things. That's why I love to visit thrift stores. One of the items I'm always on the lookout for is trays. Recently I scored an Ikea Skala birch wood tray that I just knew would be perfect for this months Thrifty Style Team challenge! Here are all of the details for this Ikea Skala tray makeover with paint and fabric.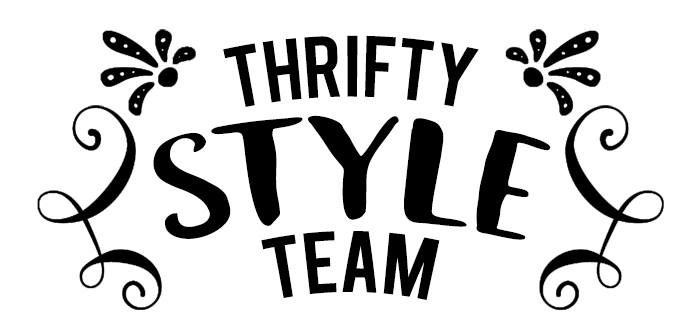 Great Deals Can Be Found at the Thrift Store
Ikea no longer sells this Skala birch wood tray, but when they did the retail price was $24.99. Friends, I paid the grand total of just $1.oo for my tray at the thrift store. It was in great shape except for the water mark stains on top.
Birch wood is beautiful, but since it was damaged I decided to paint it.
Using Annie Sloan Chalk Paint® in Old White I painted two light coats. I lightly sanded the finish with 220 grit sandpaper and then sealed it with clear paste wax. THIS one is my favorite.
Wanting a bit more panache and color I searched my stash and found this perfect blue and white fabric scrap. Jenn and I used this years ago for curtains in her first home in North Carolina. Years later, I still love it. We used part of the fabric scrap to cover this vanity bench seat.
Details
place the tray bottom on top of the fabric
outline the tray with a pencil
using scissors, carefully cutout the circle
make sure to cut inside the circle for seam allowance
place the circle cutout onto the tray to make sure it fits
trim if necessary
After a lot of thought, I decided not to glue or attach the fabric. This way I can change out the fabric as my mood sees fit. Also, it makes for easier cleaning and dusting.
Trays are my favorite way to decorate and curate vignettes
You can can pick up the entire tray for cleaning off the table
It's easier to decorate a tray than an entire table
You can showcase your personality
Endless styles
My vignette has a lot of other thrifty style. Other thrifty style tips: Chalk Painted Books for Decor
My hydrangeas are in full-bloom and they look beautiful. This little vase is really a yogurt jar.
My sincerest wish is that you were inspired today by the projects I shared. Great decor does not need to cost a lot of money. Hopefully you can create your own Ikea Skala tray makeover with paint and fabric – or something similar very soon. I would love to hear all about it! Remember to visit all of the other fabulous creative design inspiration below from our Thrifty Style Team!
Don't Forget to Pin This to Your Favorite Pinterest Board!