Vanity Bench Makeover – Thrifty Style Team
Please note that this post contains affiliate links. As an Amazon Associate, Rewards Style influencer and Jane Influencer, we earn from qualifying purchases and any sales made through such links will reward us a small commission – at no extra cost for you.
Easy vanity bench makeover with fabric and a bit of paint.
Welcome to this month's Thrifty Style Team! Have you ever missed doing something, but you didn't realize just how much you missed it until you did it again? That is how I feel about this simple vanity bench makeover. I haven't done a furniture makeover in a very long time. An added bonus is that this project was so very quick and easy.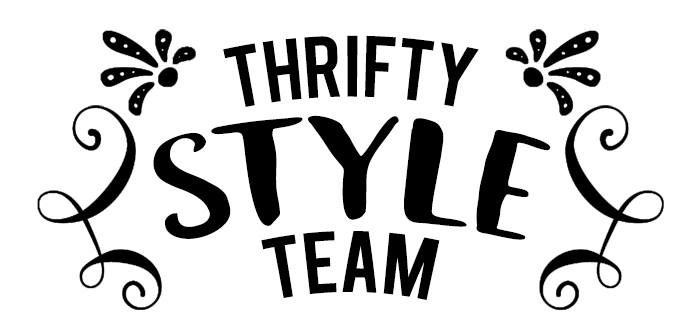 Makeover in the Making
Can you believe that this sweet vanity bench was a curbside find?
A few years ago, I gave the bench its first makeover.
The frame was painted white and then sanded for a vintage, weathered finish. At the time I loved red and white, so I added this beautiful fabric from my stash.
Now my decor tastes have changed and I favor hues of blue. Recovering a fabric bench seat is easy and economical.
Layers of Fabric
Typically a vanity bench has 4 screws holding the seat into place on the under-side. They are easily removed with a screwdriver. As you can see, this bench has been reupholstered a few times. In a perfect world these extra fabric layers should be removed. But, I'm impatient and determined that I could get away with adding just one more layer of fabric. 😃
Do you remember this stunning fabric? It was a curtain panel from Jenn's former home. The blue and teal colors as well as the gorgeous pattern make it a favorite of mine. So much so that I have already used it for this tray makeover and these fabric ornaments.
This is how it's done
Trim your chosen piece of fabric adding an 1½" of fabric extra, all the way around.
Iron the fabric very well.
Using a heavy duty stapler, fold the fabric beginning in one corner. Staple in place like you would hospital corners of a bed sheet. Repeat on the other 3 corners.
Then staple the side pieces into place.
Screw the seat back into place.
Stand back and admire your handiwork!
You may not think that this is much of a change, but for me it is very dramatic.
See why I love this fabric so much? Flowers and swirls in my favorite colors make my heart skip a beat.
You'll be seeing this bench later as it is part of my master bedroom refresh project.
If you see a bench at a thrift store for a good price – buy it! Vanity benches are so versatile and they can be used anywhere in your home. They are perfect for extra seating and are great additions for your decor.
Don't Forget to Pin this to Your Favorite Pinterest Board!
Now let's see what our Thrifty Style Team members have created this month!