DIY Fabric Wrapped Christmas Ornaments – Thrifty Style Team
Please note that this post contains affiliate links. As an Amazon Associate, Rewards Style influencer and Jane Influencer, we earn from qualifying purchases and any sales made through such links will reward us a small commission – at no extra cost for you.
Today we will show you how to make DIY fabric wrapped Christmas ornaments.
Our Thrifty Style Team is back this month and we are sharing lots of Christmas and Holiday ideas! We are always blown away with the creativity of each team member. Not to mention the fact that the ideas are thrifty, meaning that they are low-cost projects. This month we are sharing DIY fabric wrapped Christmas ornaments.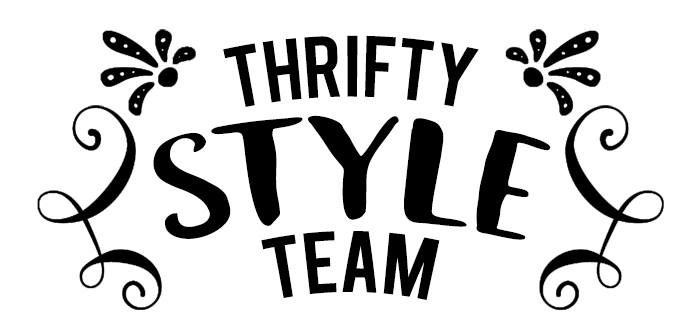 This project idea was sparked while visiting our local Dollar Tree store back at the end of September. They already had some of their Christmas decor displayed like these round plastic ornaments.
We thought it would be fun to have custom ornaments on our tree that matched our home decor. Using one of our most favorite fabrics, we got down to business. This fabric was leftover from when we made curtains in Jenn's former home in North Carolina. Recently we used it to line THIS painted tray and fabric liner. We just knew that it would be perfect for the living room Christmas tree.
Plastic is preferred over glass because it can break. It is also better than styrofoam because it can crush or get dented and misshapen.
Supplies:
Round plastic ornaments – you decide how many
foam paint brush
Mod Podge
fabric of your choice – thin cotton is best. Cut into 2 inch squares
drying mat such as a box or sheet of plastic
**optional – holly and berries for embellishment
How to Put it Together
Carefully remove the metal hanger. Save to add back on later.
Make sure to avoid adding Mod Podge and fabric to the neck or hanger area of the ornament.
Paint the outside of the ornament with a thick layer of Mod Podge.
Add first piece of fabric to the ornament. .This does NOT need to be perfect. Smooth into place.
Add next piece of fabric. Smooth into place. You may need to add more Mod Pod to the fabric.
Repeat this process until the ornament is fabric covered.
Turn the ornament upside down until it is completely dry.
Reattach the metal hanger.
**Embellish with holly and berries.
Not to confuse y'all by showing a different fabric LOL. Several ornaments were being made and our hands were gooped up with Mod Podge. It was very hard to stop and photograph.
Here you can see the different layers of wrapped fabric. Mod Podge dries very quickly, which is why we love to use it.
Adding holly leaves and berries just gives a little added touch.
Medium blue and teal aren't typical Christmas colors, but in our homes they are.
Nowadays anything goes. Decorate with whatever makes you happy.
On the Christmas tree they look even prettier and brighter.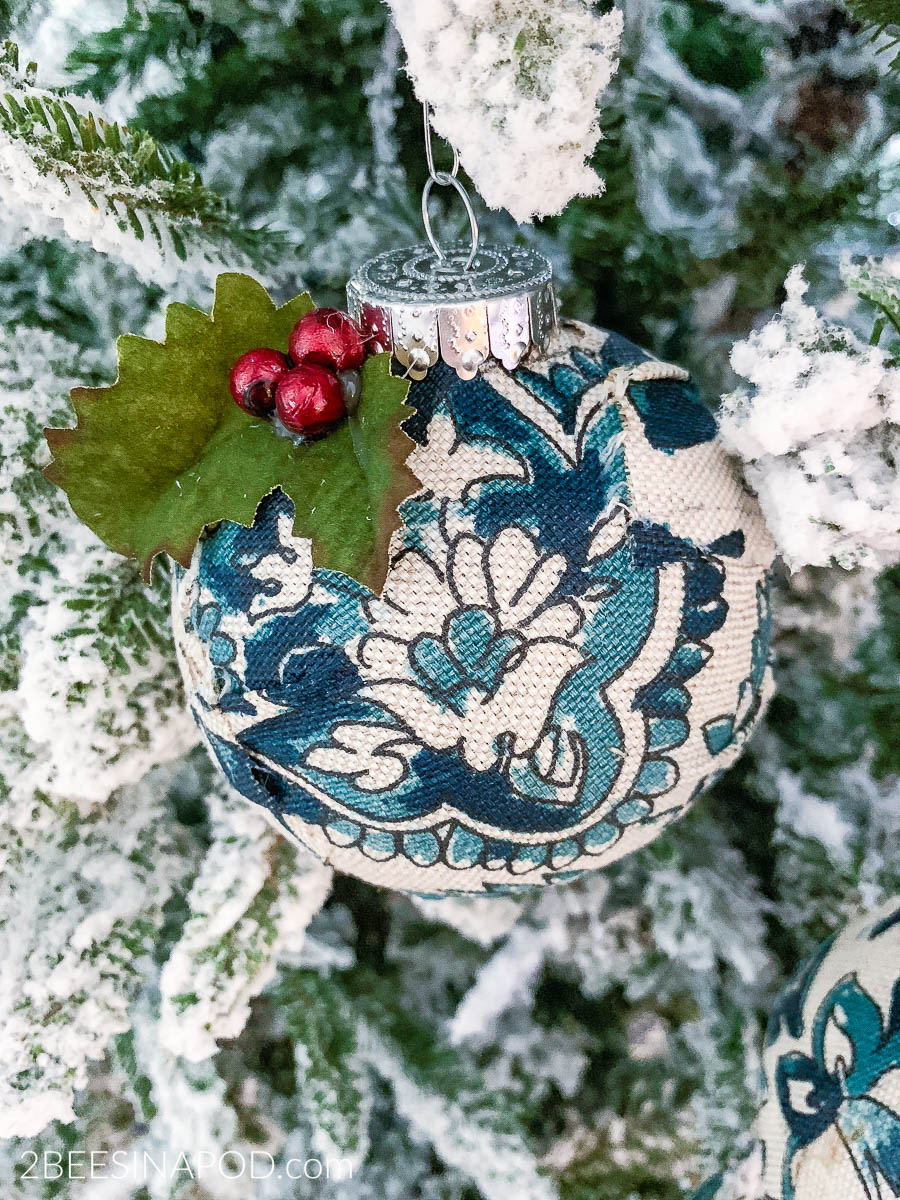 What colors do you like to decorate with at Christmas? The rest of the house will be fairly traditional this year. The blue and teal will be in the living room where it is typically that hue year-round already. It will be so pretty!
Don't Forget to Pin this to your Favorite Pinterest Board!
Let's set what the Thrifty Team is up to!