Haven Conference 2014 Recap…Newbie, No More
Please note that this post contains affiliate links. As an Amazon Associate, Rewards Style influencer and Jane Influencer, we earn from qualifying purchases and any sales made through such links will reward us a small commission – at no extra cost for you.
We just successfully attended our very first bloggers conference…Haven Conference 2014. Luckily for Jennifer and I, it is held right here in Atlanta, Georgia. We decided to stay at the conference hotel because:
We really wanted to connect with other bloggers

We wanted to maximize our conference time.
We didn't want to miss out on one bit of fun
So…we were all packed up and headed down the highway. We were super excited and yet nervous at the same time. Kind of like the first day as a Freshman in high school! What if no one knows who we are? What if no one speaks to us? We knew we over-thinking it but we were still a bundle of nerves. Well, we soon discovered we had nothing to worry about. The people that we met and spoke with were so kind and friendly.We soon discovered they felt the same way we did!
Now, before I go any further I must disclose to you that we both made the MOST rookie mistake – we hardly took any photos! We got so busy meeting vendors,bloggers,taking classes and having fun – we completely forgot that we should be documenting everything. All of these photos were taken with our iPhones. Can you believe it? Anyway…
We checked in at the front desk and picked up our conference swag bag and raced up to our room. We immediately decorated our door…
…and then delved into our beautiful bags. We could not believe all of the items that were stuffed in there. Isn't it great?
We promptly went downstairs for the Haven Newbies Mixer where we hooked up with our social media friends CoCo of The Crowned Goat and Angie of Altered Past.
At the mixer we exchanged business cards with as many people as we could. It was so fun and rewarding to meet people that we have been stalking, admiring, and connecting with online. It was so wonderful to finally have a human face and voice to go with the blogger.
How could we not be friends with Angie Forte of Altered Past – we fell in love with her handmade business cards and the wonderful bee art put it over the top 🙂
Jennifer and I brought ring clips to put the business cards onto each evening to be sure that we didn't lose any:
The official opening of the Haven Conference was presented my none other than Chip Wade of HGTV's "Elbow Room". Now, I'd like to proudly say that Chip is adorable and from right here in Atlanta, Georgia…so how come I've never run into him in the grocery store 🙂 See how he kept looking over at me….HAHAHAHA
We met so many fabulous vendors. Here a just a few that we met with…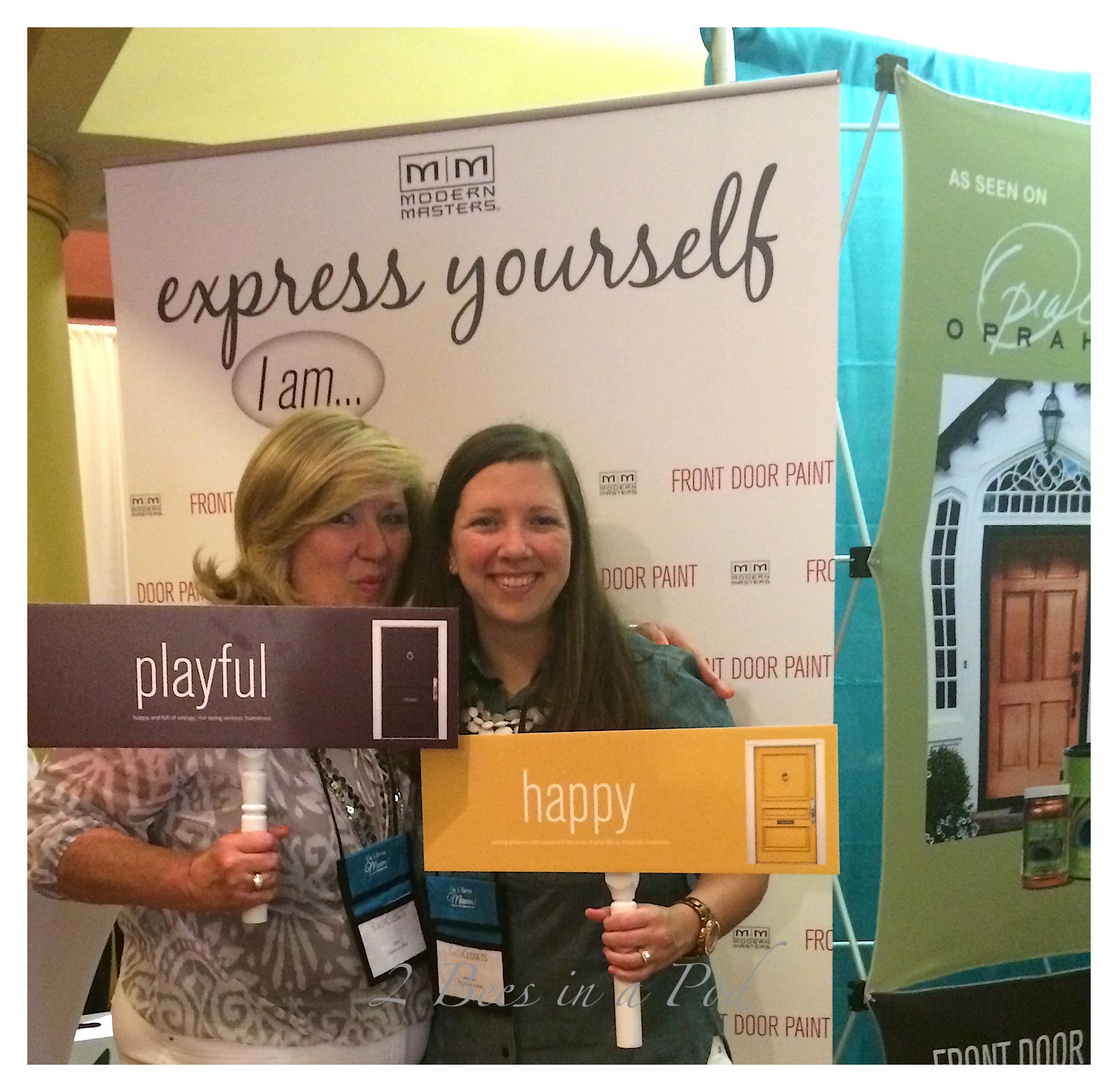 Home Depot -Pointing the way to their DIY Hall of Fame:
Carmen Johnston with Southern Living Plant Collection
I got to take home this wonderful large plant display in a galvanized container!
Can you believe how beautiful this candy bar is? Scout & Nimble know how to make a color impact!
We participated in a fabulous class for Photo Styling.  As you can tell by this showing of photos – We need all of the help that we can get 🙂 Please – don't judge!
Jennifer also won a watercolor painted by one of her blogging idols, Craftberry Bush…can't you tell how excited she is?  She and Kristin from The Hunted Interior taught this amazing class on photography and styling!  We also took other great sessions, such as Blogging Basics: What We Wish We Knew Then…this class was incredibly helpful, especially for a newbie 🙂
Our final night, Ryobi had a super fun farewell party with a creative photo booth, tons of food (ice cream bar…need we say more) and dancing! So enjoyed spending lots of time with Jennifer of The Striped House, as well as a mother/daughter team we met (Chaotically Creative), but of course in our newbie mistake, forgot to get a photo with 🙂
Rachel of Useful Beautiful Home
This is just an example of more of the things that we got to bring home with us!
We looked like the Beverly Hillbillies…You know the tune 🙂 "So we brought down all of our stuff and crammed it in the SUV…swag that is –  power tools, Mason jars"
The very best part…spending time together! This great photo was NOT taken by us 🙂 Obviously, Bobbi of Blu Water Life was way more on the ball than we were and kindly sent us this photo. We are so embarrassed that we were with Bobbi all weekend and have not one photo of her…sorry Bobbi!
We had such a fabulous time. We have created so many memories with each other and with so many bloggers that we are proud to call you friends! We can't wait to start implementing all that we have learned and hope to collaborate with bloggers that we met.
Did you attend Haven? Please add a comment below and tell us what you think. Feel free to share your photos…