4 Ingredient Peanut Butter Cookie – No Flour
Please note that this post contains affiliate links. As an Amazon Associate, Rewards Style influencer and Jane Influencer, we earn from qualifying purchases and any sales made through such links will reward us a small commission – at no extra cost for you.
This 4 ingredient peanut butter cookie recipe is quick and delicious! A real timesaver during the busy holiday season.
Welcome to the Holiday Cookie Tour. Our sweet friend Maryann of Domestically Speaking is our gracious host. Each day this week we will share lots of cookie recipes to take you through this holiday season. Our time-saving recipe is a 4 ingredient peanut butter cookie – no flour added.
In our homes, we all love baked goods. Specifically, anything with peanut butter. The issue that we have with baking is that it can be time consuming and there are lots of messy, powdery ingredients – flour, baking soda,baking powder and salt.
Last weekend, our local weather finally felt like Fall had arrived. Clear blue skies and crisp temps mean snuggling indoors and watching football. Honey Bee and I had a sweet tooth craving, but I didn't feel like hauling out all of the stuff it typically takes to bake. Plus, I didn't want to miss the football game.
Then, I remembered my Grandma Bessie's recipe for peanut butter cookies. They were a treat that she and I baked when I was a little girl. I altered Grandma's recipe by adding vanilla to the mix. Her recipe only called for three ingredients.
The beauty of this recipe is how quickly the dough comes together. In no time at all you will have soft and chewy peanut butter cookies. They will be perfect to make as an addition to your holiday cookie list.
Yield: 24 cookies
4 Ingredient Peanut Butter Cookie - No Flour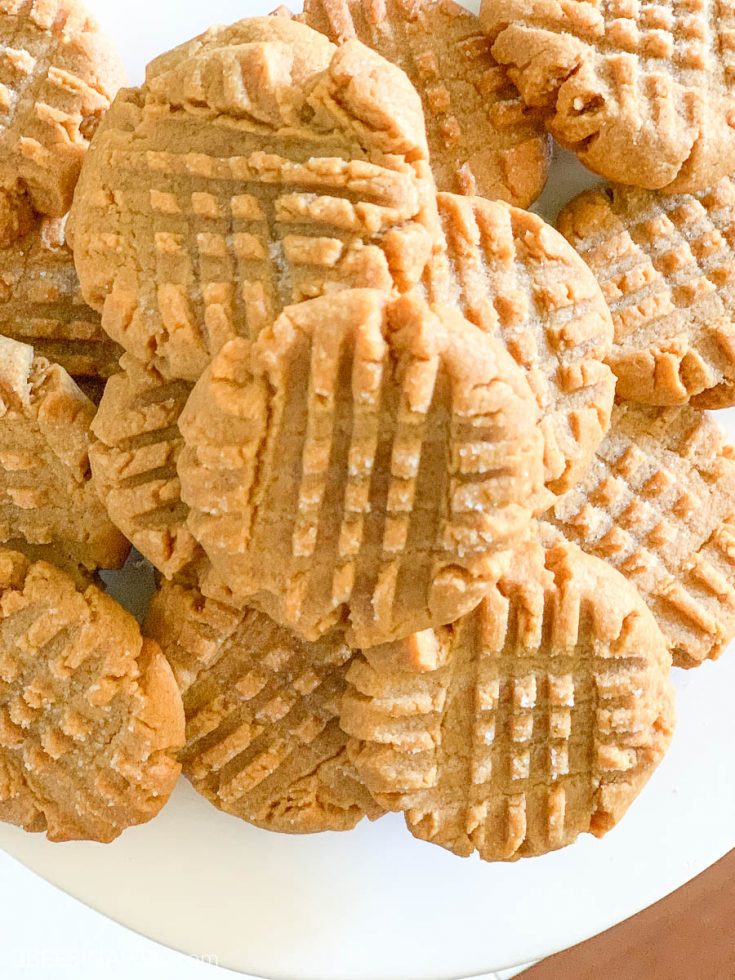 Ingredients
1 cup creamy peanut butter (I used Jif)
1 cup brown sugar or white sugar (I used brown sugar)
1 egg
1 tsp vanilla
Instructions
Preheat oven to 350ºF (180ºC).

In a large bowl, mix together the peanut butter, sugar, egg and vanilla.

Scoop out a spoonful of dough and roll it into a ball. Place the cookie balls onto a nonstick baking sheet.

Dip a fork into sugar. Flatten the cookie balls by pressing a fork down on top of them, then press it down again at a 90º angle to make a criss-cross pattern.

Bake for 8-10 minutes or until the bottom of the cookies are golden brown.

Remove from baking sheet and cool.

Enjoy!
Notes
This easy recipe is versatile. You may use white sugar or brown sugar.
You can achieve this pretty criss-cross pattern by dipping a fork into water, then into sugar. Press the fork downward on top of the rolled dough ball. Repeat the method and turn the fork in the opposite direction. Feel free to sprinkle more sugar on top if you prefer.
We ate quite a few of these while they were warm and served with milk.
For me this was a great holiday family memory of my grandma.
These cookies are perfect for you and your own family, or for friends, parties and potlucks.
Don't forget to Pin this to your favorite Pinterest Board!
Our love of peanut butter is strong with our family. You can enjoy these peanut butter holiday recipes too!
Peanut Butter, Chocolate and Ritz Crackers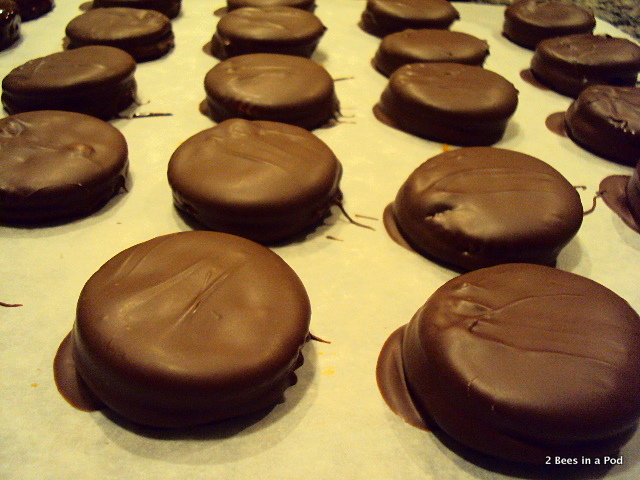 Homemade Dog Treats for Christmas
Now – Please take a look at all of these cookie delights that our friends have created!
Monday's Cookies
Christmas M&M Peanut Butter Cookie Bars
Santa's Whiskers Christmas Cookies
Tuesday's Cookies
4 Ingredient Peanut Butter Cookie
Wednesday's Cookies
Easy No Bake Peppermint Gingersnap Cookies
Easy Spritz Cookies (not pictured)
Thursday's Cookies
Christmas Surprise Cookie Recipe
White Chocolate Cranberry Cookies
Friday's Cookies