Frozen Moscow Mule Slushy Cocktail
Please note that this post contains affiliate links. As an Amazon Associate, Rewards Style influencer and Jane Influencer, we earn from qualifying purchases and any sales made through such links will reward us a small commission – at no extra cost for you.
Perfect for the summertime – Frozen Moscow Mule Slushy Cocktail.
Did y'all have a fabulous 4th of July holiday? We certainly did as we spent time with family and friends. I know that you are sick and tired of hearing it – but it is hot as blue blazes in our neck of the woods. This week we'll cool down to an awesome 88° due to thunderstorms predicted for each and every day LOL. To maintain our cool we shared in a wonderful special bev. A frozen Moscow mule slushy, and it is delicious!
My sweet friend Terri made these for a recent boat ride on the lake. I begged her for the recipe and she happily obliged. After a few test batches (hey, somebody has to do it) I tweaked a couple of things.
My version has a bit more vodka, and the addition of a little water to tame down the frozen limeade. I also added some fresh grated ginger, because I love ginger and I had it in the fridge.
Frozen Moscow Mule Slushy Cocktail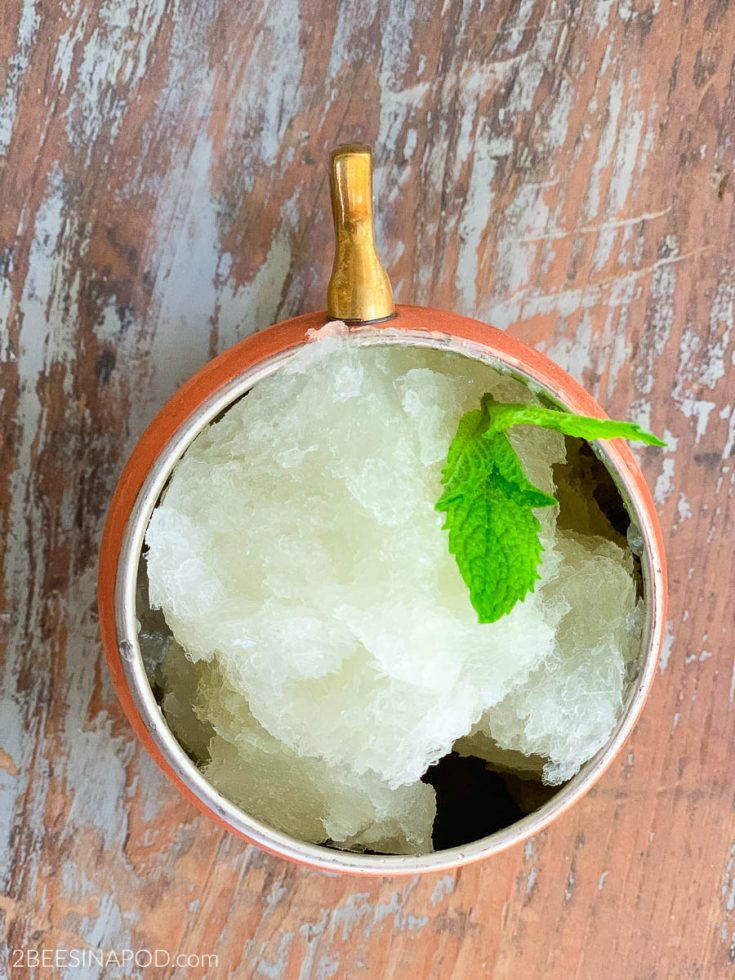 Perfect summertime or party cocktail treat! It's the adult version of a slushy!
Total Time
8 hours
5 minutes
Ingredients
2.5 cups Tito's Vodka
2 - 12 ounce bottles of good quality Ginger Beer or Ginger Ale. Barritt's Ginger Beer or Reed's Extra Ginger ginger ale
12 ounce Frozen Minute Maid Limeade Concentrate
1/2 cup of water
1 tsp fresh grated ginger or dried ground ginger *optional
Fresh mint for garnish *optional
Instructions
In a large freezable container, mix all of the above ingredients.
Seal tightly and freeze overnight.
Scoop, serve and enjoy.
Garnish with mint - optional
Notes
We typically double the recipe. Everyone has loved these and they are gone fast!
This recipe is a tad versatile to your tastes. If it is too "limey" add more ginger beer or vodka.
If you prefer a stronger cocktail add a bit more vodka.
If you like it a bit more spicy - sprinkle some ground ginger in the liquid.
This frozen
Moscow mule slushy
was a giant hit on our recent houseboat trip as well as 4th of July weekend! Everyone begs for more. It is refreshing, citrusy, and a slight hint of spice from the ginger.
This is the easiest recipe to put together. Just dump all of the ingredients into the freezable container,mix and freeze. That's all there is to it! The hardest part is remember to make and freeze these the night before you want them!
TIP
Make a double batch at one time to avoid running out. It will keep in the freezer.
Copper Moscow Mule Mugs really do make this cocktail better. The metal holds the freeze and keeps your drink cool and slushy.
Enjoy – drop us a line and let us know how you love them!
Don't forget to Pin this to your favorite Pinterest board!
Shop our Style!
Hammered Copper Moscow Mule Mugs
6 Piece Mug Set and Mixer