Please note that this post contains affiliate links. As an Amazon Associate, Rewards Style influencer and Jane Influencer, we earn from qualifying purchases and any sales made through such links will reward us a small commission – at no extra cost for you.
Hey y'all…Now, I know you may think I've jumped the gun by doing a Fall project today. And truth be told, I hesitated publishing this cute craft. But the truth of the matter is, I am ready for Fall to arrive…the sooner the better.
I'm over our hot Southern Summer and I have visions of crisp cool days, pumpkins, falling leaves, apple picking, hay rides – well, you get the idea.
So, yesterday I decided to start creating some new Fall decor. I typically change how I decorate each year and I like to do so ahead of time. I don't like spending a lot of money and I reuse and restyle what I already have.
I went down to the basement to plunder through my Fall boxes. I gathered up some sheet moss, mini pumpkins, leaves and some dried forsythia that I purchased on clearance last year. 
When I noticed the terra-cotta clay plant saucers in the corner, inspiration struck. I was going to make a Fall terrarium! I brought everything upstairs and grabbed a glass cloche.

I laid everything out on my dining room table and got to work. I wanted the moss to have a mounded look inside the saucer. I crumbled paper and wrapped and wrapped the moss around it.
To add the forsythia I cut a slit in the moss…
…and added the pumpkin and leaves.
TaDa…isn't this sweet? I love how it turned out. I think I like it so much because of the subtle colors. Last week at an estate sale I purchased a glass cheese cover for $1. I think I'm going to make a smaller terrarium to go with this one.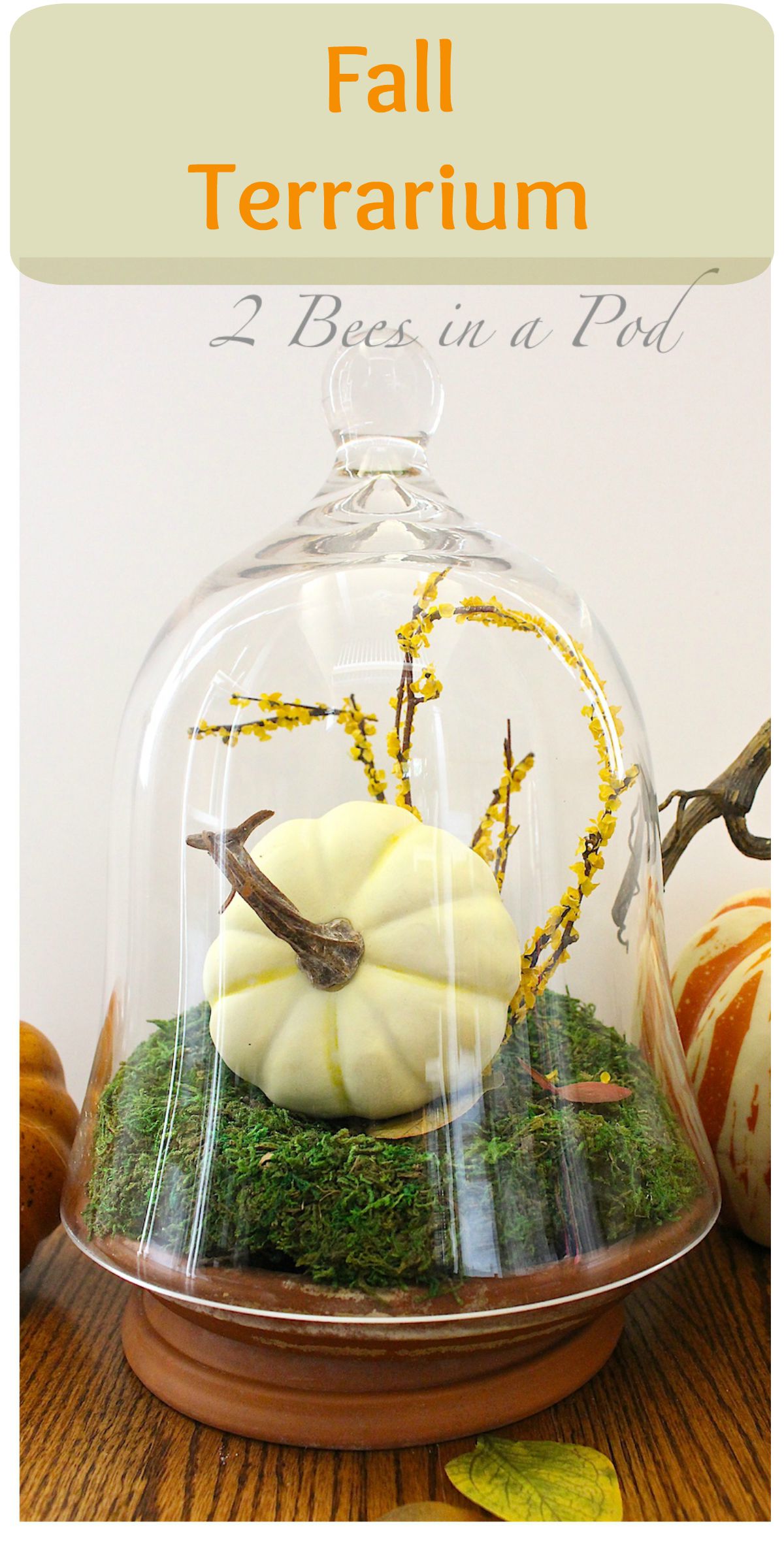 I can't wait to use this terrarium in our Fall décor this year and it was so easy to make. Not to mention that it was inexpensive to do, which we love. So many times we have items in our home that we can re-imagine and use to serve as a new purpose.  We will definitely be making more of these DIY Fall Terrariums this season!
XO – Vicki