Fall Painted Neutral Pumpkins
Please note that this post contains affiliate links. As an Amazon Associate, Rewards Style influencer and Jane Influencer, we earn from qualifying purchases and any sales made through such links will reward us a small commission – at no extra cost for you.
I hope you are doing well in your neck of the woods. I have extended my stay at the lake a little bit longer. It is so peaceful and quiet here that I am able to get more work done than I would back in the city. I will pack up and head home tomorrow with a carload of projects that I have created, like these fall painted neutral pumpkins.
Budget Friendly
I try really hard to keep budget in mind when I decorate whether it be a craft or redoing an entire room. This project is no different.  I wanted to make a Fall display for the coffee table.  Yesterday I made a visit to the local thrift store where I was able to purchase 2 bags of these plastic pumpkins for just $2.oo. I was surprised at all of the Fall decor items they had for very little money. These pumpkins and gourds would have sold in the store for upwards of $6.00 per bag.
As you can see they are very shiny and definitely plastic looking. I decided to paint them in a creamy chalk paint color. Also added a spritz of burnt orange and umber to give a bit of dimension. I watered down the paint quite a bit. Then using a toothbrush – like the free one from the dentist – I dipped it into the paint …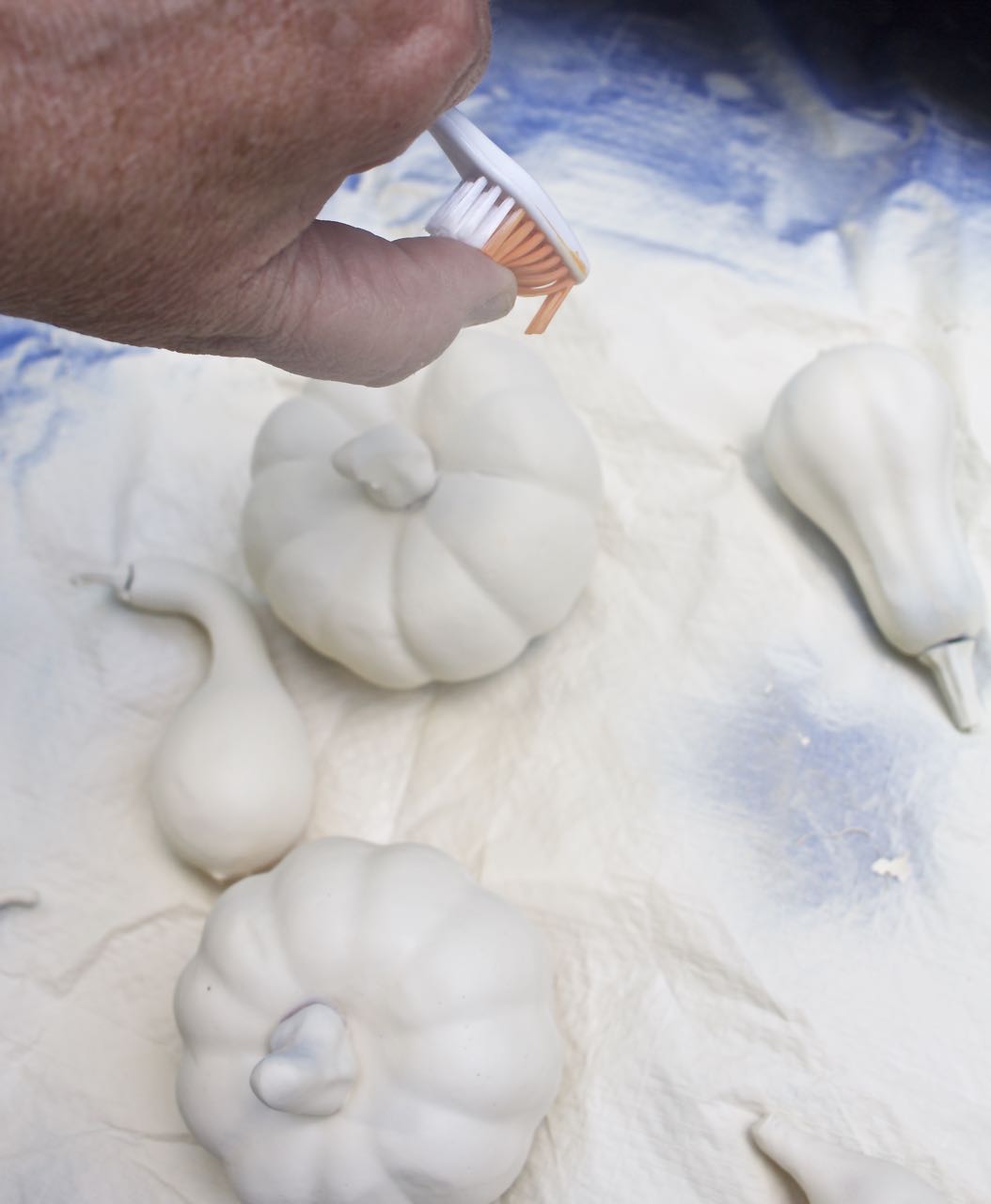 …and spritzed each painted mini-pumpkin.
I knew I was going to use this treasured antique wooden bowl as my centerpiece container. I purchased this years ago from an elderly gentleman whose father had made it. The selling price was $3.00. I tried to give the man more money but he wouldn't take it. He was thrilled that I loved it so much.
I went for a walk in the neighborhood and collected some natural elements for the centerpiece. I also had some faux berries from an old wreath that I used.
Before using pinecones you want to be sure that there aren't any critters living inside of them. I typically bake mine in the oven with great results. Preheat the oven to 250 degrees. Turn the oven off and place the pinecones on a baking sheet and place it in the oven until the oven is cool.
Acorn warning
Furthermore, I would advise against using real acorns inside the house. Even with the baking method. There are mites that bore deep inside of the mites and it is very hard to get rid of them. Don't take the chance.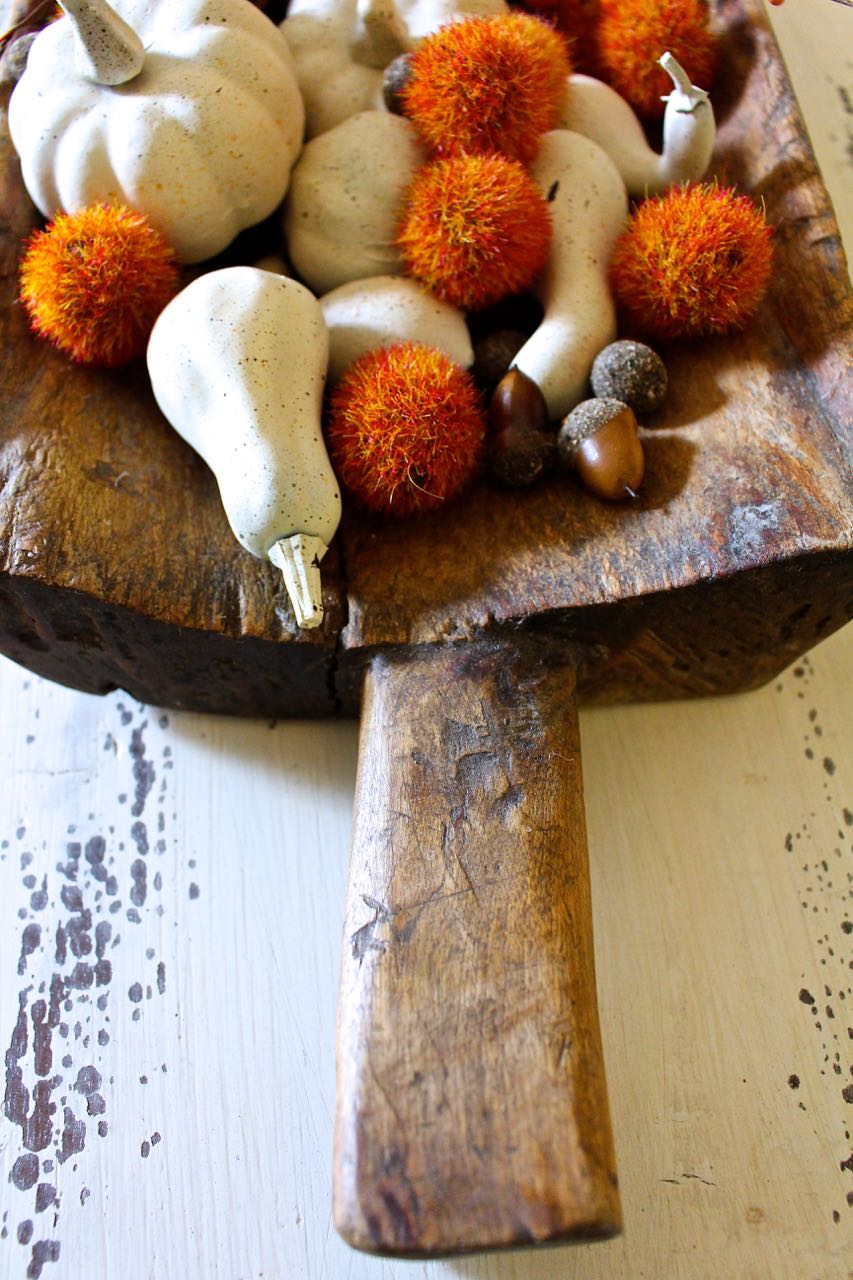 I know that this is photo overload, but I love how this centerpiece turned out 🙂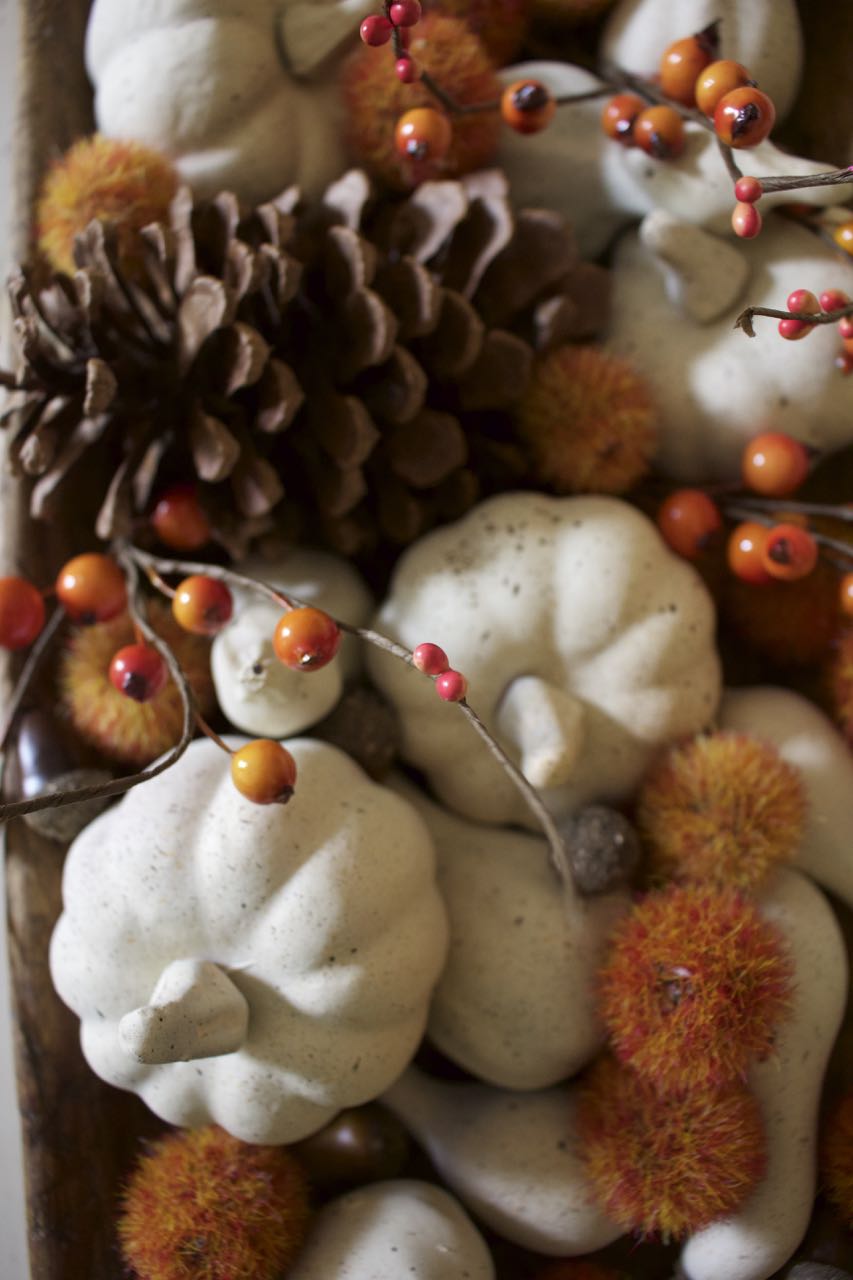 I had most of the materials on-hand so this project was very inexpensive to create…approximately $3.00 total!
Take a walk outside and you might be surprised at what you can find. Pretty fallen leaves, pecans, pinecones, berries, rocks, twigs or thistle. The possibilities are endless and these items are all free!
I love decorating with natural items and plants. I feel it gives my home and decor a warm and inviting feeling.
Are you doing any decorating for Fall yet? We would love to hear what you are up to.
Until tomorrow,
XO~Vicki