Please note that this post contains affiliate links. As an Amazon Associate, Rewards Style influencer and Jane Influencer, we earn from qualifying purchases and any sales made through such links will reward us a small commission – at no extra cost for you.
Hey y'all and Happy Friday! We are happily spending this Labor Day holiday at the lake having some much needed downtime. We plan on having lots of fun in the sun, spending quality family time and definitely having some rest and relaxation.
Before we rush out of town, we want to share with you our very popular Fall tablescape from last year. It's loaded with lots of color and special touches.
We can't believe that we have already ushered in the month of September and are gearing up for Fall. Now, I know some of you are living with sweltering heat but, our temperatures have started to drop just a bit this week and make us dream of cooler days ahead.
It's no secret that we love all things related to Fall…crisp weather days, bright blue skies, football, pumpkin patches, hay rides, cinnamon spice and pumpkin spice lattes.
I guess you could call me a Fall Hoarder as I apparently have a lot of stuff. Keep in mind that I have had most of these items I have owned for over ten years 🙂
We started by laying out this vintage white tablecloth…
This year I decided that I wanted my tablescape to be a riot of Fall color with rustic and vintage elements.The only new item purchased were these orange luncheon plates.
This vintage wicker fly fishing creel became a perfect vessel for flowers that my Honey Bee surprised me with 🙂
I use this rustic box as it is so versatile in decorating. I've used it to hold napkins, candles, jars of sauce – well you get the idea.
Jennifer sacrificed her pretty white jeans for these leaves from our side yard…and slid down the hill to collect them 🙂 We used a chalk pen to write guest names on the leaves to use as place cards.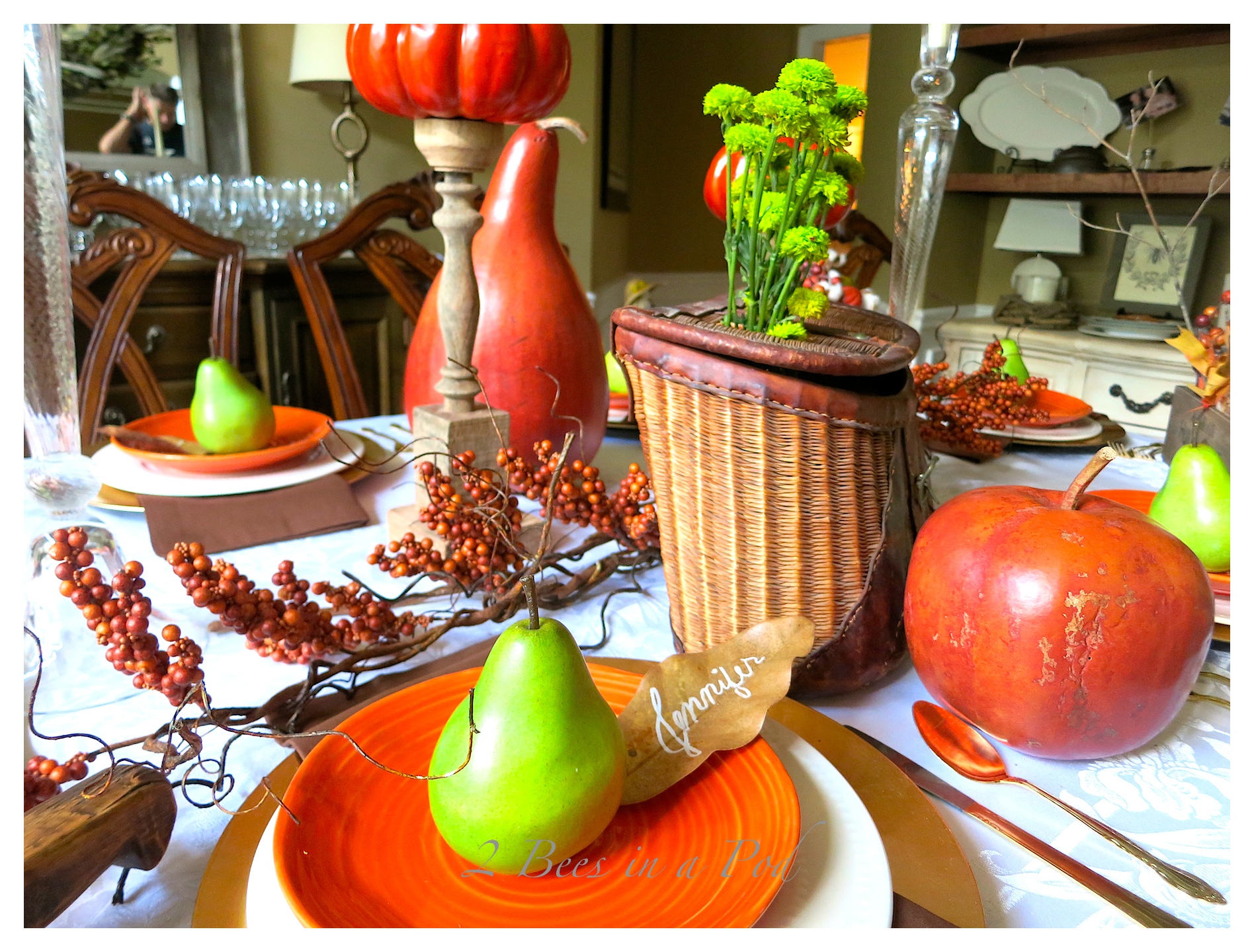 Fresh cotton is another favorite of ours…
We love the bright colors…
We hope that you enjoyed our Fall tablescape and that you discovered at least one idea to use for your very own table.
We hope that you are able to enjoy a long holiday weekend. Happy Labor Day!
XO~Vicki and Jenn