Please note that this post contains affiliate links. As an Amazon Associate, Rewards Style influencer and Jane Influencer, we earn from qualifying purchases and any sales made through such links will reward us a small commission – at no extra cost for you.
For a couple of years now I have wanted to make fabric pumpkins. Not just any fabric pumpkins – my tutorial was going to be super simple and easy to make fabric pumpkins. I am an avid sewer and a creative crafter. My assumption that making these pumpkins was going to be easy-peasy and done in a couple of minutes was woefully misjudged.
Right out of the gate I was in over my head. For the life of me I couldn't figure out how to make a poofy circle. I wish y'all could have seen me with my round ball of aluminum foil that I covered with cotton batting. To make matters worse, I started applying and folding gray flannel fabric on top and hot-gluing it into place. This project was a giant hot mess. There wasn't any real shape to my "pumpkin" and I had way too much fabric in some places and bald spots in others.
I knew that it was time to throw in the towel and to research how an expert makes fabric pumpkins. There were lots of online tutorials and THIS is the one I chose to follow. I followed the directions for machine sewing. I dusted off my old Singer sewing machine, Bertha. She's been with me a long time and has never let me down for any sewing project. I was surprised to find this new sewing Singer
 machine for such a fabulous price!
I gathered coordinating fabrics from my stash and collected twigs for the pumpkin stems. With the guidance of this tutorial I learned that you make pouches that turn into pumpkin shapes. Forehead smack.
Be sure to stuff the pouches fairly tightly with cotton stuffing. If they are under-stuffed they will look flat. I added felt flowers and leaves because I think they're cute. You can see our tutorial for the felt flowers HERE. You can also find similar fabric here
and  here
 and here
.
Here are the fabric sizes that I used for my pumpkins:
Large – 12″x24″
Medium – 10″x20″
Small – 8″x16″
Don't they look adorable?
These will look great in the sunroom. Or, maybe on the mantel…I haven't decided yet.
The twigs add a bit of nature and interest.
Wrapping the embroidery floss on the outside of the pouches wasn't hard to do except on the gray pumpkin. This part needs to be hand sewn. I used wool from an old coat and it was very thick. So thick that it was hard to get a needle through the wool. I would highly recommend using cotton fabrics and flannel.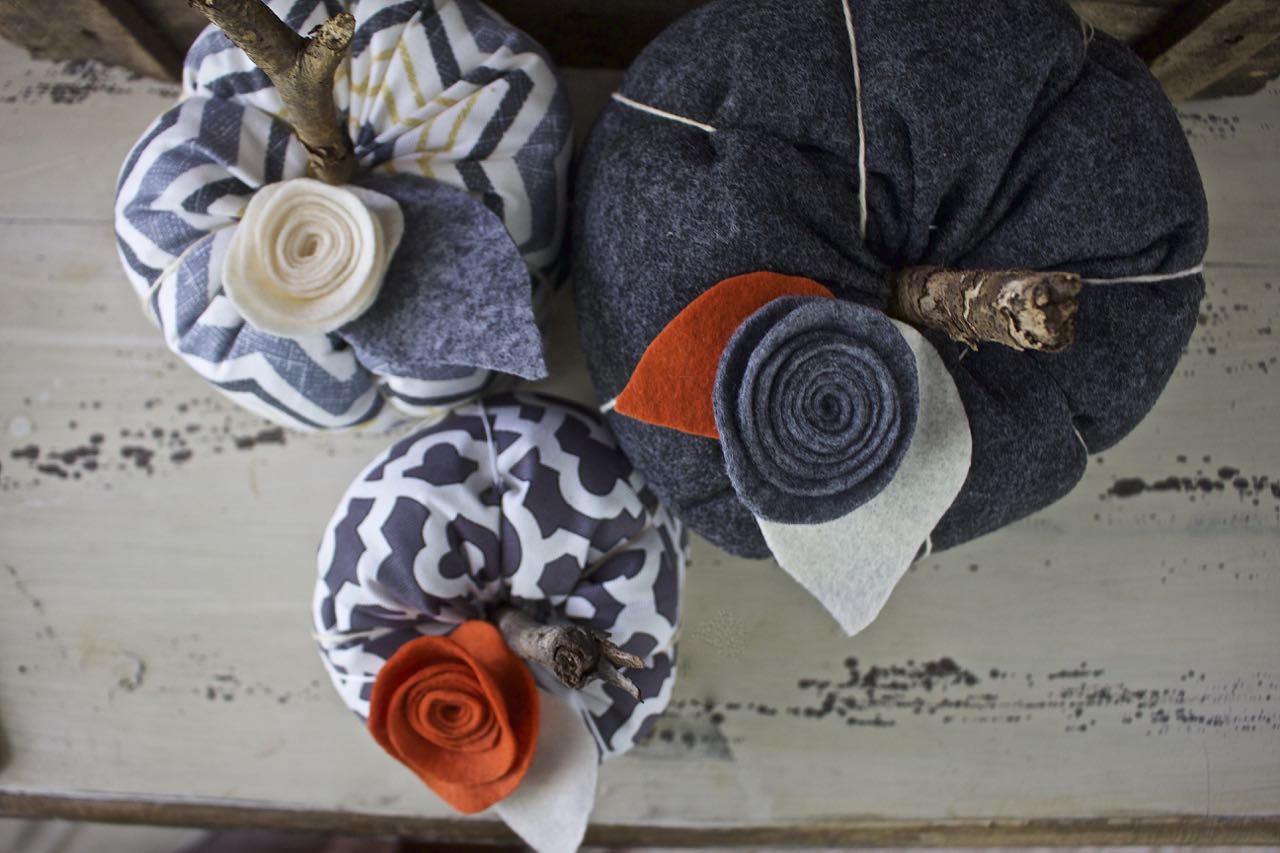 I hope that I haven't scared you off from trying this project. Once I obtained real directions I made all of these fabric pumpkins in about 1 ½ hours. They are a great way to showcase your own personality and design style.
Until tomorrow…
XO~Vicki
Let's be Pin Pals. Be sure to pin this to your favorite Pinterest board…