DIY Place Card Using Vintage Silverware…
Please note that this post contains affiliate links. As an Amazon Associate, Rewards Style influencer and Jane Influencer, we earn from qualifying purchases and any sales made through such links will reward us a small commission – at no extra cost for you.
I was just setting my dining room table for a dinner party tomorrow night. The invited guest and his partner is an associate of my Honey Bee and I want to make a good impression. I was trying out different dish patterns – wondering if I should go the china or every-day-dish route. I ultimately decided I didn't want a formal, stuffy feeling – I want it to be comfortable and free flowing.
I chose an all white dinnerware with vintage silver elements. I remember this past summer when we were in Florida that I had seen a cute place card holder made from a new fork. I loved it – but priced at $15.00 each, I passed. Today I decided to give my crafty hands a try at recreating these place cards.
I have had these forks with other silverware for a couple of years. They were free to me…I purchased a trunk for $25 at an estate sale. I didn't realized there were boxes inside this trunk and the seller told me he would include the boxes at no extra cost.  Lucky me 🙂
This is the trademark on the back. I haven't done any research to see their worth, before I distort them.
I love the tarnish…
Using pliers, I bent on tine at a time.
I bent the outside tines first – bending them towards the front.
Until it looked like this…
I then bent the center tines to the back. Also, on the back tines, I spread them apart for a little of stability. I did have to tweak each one a little to make sure they would be stable once they were on the table.
On the front tines I bent the tips upwards. This will hold the place cards in their place 🙂
This is how they looked when I finished!
Ready for some hand calligraphy name cards.
Standing tall at the place setting 🙂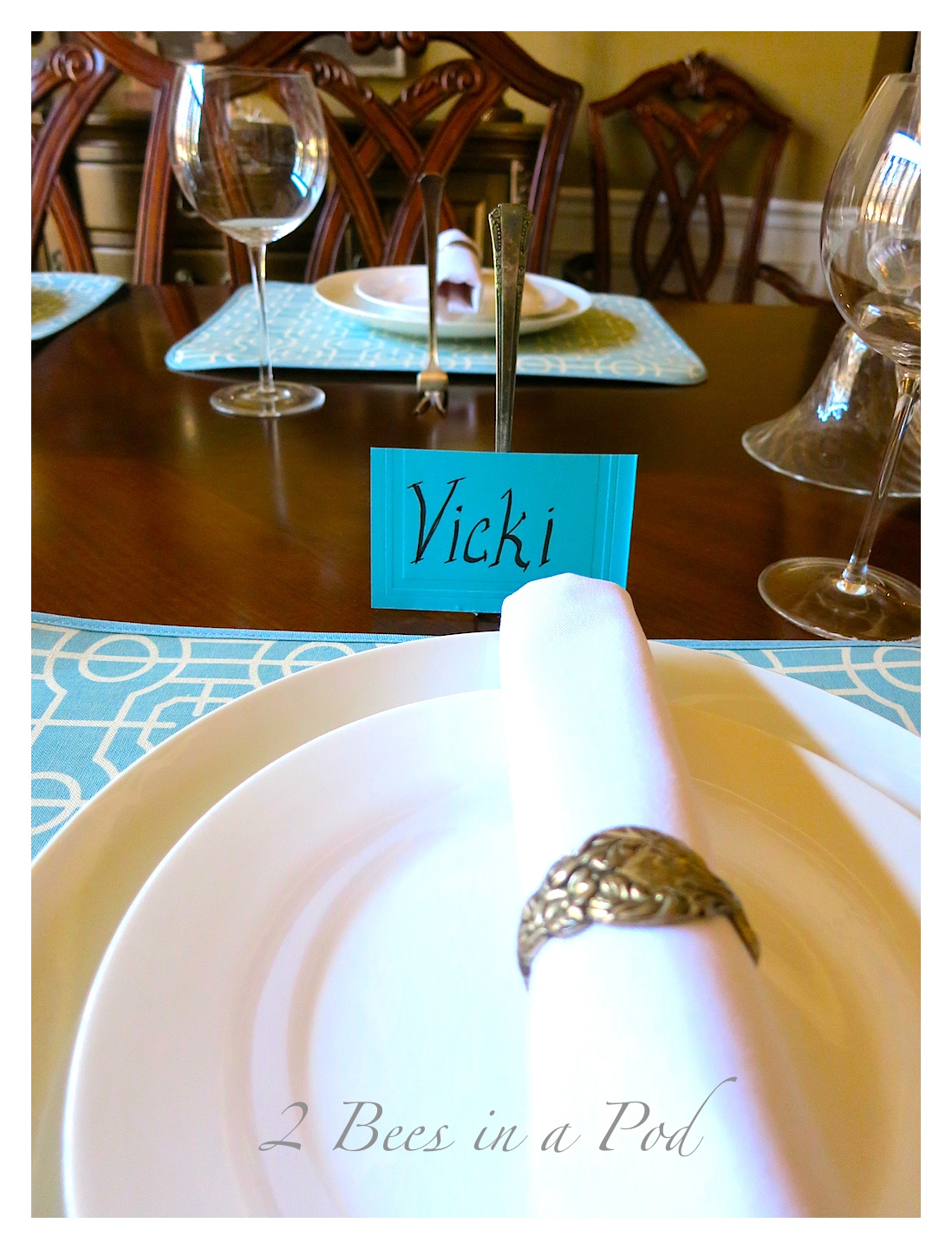 The backside of the place card holder…
I decided to introduce other silver elements to the table, like this vintage pitcher…
…and the silverware handles turned napkin ring holders.
Ready for guests.
I really love the end result. For no cost and just a little bit of elbow grease I think they turned out beautifully. The best part is that I get to use them over and over again.