Please note that this post contains affiliate links. As an Amazon Associate, Rewards Style influencer and Jane Influencer, we earn from qualifying purchases and any sales made through such links will reward us a small commission – at no extra cost for you.
Jennifer and I co-hosted a bridal shower and we were responsible for the floral arrangements. We decided to look for mercury glass vases.  We definitely love the vintage look and the worn finish.  We were surprised at the cost of these lovely vases.  Even at Home Goods, for the size we wanted, an extra-large vase was $29.99 a small vase was $9.99.  This price isn't terribly high but we were working with a budget and we wanted the biggest bang for our buck.
I started a Google search for DIY Mercury Glass. Most sites recommended Krylon Looking Glass spray paint.  Surprisingly,  this paint was difficult to find…I went to Lowe's, Hope Depot, Hobby Lobby, Walmart and Michael's with no luck.  I finally found it at my local Ace Hardware.  Another surprise was the size of the spray can – 6 ounces – about half the size of a usual can, and the cost is about double at $8.57.
Tutorial sites we visited gave conflicting information about the spraying process.  After reading a few, we threw caution to the wind and decided to wing it and hope for the best 🙂 This isn't the smartest idea but, so far it seems to work for us.
For the smaller vase I used one from my personal stash – very thick glass.  For the larger vase I purchased a nice, large, thick glassed vase from Goodwill for $2.00
What you will need to get started:
Krylon Looking Glass Spray Paint
Spray mist bottle
5 ounces of tap water
5 ounces of apples cider vinegar
Cotton cloth rag
Well ventilated are to paint in
First we sprayed a fine mist on the outside of the vase with equal parts water and apple cider vinegar. We then began spraying a very light coat of the looking glass spray.  The water and vinegar help the paint stay wetter longer.  You can leave your glassware as is or you can help the process along and blot the paint to the desired effect that you want.  Remember to act fast as this paint dries very quickly.
This is what your glass will look like as you are spraying – and once again, please ignore my reflection in the "mirror" 🙂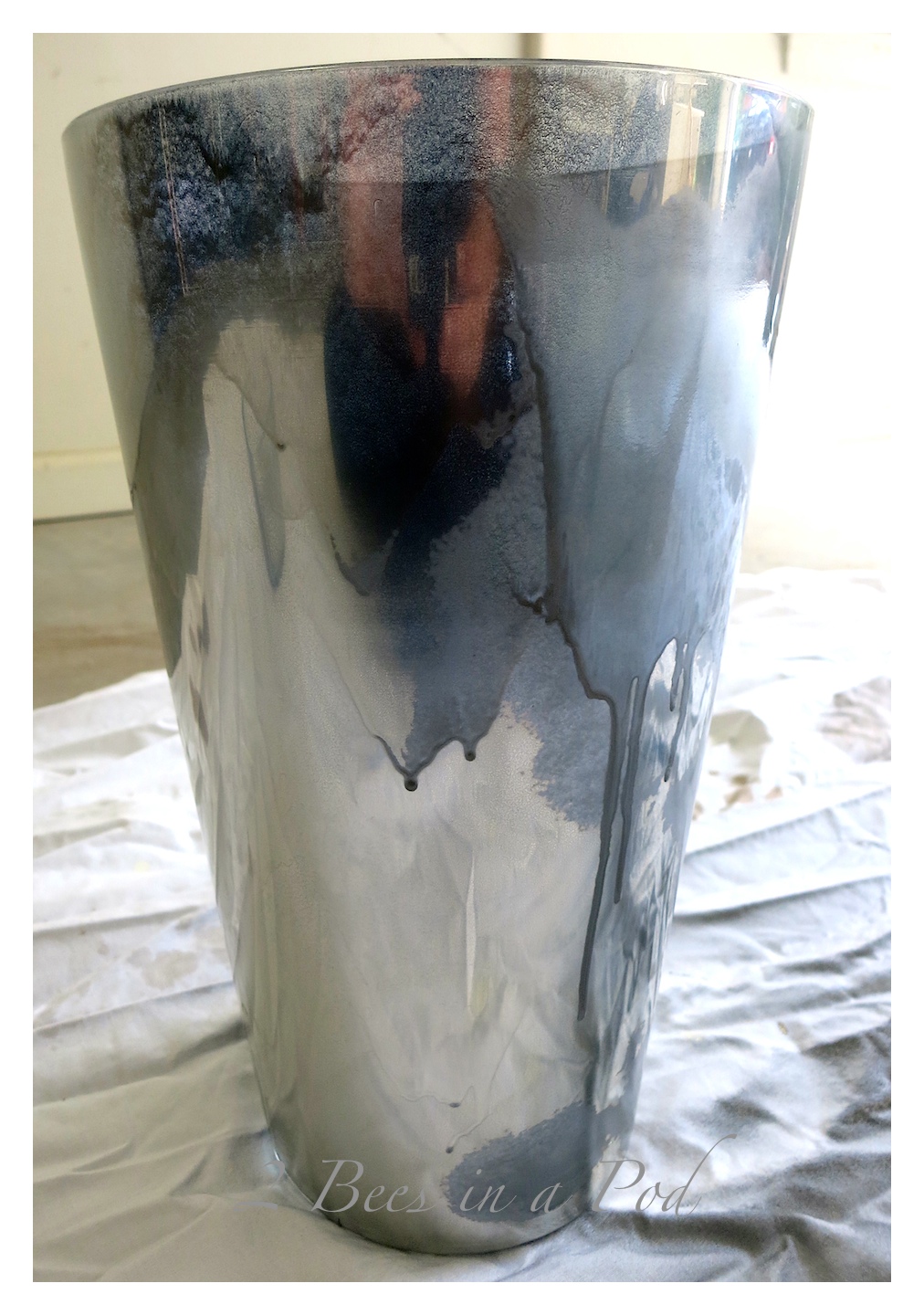 We then began assembling the floral arrangements.  We wanted a display of creamy whites and greenery:
You can see the bubbles and crazing on the vases:
'Beautiful color:
Almost finished:
We wanted the smaller arrangement to remain low so as not to take up too much room on the dining room table.
We were very pleased with our final result…so was the bride-to-be, as we gifted her this arrangement.
…and the mother-of-the-bride was gifted this display.
Before you begin to paint shake, shake, shake your can of paint thoroughly.  After you begin painting shake your can some more.  This paint sets and dries very quickly.
When blotting we recommend the use of an old clean cotton tee shirt.  Do not use any fabric that is ribbed and do not use a paper towel as these will leave marks in your paint.
Don't be afraid…you can't make a mistake.  Imperfections are what make Mercury Glass so appealing to us.  Go for it!!
Have fun with it.
What would you like to paint with Mercury Glass?  I'm already looking for my next project to use it on.  I will let you know how it goes 🙂