Please note that this post contains affiliate links. As an Amazon Associate, Rewards Style influencer and Jane Influencer, we earn from qualifying purchases and any sales made through such links will reward us a small commission – at no extra cost for you.
Today we are each going to share our Christmas mantle decor…
Jennifer's Mantle:
Normally for my Christmas mantel decor I include greenery and my Santa collection, which is not nearly as big as my mother's, but very sentimental as they were given to me by my grandma.  This year I still wanted to use these elements, but I wanted to incorporate some more rustic items as well.  I was just ready to do something new 🙂
I thought that these mini trees with burlap would make a great addition on my mantel and I feel like it pairs nicely with my existing balusters.
I also got these scented pine cones, which not only smell like Christmas, but I loved the idea of putting them in these glass jars.  They go great with my Santa's and greenery.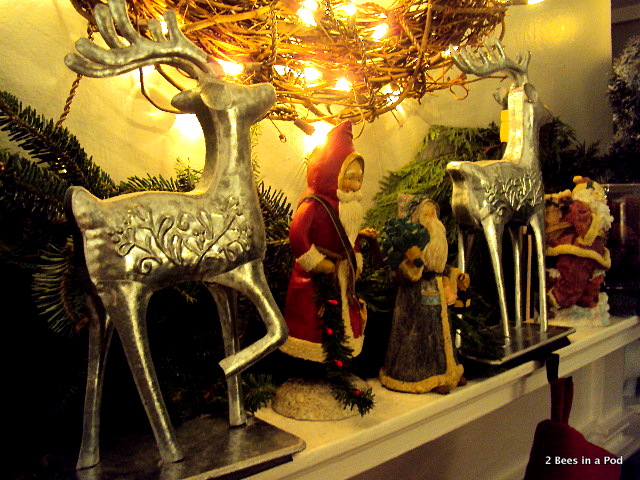 I found this great grape vine wreath at Michaels, which was an amazing deal…I added Christmas lights, which I think help really bring it to life.
I also love our stockings that we got at Pottery Barn years ago at an after Christmas sale.
All in all I am extremely pleased with how my mantel turned out this year, and I am so happy that I decided to change things up a bit.
Vicki's Mantel:
I just finished decorating my fireplace mantel for Christmas, and I couldn't wait to share it with you!
I try to change up the mantle decor every year. I usually stick with a traditional look…last year I used turquoise, antique white and wood. This year I've used some pieces of my newest obsession…wait for it…MERCURY GLASS! I know you think I'm crazy but I just love it. I spray painted some of the pieces with Looking Glass spray paint and I purchased some other pieces.
I added other shiny elements from my collections. Traditional green and red seemed to pair perfectly with the mercury glass. I especially like this happy green. I was fortunate to purchase the three foot jeweled cone trees for $5 each a few years ago. I use them on each end of the mantel.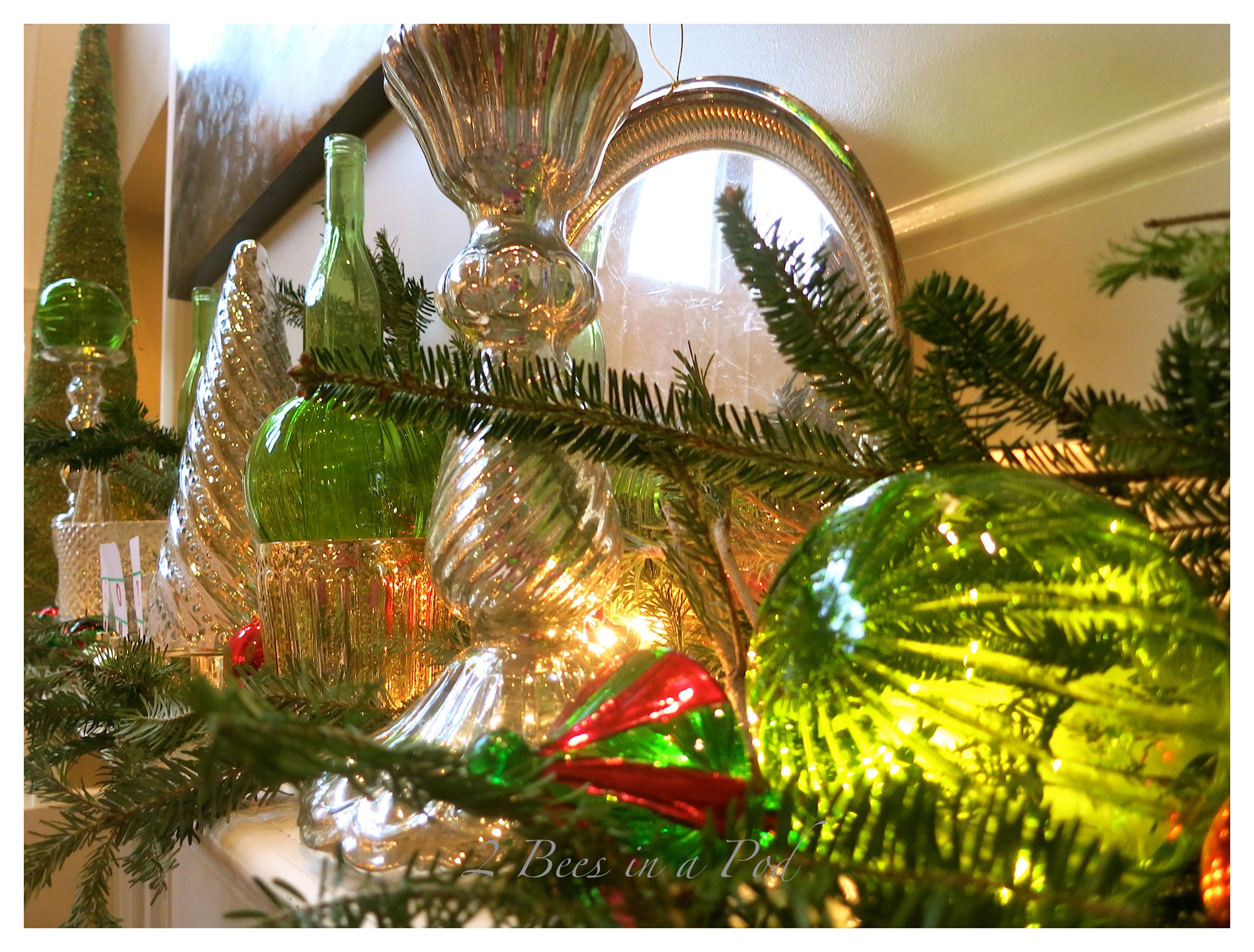 I couldn't resist the vintage silver trays as a backdrop.  I love how the lights and candles reflect on the trays.
I used the place card holders for my message of JOY 🙂
I love how everything reflects light…
Shiny and pretty…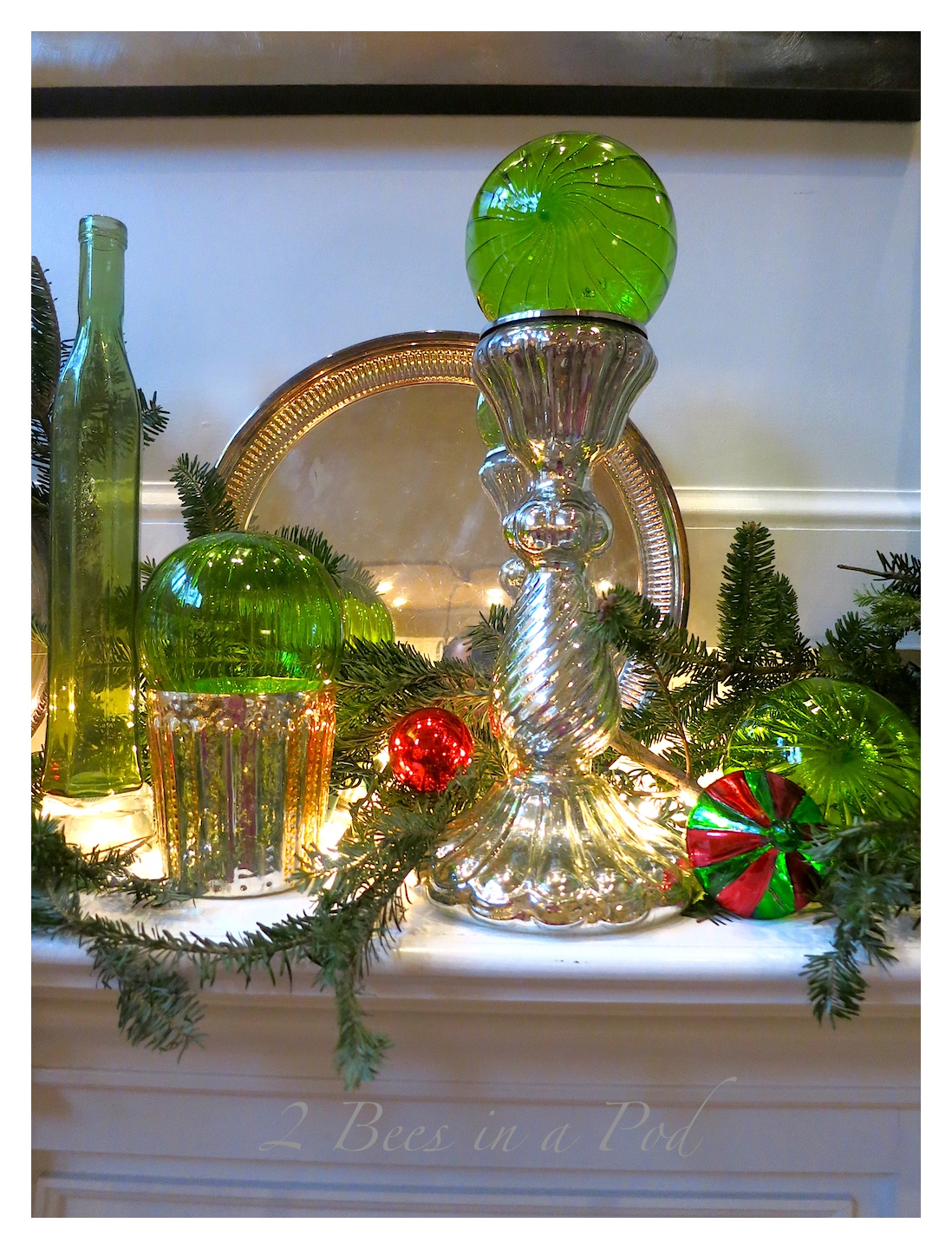 Thanks for stopping by and looking at our Christmas mantels.  How did you decorate your mantel this year?