Painted Wing Chair…it worked!
Please note that this post contains affiliate links. As an Amazon Associate, Rewards Style influencer and Jane Influencer, we earn from qualifying purchases and any sales made through such links will reward us a small commission – at no extra cost for you.
Painted wing chair…it worked! There she is, relegated to the corner of the upstairs landing. Too loud and colorful to be seen in public. I'm talking about this wing chair of course! I won this wing chair as a raffle prize at the High Point Furniture Market many years ago.
This chair is still very comfortable and in excellent condition. I just don't care for the gemstone colors and checked pattern. At one time I got an estimate from an upholsterer to the tune of $400.00. The 10 yards of fabric needed to cover the chair was another $300.00…this would be a grand total of $700.00. Don't get me wrong – the chair is great but it is not a prominent piece in my home. After upholstering, this would be the kind of chair that you could freely move from room to room throughout the house.
Let's get started!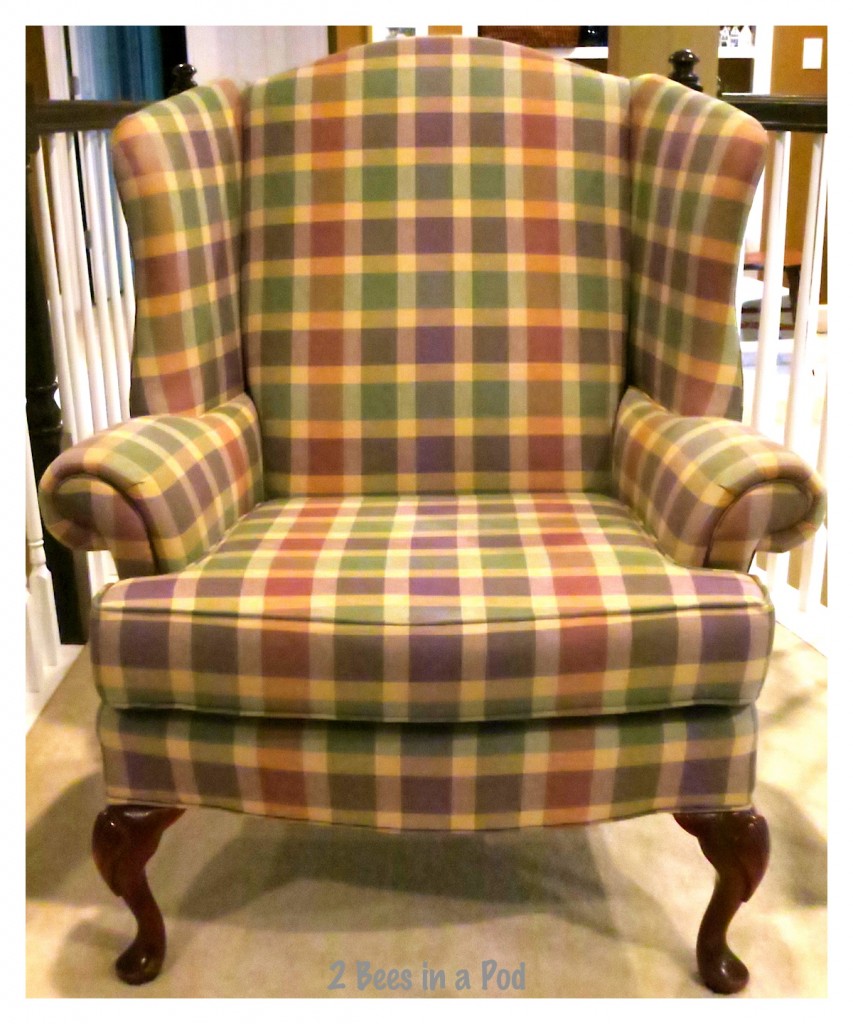 I began my research and Googled "can I paint a fabric chair" into the search engine. A lot of information and sites came up, most with conflicting information. I found one good tutorial and stuck with it. I read and re-read all of the information. I followed most of the instructions, as I so desperately wanted this paint treatment to work, because I was tired of my chair looking like this:
Materials
I gathered my materials:
One quart of paint – I used Behr's interior flat French Linen **UPDATED** Behr no longer has this paint color, and sadly I no longer have the color codes. I recommend the color Swiss Coffee. I have personally used this paint and it is a beautiful creamy white.
fabric medium – equal to the amount of paint used – I used Martha Stewart brand
Spray bottle
Plastic tarp
Paint brush
220 grit sandpaper
Red Solo cups for mixing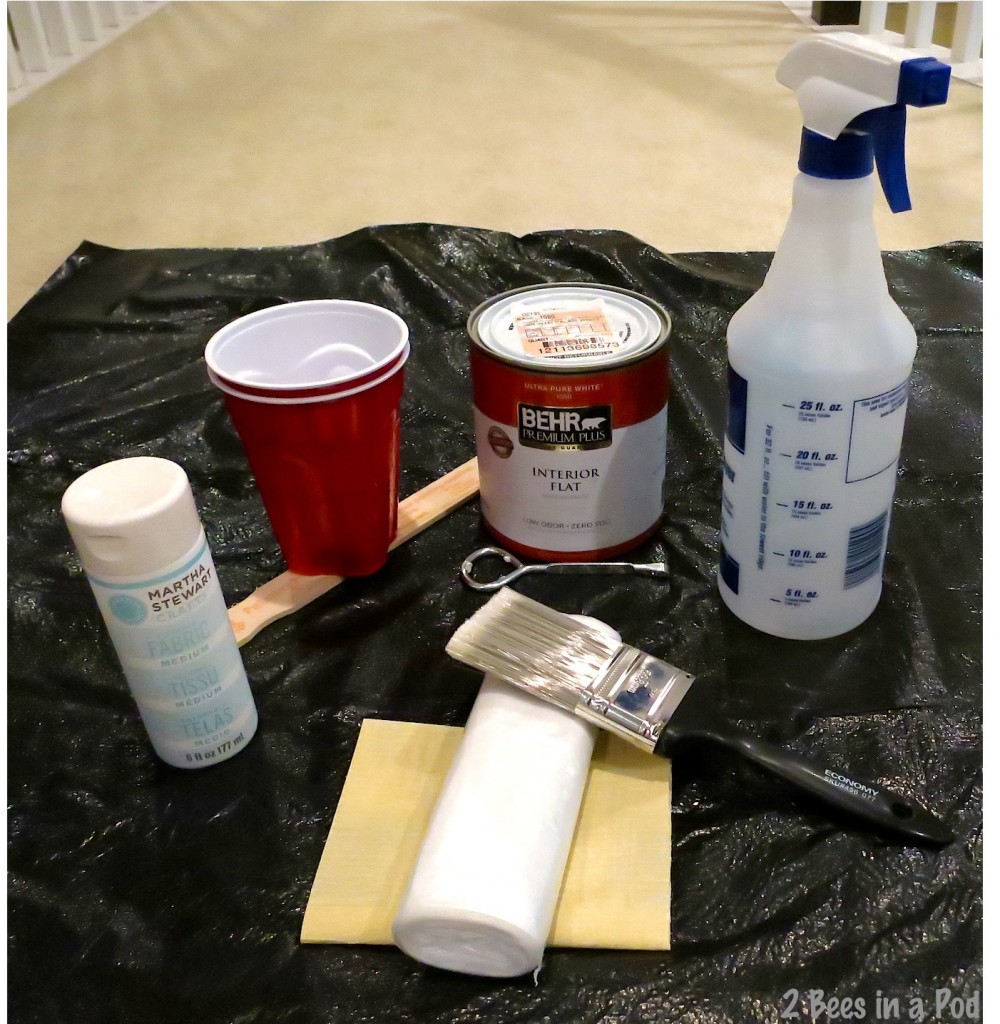 Make sure your chair is completely clean and free of dust.
I didn't use exact measurements when mixing the paint concoction. Using my Solo cup I mixed in approximately 1/2 cup of paint medium and a 1/2 cup paint. I stirred it very well and then added 1/2 cup of water. This mixture will be very thin and foamy – kinda like a latte 🙂 But don't worry.
I removed the seat cushion and set it to the side.
I filled the spray bottle with water and began spraying the chair with the water, working it into the fabric. A little scary when I started but I kept going with it.
I grabbed my paint brush and began brushing the paint on slowly and blended the paint into the fabric as I worked. The last stroke should be painted with the grain.
When the paint mixture is wet, the paint appears thicker/darker but this mixture is more like a stain.
The first coat dried very light. I let this first coat dry overnight.
Before starting the second coat, I used the 220 grit sandpaper and sanded the painted upholstery. This seemed like a crazy idea to me and I was afraid that the paint/stain would come off – but it didn't. By sanding the fabric it smoothed and softened any stiff areas. Don't forget this important step.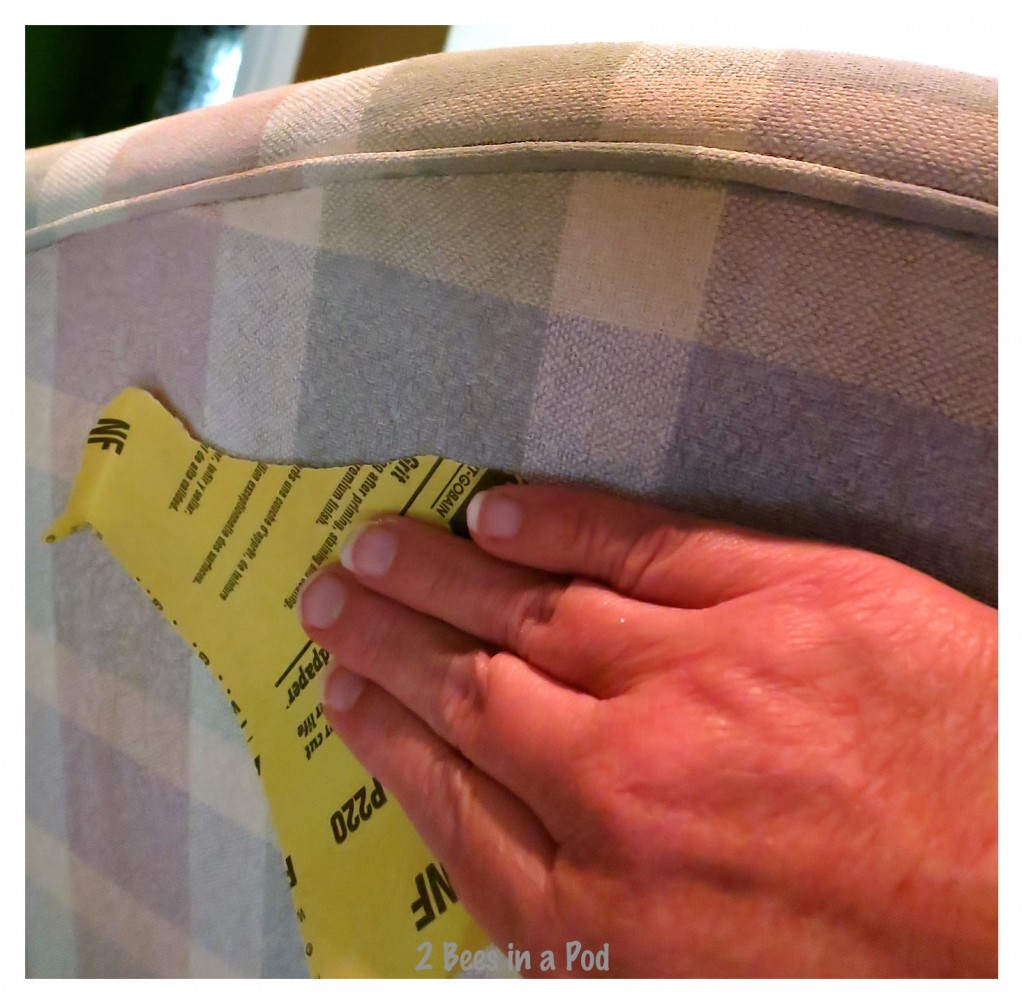 Do a second coat the exact same way as the first coat. Again, I let it dry overnight.
This is how the chair looked after the second coat:
For the third coat I mixed up the entire Solo cup – half paint, half paint medium and only a drop of water.
No need to sand or spray with water for the next coats.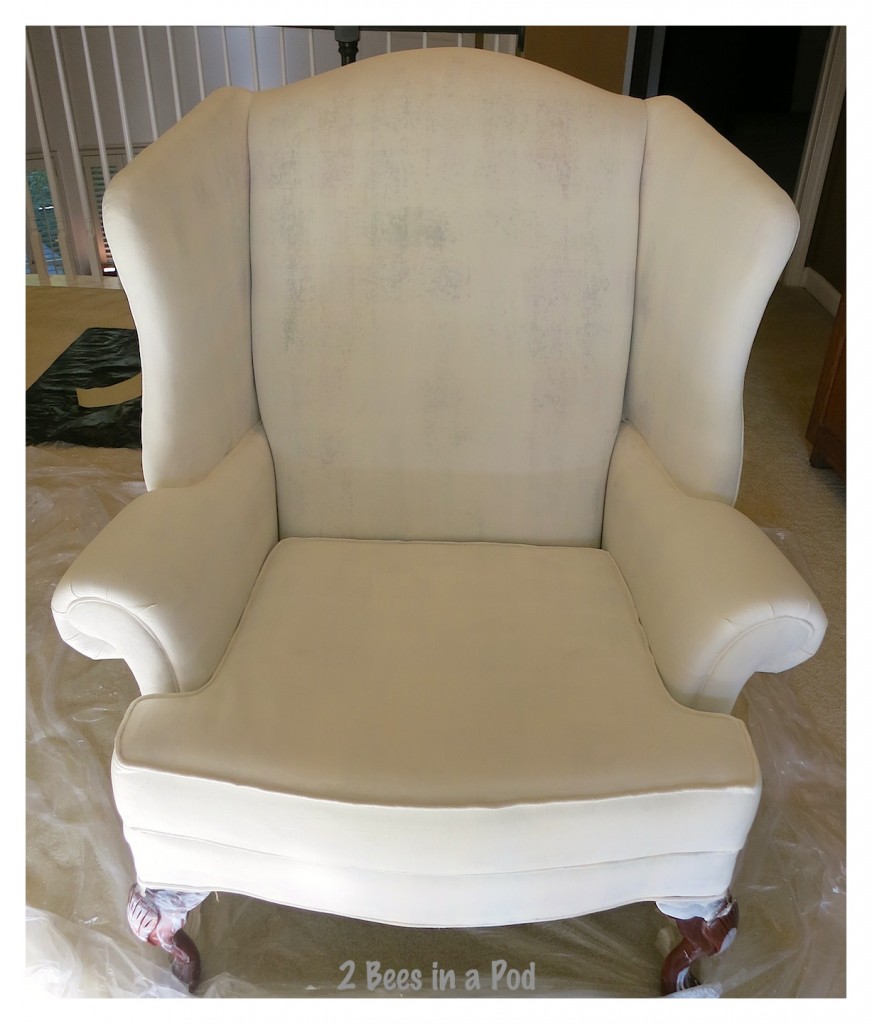 Being that my chair was going from darker color fabric to off-white, I needed to repeat the paint and medium process for a fourth coat.
I painted the chair legs the same color as the chair – good thing being that I slopped paint all over them.
I then antiqued the legs with stained paste wax
Look at how beautiful this chair is now – I LOVE IT!
The chair truly is a beauty now. The fabric is stiffer – like a painters canvas. I think over time it will soften up. The most difficult part about this project was using the spray bottle – my hand got a little stiff from all of the spraying. It was also difficult for me to let the chair dry between applications – I wanted the end result ASAP 🙂 – but I toughed it out and was rewarded with a beautifully finished painted wing chair.
The most expensive part of the project is the paint medium. I used 40% off coupons at Michael's and Hobby Lobby – the Martha Stewart bottles retailed for $5.99 each.
Cost breakdown:
Chair free

Paint $6.00
Medium 4 bottles after discount $3.59 each X 4 = $14.36
tarp $1.00 from Dollar Tree
paint brush $1.00 from Dollar Tree
Sandpaper Had in collection
Spray bottle Had in collection
Grand Total $22.36
This project was well worth the time and work involved to achieve the look that I wanted. Now my chair is proudly displayed front and center at my downstairs landing – punished no more.