DIY Mercury Glass…I Can't Stop!
Please note that this post contains affiliate links. As an Amazon Associate, Rewards Style influencer and Jane Influencer, we earn from qualifying purchases and any sales made through such links will reward us a small commission – at no extra cost for you.
Hello…My name is Vicki and I can't stop spray painting everything that is sitting still with Looking Glass spray paint! I seriously need help 🙂 Last week I wrote a post about painting glass vases with the DIY mercury glass effect for a bridal shower. After I discovered how easy this project was, and that I still had paint in my spray can, my mind began to race with limitless possibilities.
I remembered that I had purchased another great brass lamp (from Atlanta Union Missions) for the 50% discounted price of $2.02. Isn't that great?
I have discovered that most thrift store lamps are labeled "As Is". Don't let this deter you. I always approach the sales counter and ask very nicely if there is a way to test the lamp. 100% of the time they have pulled out a bulb from under their sales counter and then they direct me to an outlet. I have never had any issue or malfunction with any thrift store lamp that I have purchased. Remember the other brass lamps I spray painted glossy white?
I found my brass lamp in the garage and gave it a quick cleaning to remove dust. I collected my materials for painting. This link will take you to my Mercury Glass tutorial. For spraying on metal – I sprayed the paint first and then sprayed the water and vinegar mixture.
The lamp needed a little extra care. I taped off the electrical cord and the bulb mechanism.
The lamp was spray painted and then misted with the water and apple cider vinegar mixture. You can see the vinegar doing its magic. A little brass is starting to show through…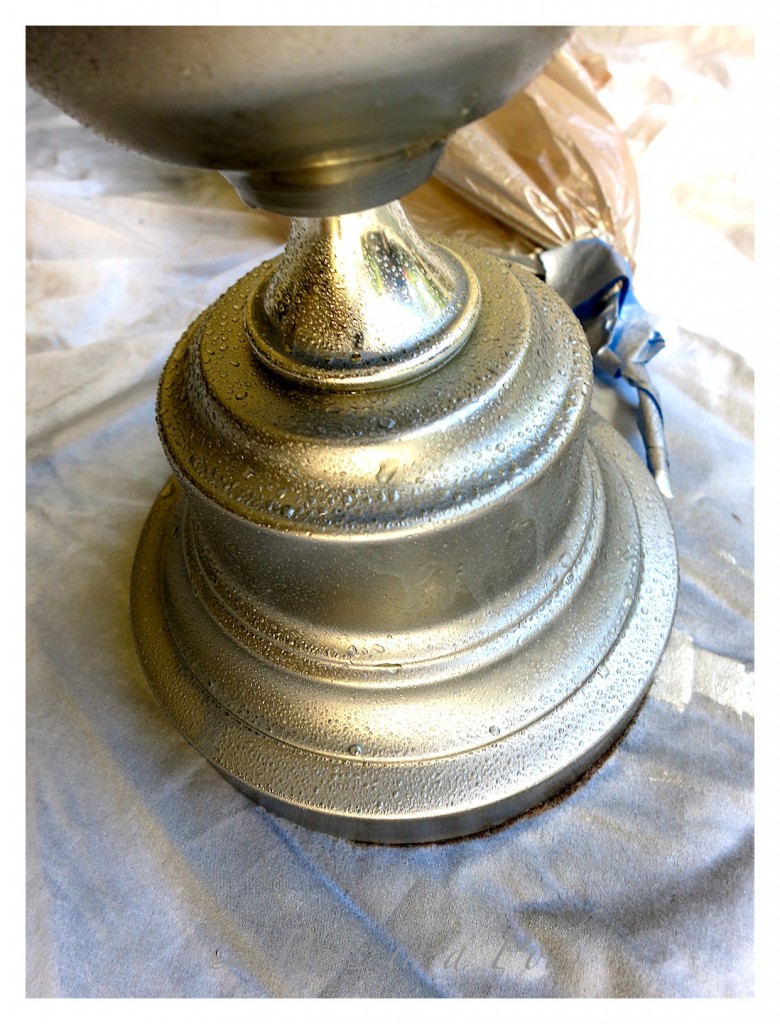 I love how the lamp base still looks wet after it is completely dry. If you look closely you can see the pitting marks from the painting and misting process.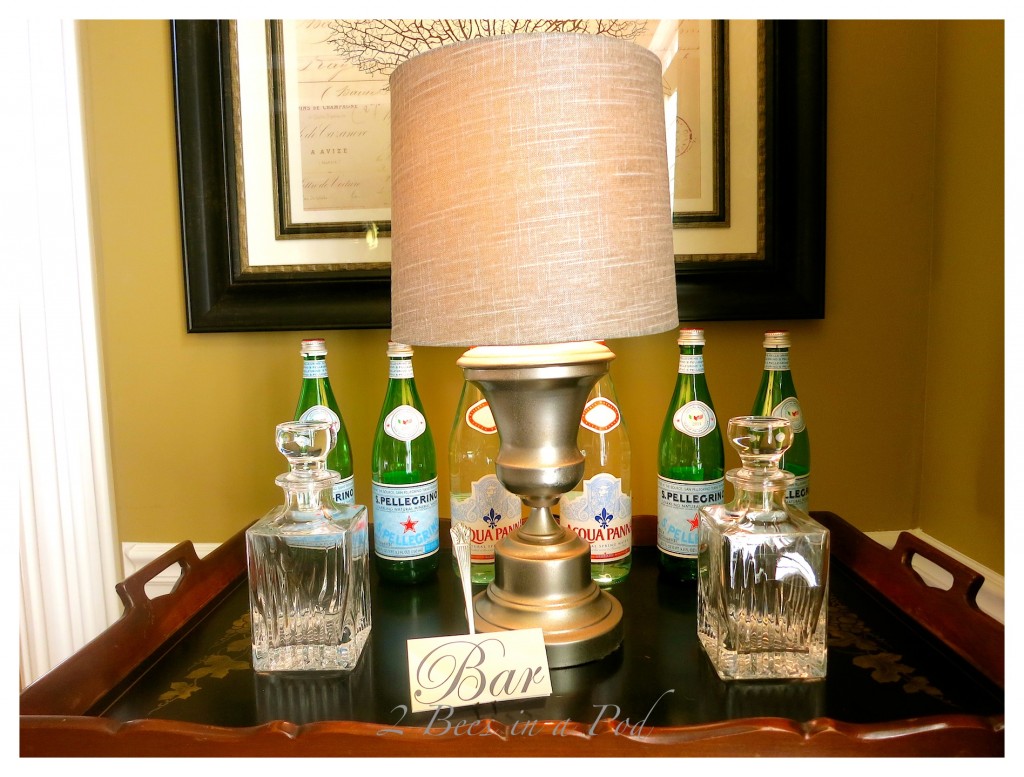 You can really see the effect in this photo…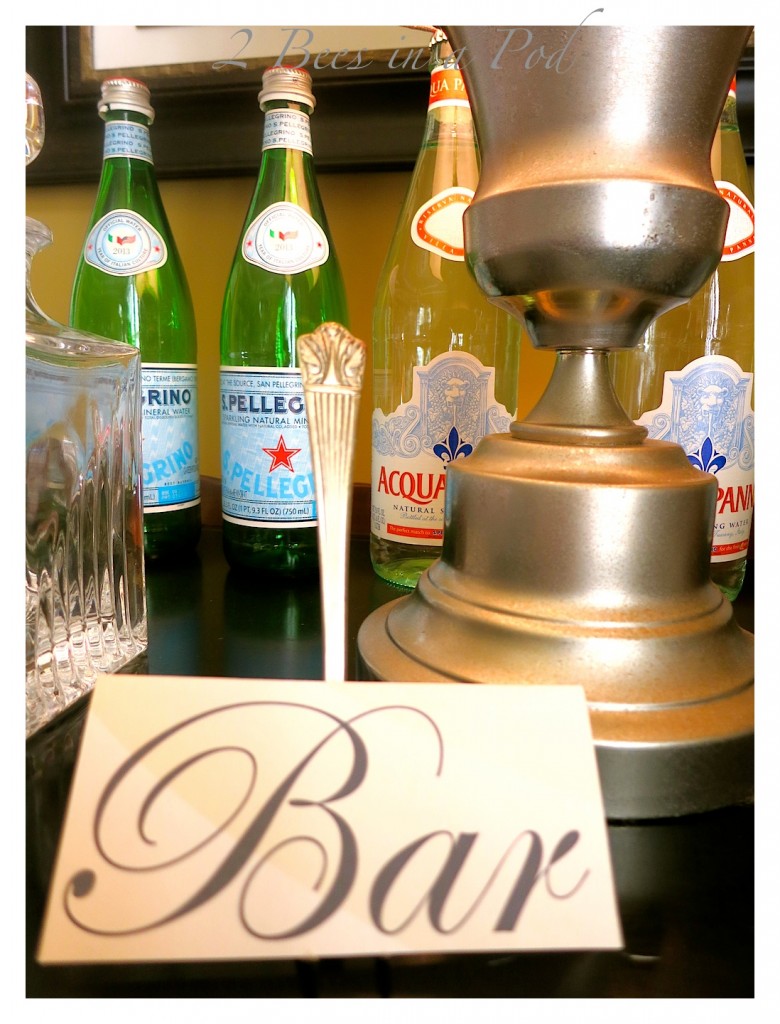 I picked up the lampshade on clearance at TJMaxx…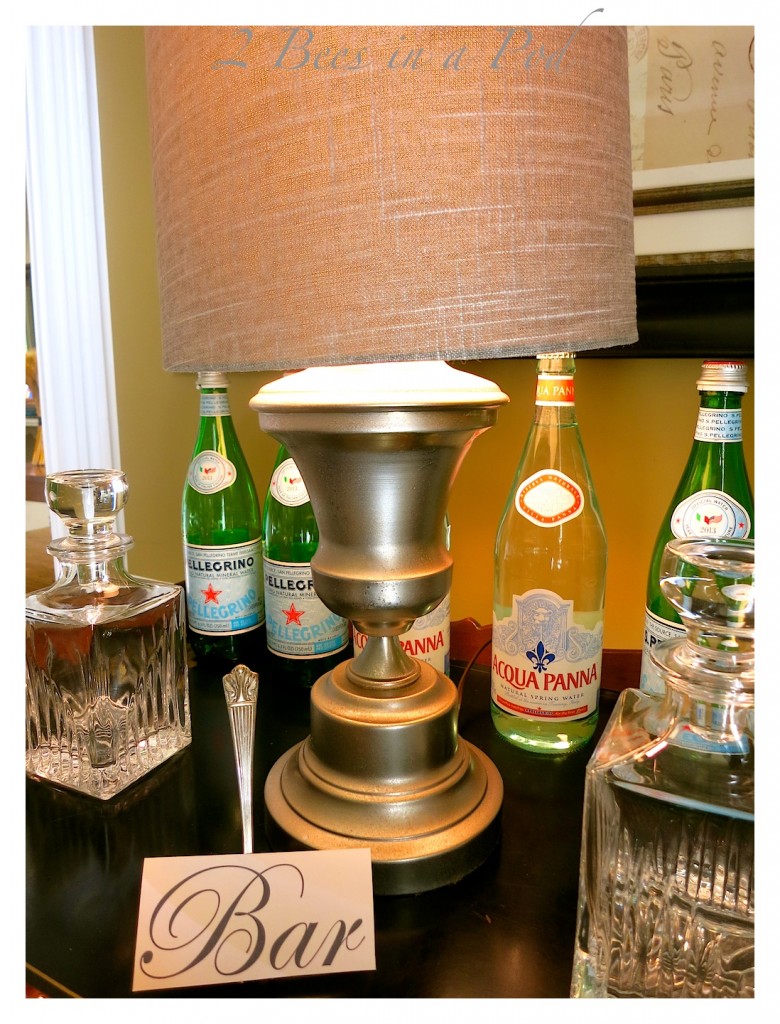 After the lamp was completed is when I lost a little control.. I rummaged through my cupboards and closets for other items to paint. I wish I had taken a photograph of the five candlesticks that I did. I gave them as a gift and my friend loved them.
I also painted small, clear glass votive holders and a clear jar that I saved after a candle had finished burning. The Mercury finish pear is a $2.99 purchase from Home Goods.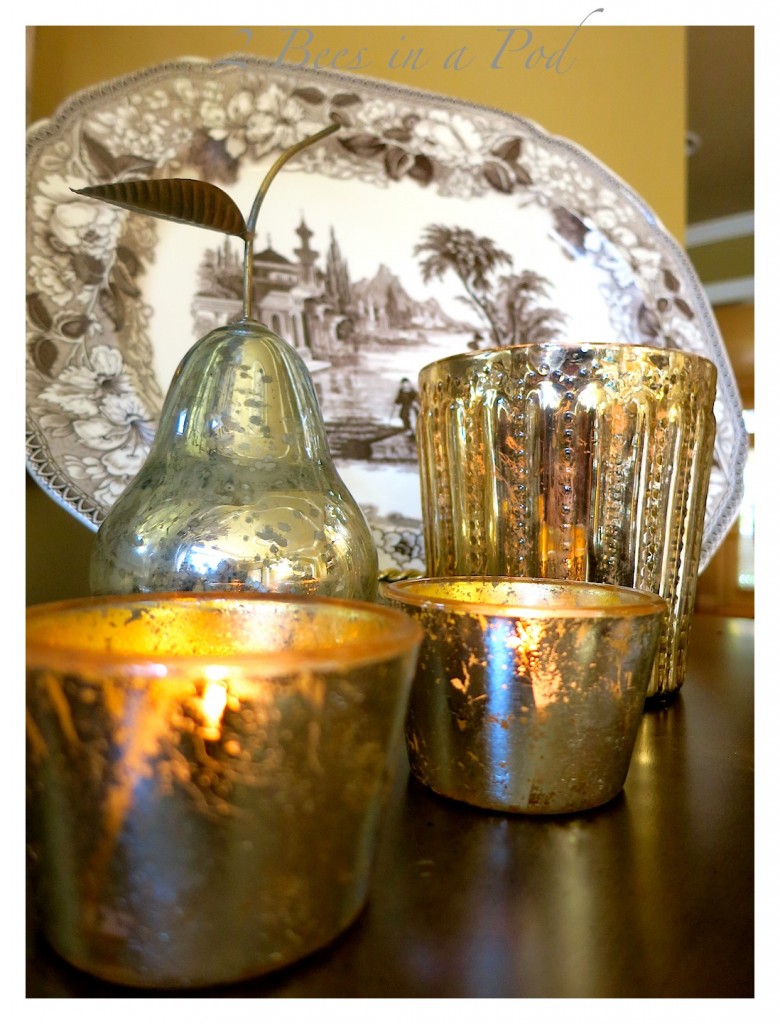 I love the crackle-like finish. I placed candles in all three of these finished containers. When the candles are lit, they seem to glow gold – I love that.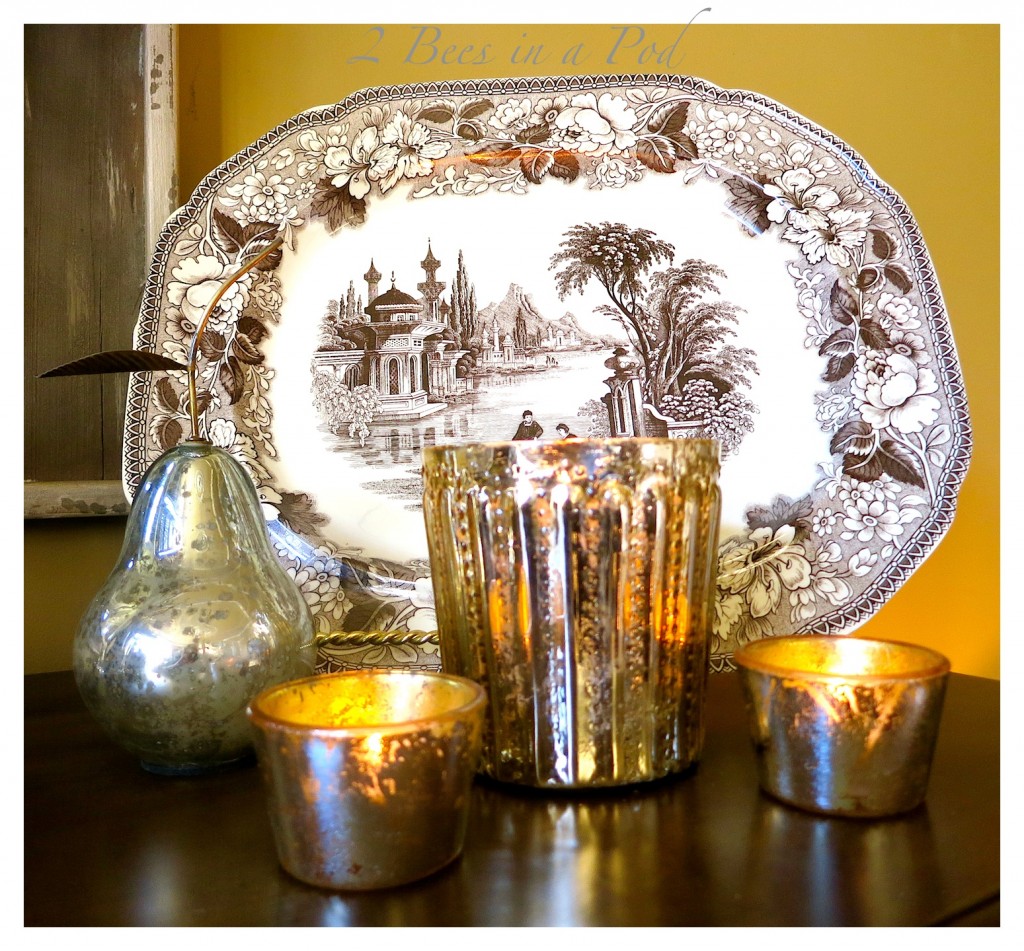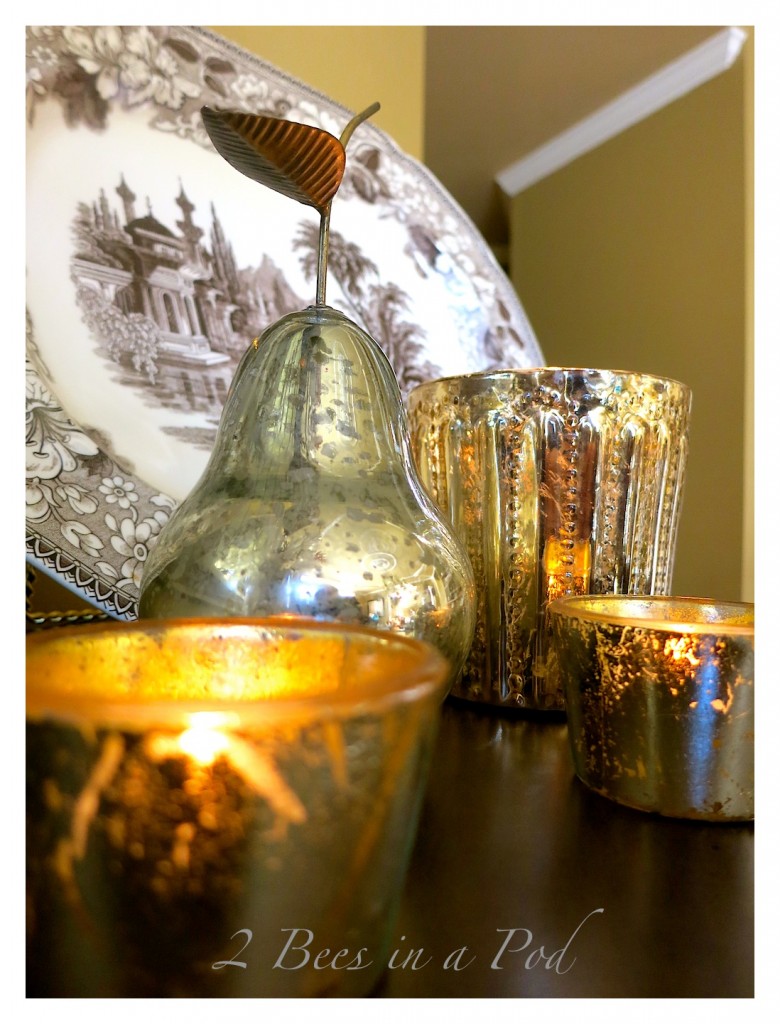 I really love the shimmer of the silver and gold glow…
I was disappointed when my Looking Glass spray can was empty. I have a lot more things I want to paint. When you spray paint glass it has a mirror like, crackle finish. When you spray flat finishes your end result is vintage-aged looking and pitted. For my aesthetic, I love both finishes.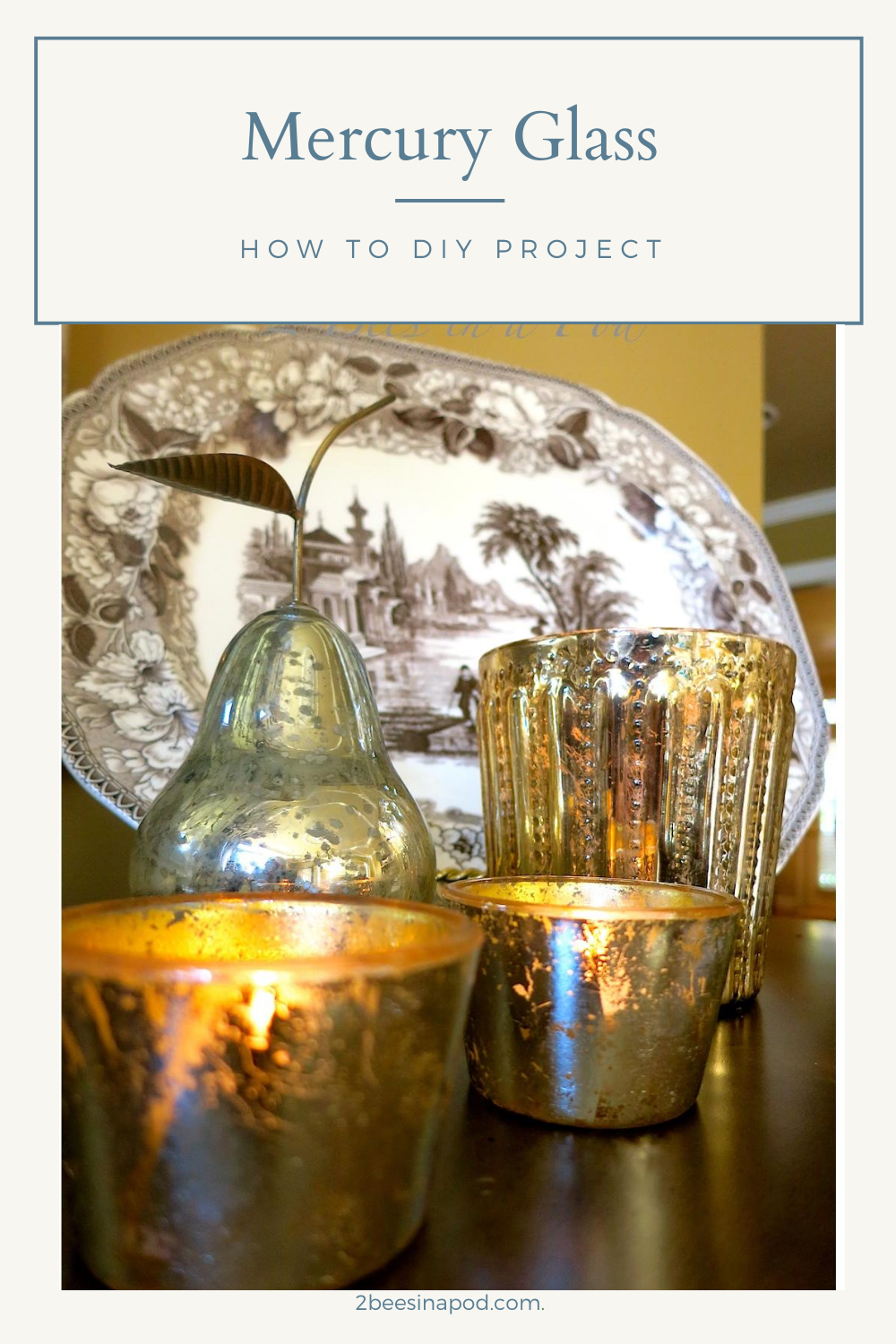 I sincerely hope that you give this project a try. It is very easy and quick to do – instant gratification. Or call me…My name is Vicki and I need help… 🙂