DIY Fall Votives with Cornhusks and Feathers
Please note that this post contains affiliate links. As an Amazon Associate, Rewards Style influencer and Jane Influencer, we earn from qualifying purchases and any sales made through such links will reward us a small commission – at no extra cost for you.
Hey y'all…I'm so excited about today's project! This is another project that I created in less than 5 minutes! If you have been following us for awhile, it is no secret that I love feathers. I started collecting them as a little girl. Each one is different and unique and has special meaning to me. I subtly incorporate them throughout my home decor – in an antique inkwell, on top of a book or in a seasonal display like my Fall Coffee Table.
Last week when I entered my grocery store, boxes of mini Indian corn were being unpacked and displayed at the front of the store. The minis are cute but they didn't have a place in my decor this year. But – I did notice that the stock clerk was cleaning up cornhusks and throwing them into the empty boxes.
I sweetly asked him what he was going to do with the cornhusks. He gave me a sideways glance – almost trying to determine how sane I was – and he stated that they would be thrown away. I asked if there was anyway that I could have them…and he gave them to me for free with the store managers approval. Trust me, I've learned the hard way that it never hurts to ask.
I left the store on cloud nine. The clerk and the store manager didn't even wait for me to be our of earshot before saying "What is she gonna do with that stuff?". I felt like I just got away with robbing the bank! LOL. I didn't even have an idea of what I was going to use them for – until yesterday.
I collected my materials – the cornhusks, craft feathers from my stash, raffia and some glue.
I've just begun working on my Fall mantel and decided I wanted to cover this glass candleholder. I also covered an empty holder that I had saved.
I lightly washed the husks under running water – this makes them more pliable. I started adding them one at a time on the outside of the glass with a dot of glue. I used my glue gun but you could easily use craft glue, but you would need to wait for it to dry. I wasn't that patient.
I wanted the rim to be more clean looking so I trimmed off the tops. The feather is kept in place with a piece of raffia tied around it.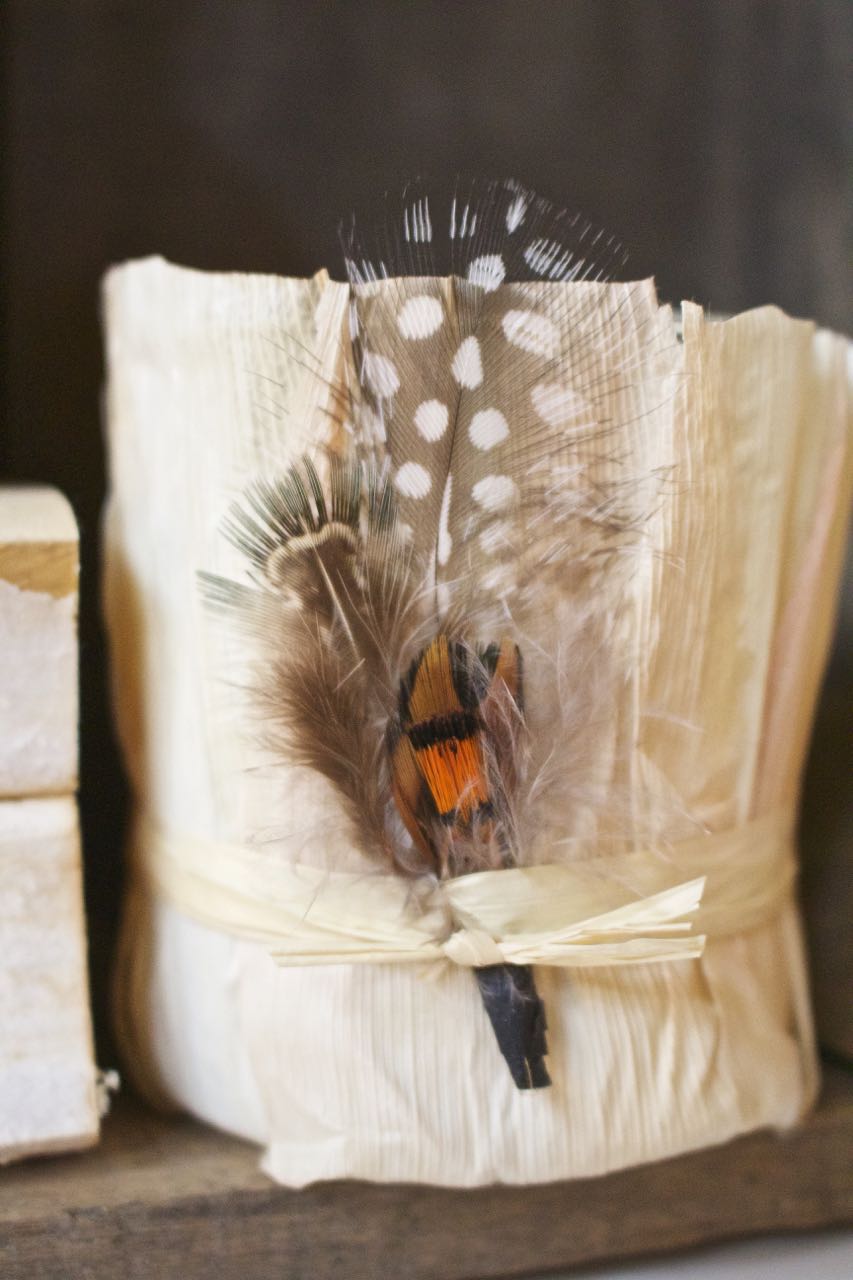 I displayed everything inside this vintage tulip crate…
…see how the cornhusks glow when the candle is lit?
This vintage amber apothecary jar is from Jenn's wedding…
When gluing the husks onto the glass it doesn't need to be perfect. The husks are very textural and forgiving. I may make some small votives for the dining room table…wouldn't that be cute?