How to Create an Aged Finish on Baskets
Please note that this post contains affiliate links. As an Amazon Associate, Rewards Style influencer and Jane Influencer, we earn from qualifying purchases and any sales made through such links will reward us a small commission – at no extra cost for you.
Hey y'all…By now I think you know how much I loved aged finishes and weathered wood. In fact, this post is dedicated to how you can create an aged finish on baskets. I honestly hesitated to write about it. I second-guessed myself and that wasn't a good feeling. I've hemmed and hawed and here's the reason why. I have altered a Longaberger basket. I know, I know – I can hear some of you sucking in your breath right now…I can hear others cheering me on. Please don't turn on me 🙂 It wasn't an easy decision for me. If you are not familiar with Longaberger baskets, they are hand made of maple splints by very talented artisans…and these baskets are never, ever to be altered as it takes away from their value. And so I have altered my basket – and here's why I did it.
I have a lot of these pretty baskets. Many years ago I hosted a few Longaberger parties and I received ALL of these baskets for free from these successful parties.
The problem is I have them all over the house…the basement, in the craft closet and the baskets below are stored in the garage.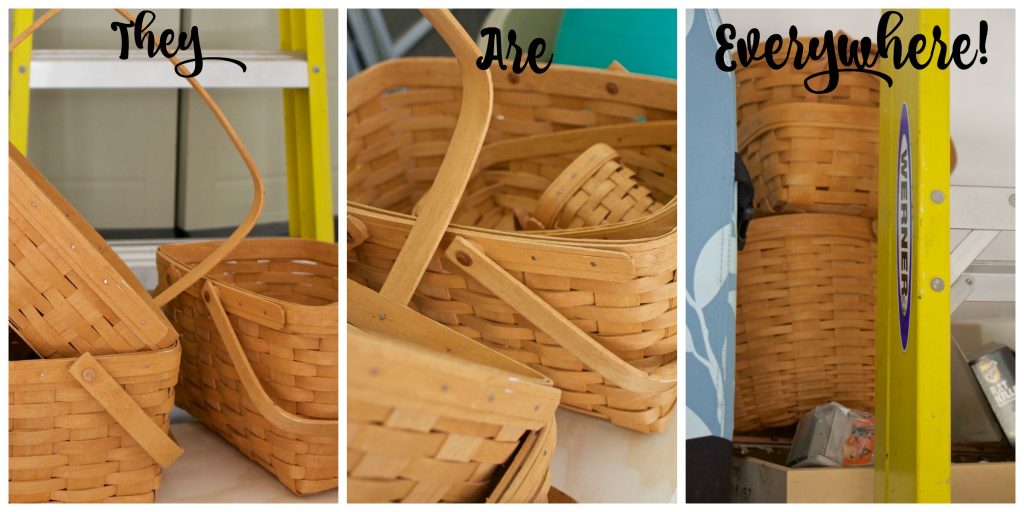 The issue is, I don't use them anymore. They are too yellow/orange to display in my home. Over the years my design style has changed and I haven't used these baskets in over 16 years! They take up a lot of space to just sit in storage.
So, I decided to do something about it. I decided I own the baskets and I can change them any way that I see fit. I know by changing the finish of the basket I will use it everyday in my home which is so much better than taking up valuable storage space. I hope you'll agree with me.
I used our steel wool and vinegar recipe.We've used it on quite a few projects and you can get the recipe HERE.
I took the basket outside and placed it on a tarp. I used the stain in a spray bottle to be sure to coat the maple splints thoroughly. The key to success is to use this stain on a bright sunny day and let your piece dry completely. I am always amazed by the transformation this homemade stain creates on finished pieces. This is how the basket looked right after I sprayed one good coat of vinegar stain…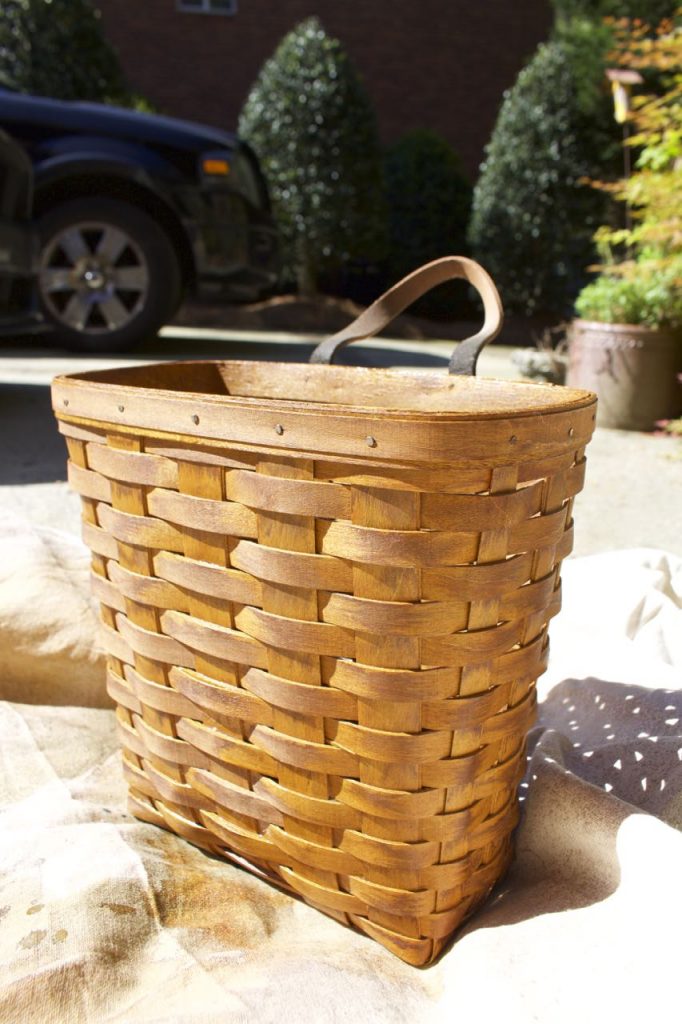 …and this was just three hours later!!! I know – totally amazing, right? The longer this basket sits in the sun, the more ashy and gray it will become. The weathered aged finish is fabulous.
It looks beautiful hanging on our freshly painted front door. Our Georgia Dogwoods are in full bloom too.
This is a such a pretty greeting for our guests.
I love the new finish and I do not regret my decision to stain the basket. I will definitely be using the vinegar stain on a lot more of the baskets from storage and I can't wait to display them in my home.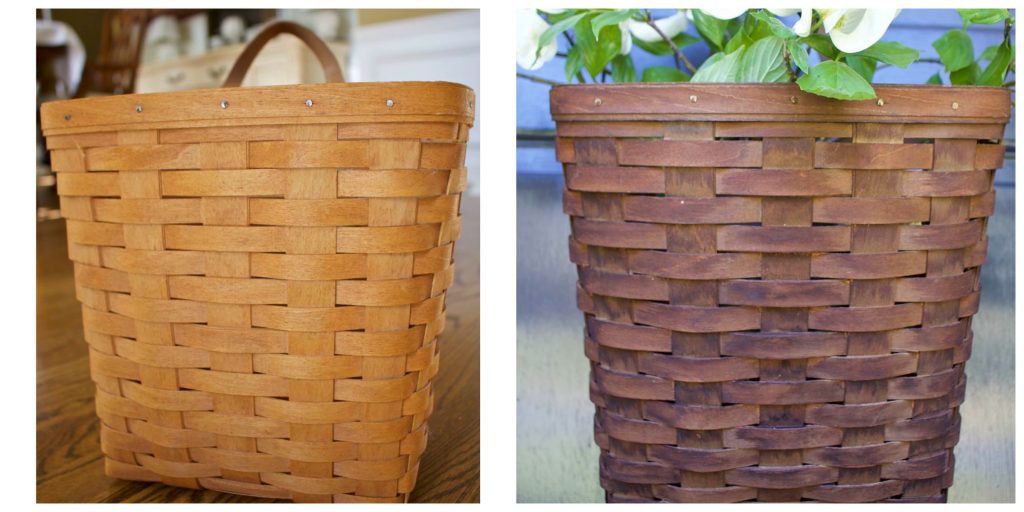 I hope that you support my decision!
Until tomorrow…
XO~Vicki