Coastal Inspired Coffee Table
Please note that this post contains affiliate links. As an Amazon Associate, Rewards Style influencer and Jane Influencer, we earn from qualifying purchases and any sales made through such links will reward us a small commission – at no extra cost for you.
Hey y'all…it feels so good to be here with you today! I am finally seeing the light at the end of the tunnel with our move. We closed on our home May 13th and moved here to the lake on May 14th. In these 25 days we have been out of town for prior commitments and family events for 11 days. So…if my math is correct I have only spent 14 nights in our "new" home. You will not believe all that I have accomplished in this short amount of time – and yes, I am patting myself on the back LOL. Most of the interior of the house has been painted. Five pieces of furniture and two lamps have been painted. We have cleaned and purged this home, just like we did our Atlanta home. Our one-level townhouse had previously been our vacation home. Now that we are temporarily living here full-time we need a totally different set-up throughout the entire house. I will be sharing everything with you room-by room, bit-by-bit. Like this coastal inspired coffee table.
The house has been chaotic and in upheaval with the painting, unpacking and moving furniture around the house. Plus, each day I have another "great idea" that sends me down a rabbit hole that usually creates another mess. I felt that decorating the coffee table was a great place to start and it would anchor the living room and set the tone for the rest of the decor in the room.
This oversized tray is a vintage cutlery tray that I found several years ago for $5.00.
I am using a lot of blue in the house. I love stacking books in vignettes for added interest. This vintage nautical pulley was purchased on a beach vacation in Florida.
Everything inside this glass container is from one, very special trip to Bermuda with friends.
All of the beach glass, pink sand, spoon and copper pipe were collected while at the beach. I even have a couple of pieces of pottery in here. Every time I see this display it makes me smile and think of my friends and this fabulous trip.
If you have read our blog for any amount of time I think you know I am obsessed with feathers. I purchased this pottery feather from a shop here at the lake.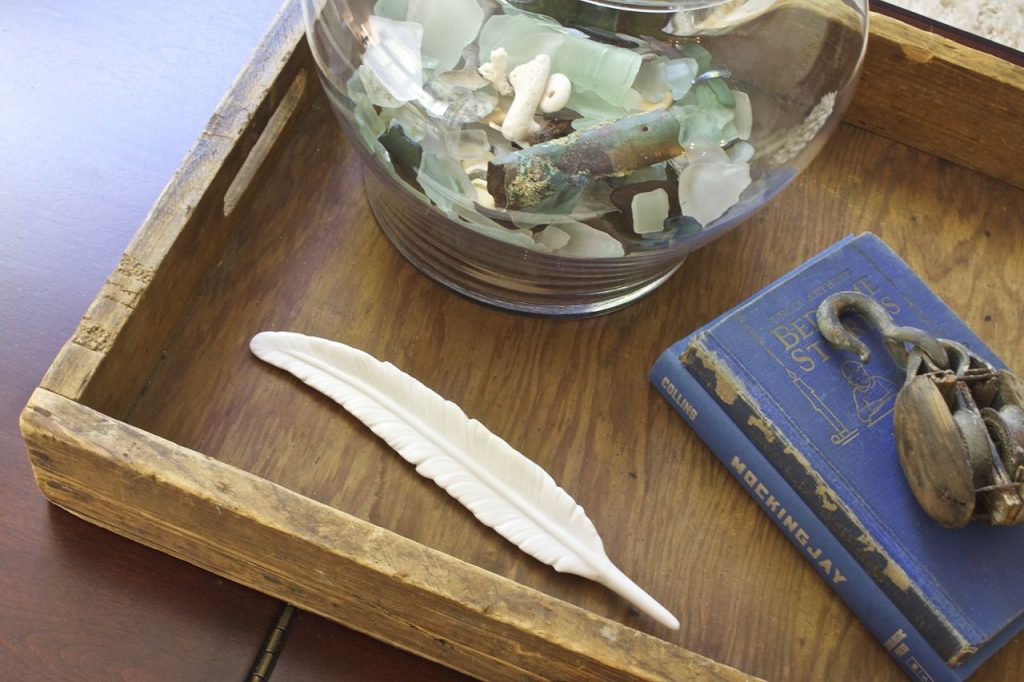 I am so excited to have a little bit of the house decorated and can't wait to share my progress with you. I'm working hard to make this house a home, beginning with this coastal inspired coffee table using some of my favorite finds.
By the way, what are y'all up to this Summer?
XO~Vicki
Don't forget to Pin this to your favorite Pinterest board…