Coastal Inspired Guest Bedroom Makeover
Please note that this post contains affiliate links. As an Amazon Associate, Rewards Style influencer and Jane Influencer, we earn from qualifying purchases and any sales made through such links will reward us a small commission – at no extra cost for you.
Hey y'all…I'm so excited that you are here today! I have been busily working on making-over one of the guest bedrooms in the house. It took a bit longer than I had anticipated…it always does. In my excitement to make by design vision a reality I get very gung-ho and excited. But, then I forget about how much work needs to be done to make by decor dreams come true. Please tell me I'm not alone 🙂
I hadn't really planned on changing this room…until I went on a beach vacation in Florida. I don't know if it was the fresh salt air, the turquoise water or the feeling of being totally relaxed but the beach really does soothe the soul. My best friend Bambi invited us to visit the west coast of Florida and I fell in love! Her home is beautiful and her decor is gorgeous.
And then we went shopping…
I got more and more inspired with each cute shop that we went into. I purchased just a few items – mainly a large piece of beautiful white coral and some starfish. And some notecards to frame for art, which I will share with you tomorrow. I couldn't wait to get home and create a coastal inspired bedroom! I wrote down all of my ideas on the car ride back to Georgia. These were the some of the projects I needed to complete for my coastal vision:
Chalk Painted White Picket Side Table
This is how the room looked before I started. It wasn't bad – but it had looked this way for a few years. A change was in order…
Here is the new look…A Coastal Inspired Guest Bedroom Makeover.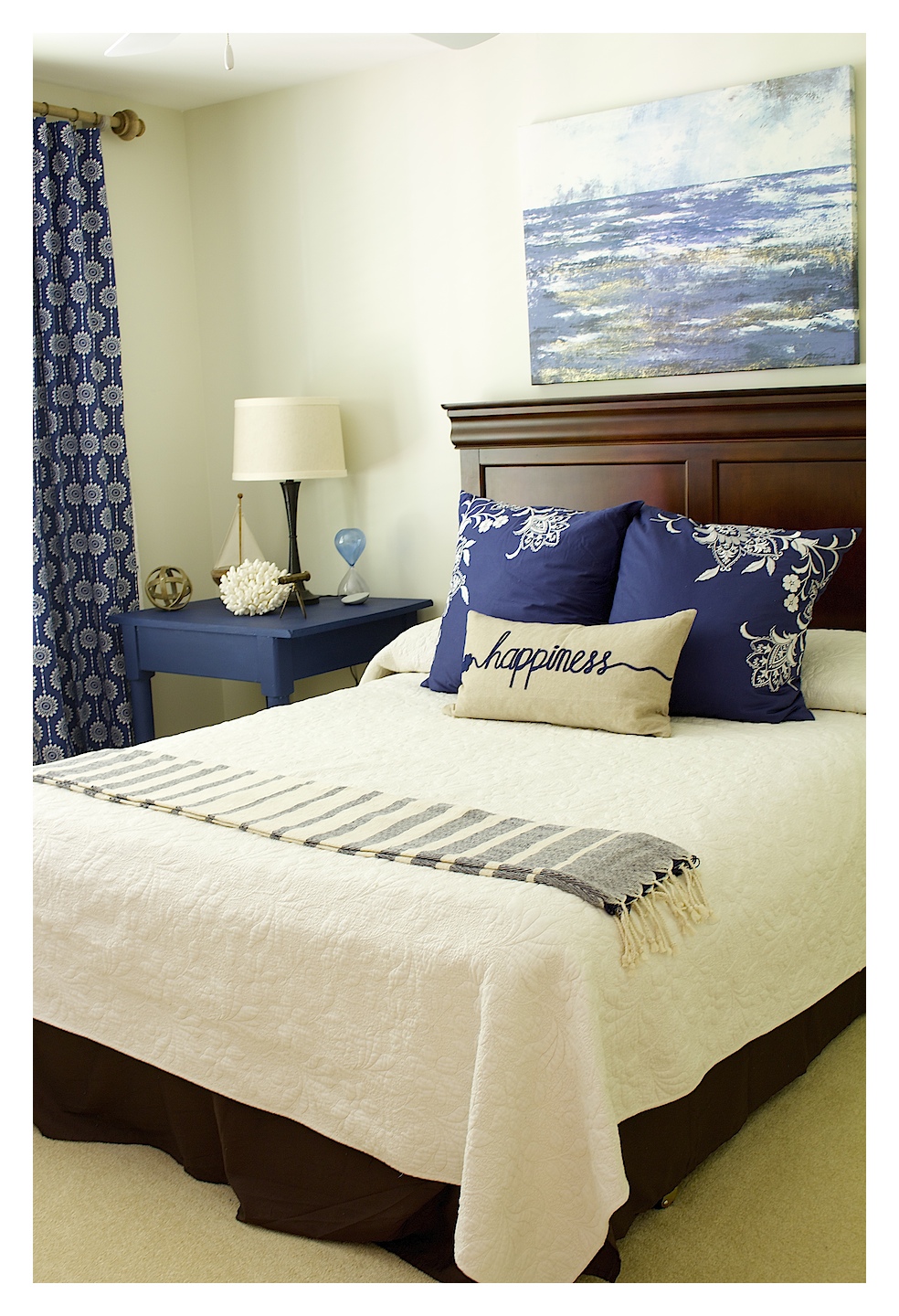 I just love the shades of blue. I was going to paint the headboard, but after seeing the artwork hung above the bed I realized it wasn't necessary. I was also very lucky with the bed pillows. When I returned home from the beach I helped Jennifer with the final packing for her move. The two large pillows were from her previous home and had been stored in her attic. She wasn't planning on using them so I snapped them up before she changed her mind 🙂 The "happiness" pillow was also from Jenn – I love free-to-me items!
I also kept the same lamps in the room…
Doesn't this bronze antiquated telescope look like the real deal?
I couldn't resist this sweet sailboat from World Market at 50% off.
The weathered wood items lend to a driftwood feel…
I wanted to add a pop of orange into the room. I bought the orange and white fabric remnant for $2.00 at a local shop.
I know I love to read magazines so hopefully our guests do too!
Speaking of guests…we will entertain our sweet friend CoCo this weekend – so she will be the first guest to sleep here!
These are old floats…
I just had to add this photo of my Grandpa Johnson to the room.  I'm not sure of his exact age in this photo but he was a young man. He was in his element – on a boat, cigar in his mouth, out on his beloved St. Johns River in Astor, Florida.
Whew – this was a long post. I hope you enjoyed the changes that I made to the guest room. I know that I really like the new space and hope that our guests do too!
Until tomorrow,
XO~Vicki