Please note that this post contains affiliate links. As an Amazon Associate, Rewards Style influencer and Jane Influencer, we earn from qualifying purchases and any sales made through such links will reward us a small commission – at no extra cost for you.
Hey y'all…with Summer upon us, my mind drifts to thoughts of vegetable garden bounty. Specifically fresh tomatoes and basil. There's just something about the first tomato of the season…warm, ripe and juicy. When paired with fresh, bright green basil there isn't anything better in my opinion. Typically I use both of these harvest favorites in homemade spaghetti sauce with meatballs. But in the Summer I prefer cold salads and side dishes. One of my go-to dishes is Easy Caprese Pasta Salad. The basic recipe is classic and delicious and you can make your own additions and changes depending on your culinary mood 🙂
These fresh tomatoes were in my farm basket this week. They were grown locally – and are sweet and tangy.
Thankfully my new basil plants are still alive with the heat wave that we have experienced this week.
Ingredients
8 ounces dried pasta cooked as directed on the package. I used bow tie pasta.
1 pint of grape or cherry tomatoes
6 ounces ball of fresh mozzarella, cubed into small pieces
1 cup of fresh basil, cut into strips
Sea salt and black pepper to taste
BALSAMIC VINAIRGRETTE
2 cloves of fresh garlic, minced finely
1/3 cup balsamic vinegar
3 tablespoons olive oil
Instructions
Cook pasta according to package directions. Drain and then rinse in cold water. Add the pasta to a medium sized serving bowl. Add the tomatoes, fresh basil and mozzarella. Season to taste with sea salt and black pepper.
Add balsamic vinaigrette and toss thoroughly.
https://2beesinapod.com/easy-caprese-pasta-salad/
I washed everything well…
Fresh mozzarella is so creamy and mild…
This basic recipe is pasta, tomatoes, basil and mozzarella…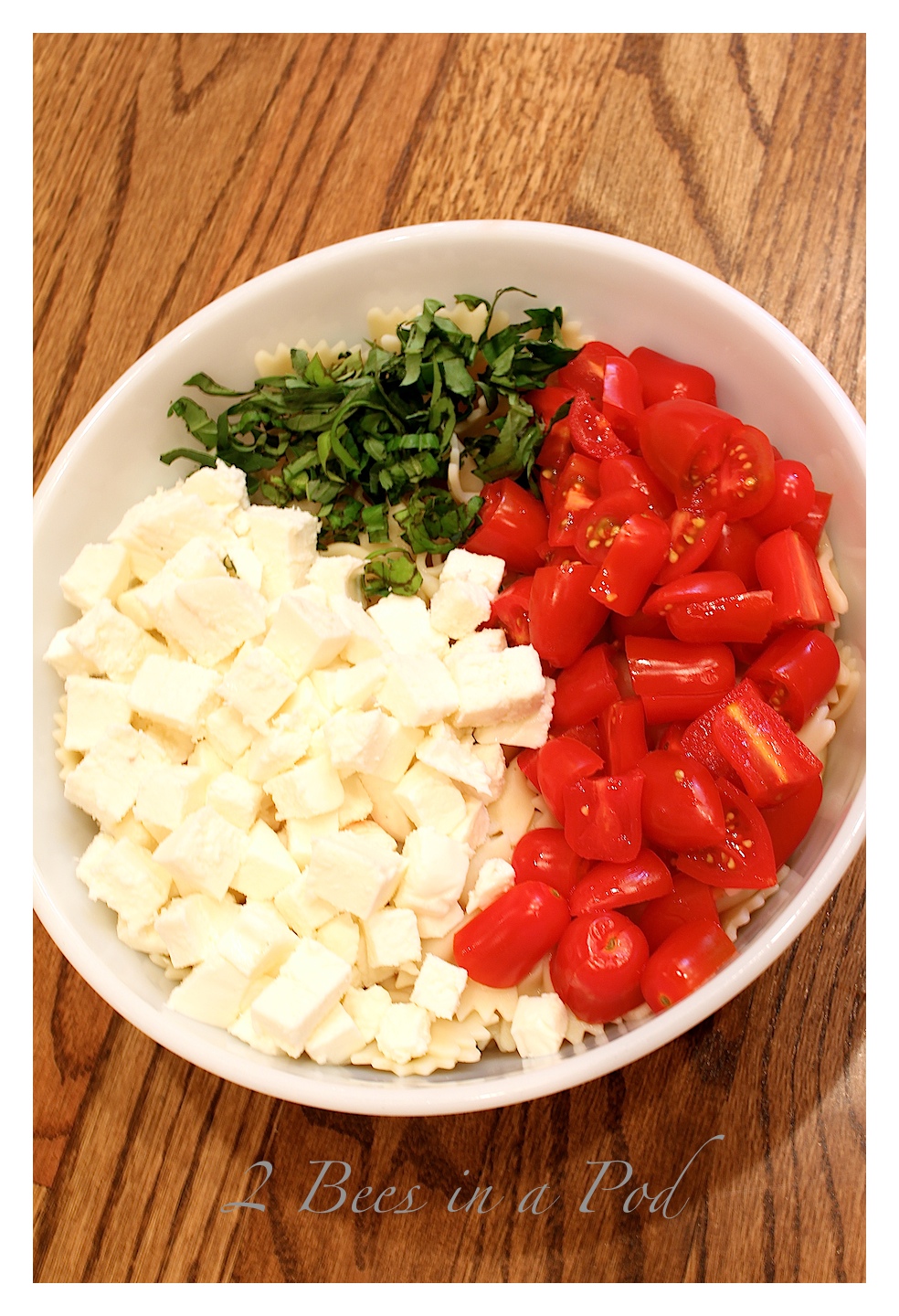 You can change this dish up by adding olives, garbanzo beans and chicken for a dinner meal.
…adding balsamic vinaigrette is the perfect finishing touch. You can even use homemade or bottled Italian salad dressing.
Doesn't this look delicious? Trust me, it is!
If you are ever in need of a quick dish, this is a sure winner! It's perfect for lunch, as a side dish or evening meal.
Enjoy! Buon Appetito!
XO~Vicki