How to Easily Clean Brass and Free Lemon Art Printable
Please note that this post contains affiliate links. As an Amazon Associate, Rewards Style influencer and Jane Influencer, we earn from qualifying purchases and any sales made through such links will reward us a small commission – at no extra cost for you.
Today I'm going to show you how to easily clean brass. Perhaps you already know how to banish the tarnish from your brass candlesticks, trays and doo-dads. You might be surprised to learn that you don't need to use any harsh chemicals or cleaners to achieve a brassy shine. All you need to do is reach for two items that you probably already have in your pantry right now. Let's get started.
Head to the Pantry
The magical brass cleaning potion is fresh lemon juice and baking soda.
Total side note – I purchased a 2 pound bag of organic lemons at Aldi's for just $1.57. Can you believe it? I'm not a regular shopper there but I think I need to start. After quickly running in for just a few produce items I was super impressed with the quality and prices. No, this isn't a sponsored post or anything 🙂 I'm just passing on a good shopping deal.
Thrift Store Candlesticks
These pitiful candlesticks were on a .10 cent table at a thrift store. As you can see they were badly tarnished and had a good bit of dried, dripped candle wax stuck on each one. They each have a bit of weight to them so I was fairly certain that they were real brass. I liked the shape of each candlestick and determined that .20 cents was a low risk investment.
How to Easily Clean Brass
Determine that your pieces are real brass and not brass plate. Plating can peel from metal and you do not want to use this method. Grab a refrigerator magnet and see if it sticks to your brass. Magnets do not stick to real brass. You're good to proceed to the next step.
Use very hot water to remove all candle wax. As soon as the wax begins to lift remove brass from hot water and break off the wax pieces. Dry completely.
Lemon juice contains a natural mild acid that will clean brass. Baking soda is a natural cleaner and offers just enough grit for cleaning.
Make a brass cleaning paste: 2 parts baking soda to one part fresh lemon juice. This mixture does not need to be exact. The baking soda should be medium yellow in coloring and mildly wet. Apply to the brass with your hands or a very soft cloth. Gently rub until the brass comes clean. Rinse well with warm water. Dry well.
Do not handle clean brass a lot as it will lose its luster.
Start Cleaning!
Here you can see how much of the cleaning paste I applied. I just used my bare hands and kept rubbing until all of the tarnish was clean.
Keep doing this until your entire brass piece is cleaned.
Yes, I was surprised at how well these .10 cent candlesticks cleaned up. It is like a night and day difference! One candlestick has a little bit of pitting but I'm okay with that. You know me, nothing is perfect in my house…except me 🙂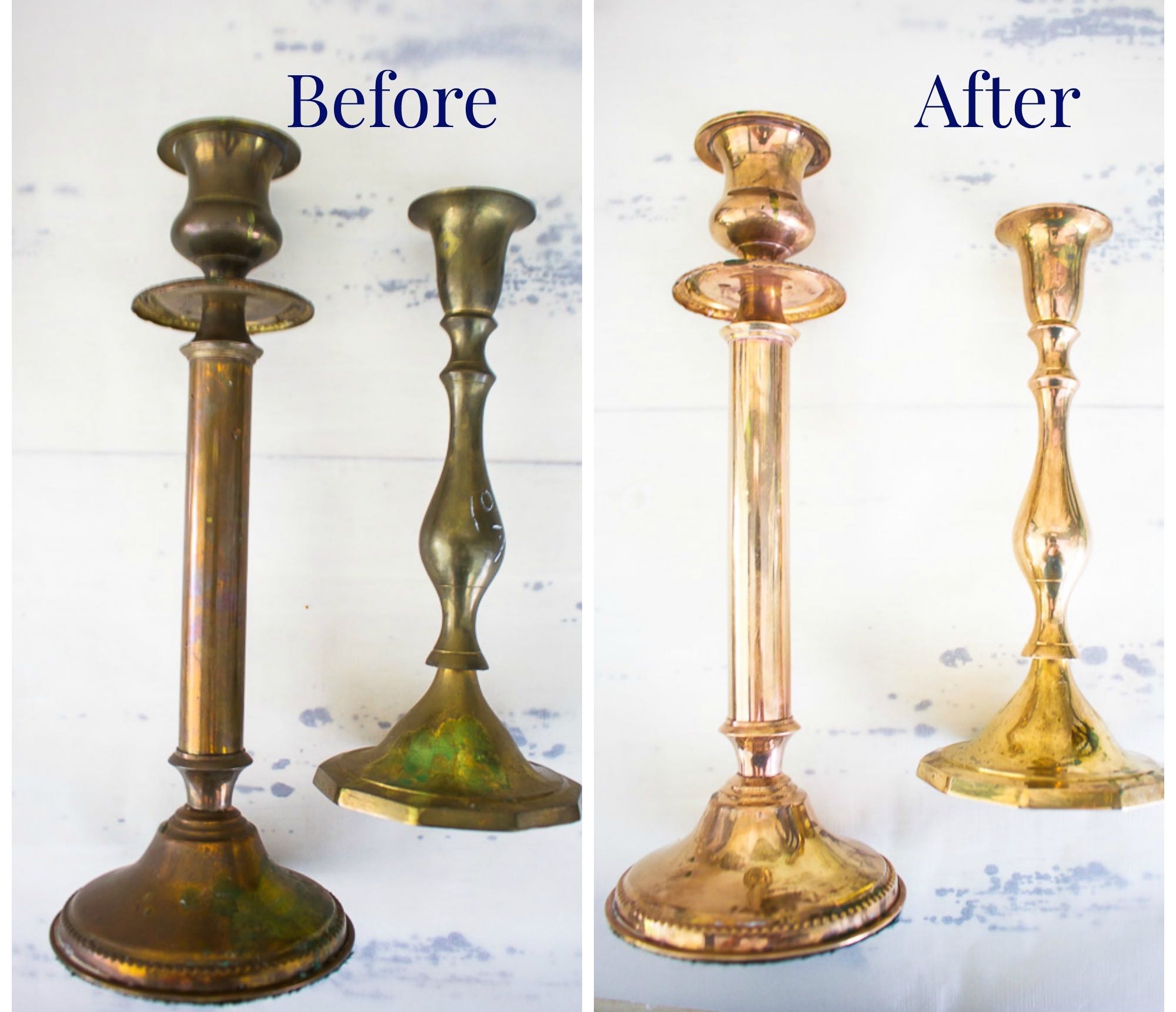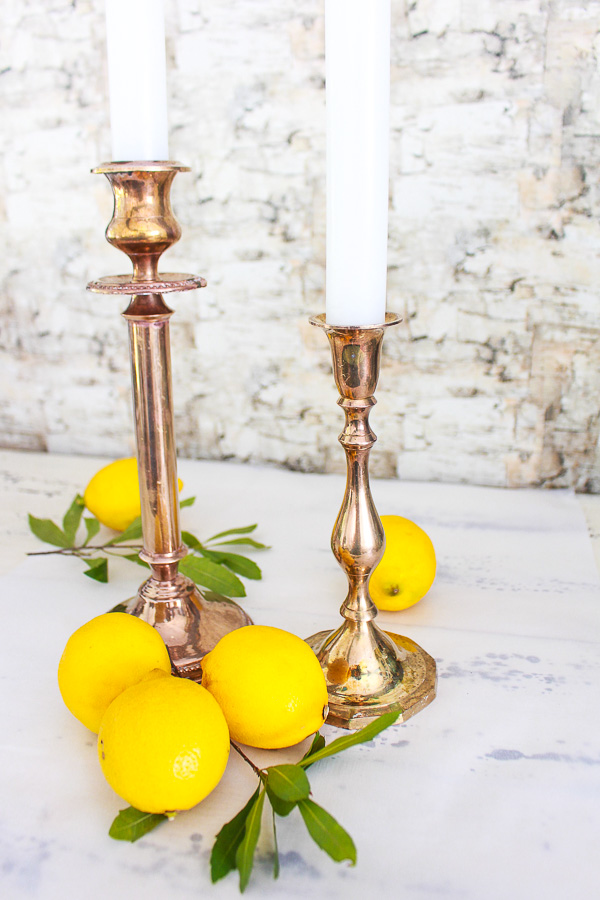 Do I dare use the "F" word and say that I had a sudden craving for Fall? Yes, I know it's too soon!
Since I have been slowly making over my dining room I have surprised myself that shiny brass keeps showing up. My new dining room chairs have the gorgeous large brass rings on the back.
Last week the painted side board buffet got a total makeover. The above cleaning method was used to clean the pretty brass hardware.
I created a cute lemon printable for you. Just click the link or the artwork for your free download!
If you have any fun cleaning tips I would love to hear them.