Bargain Side Table Gets a Makeover
Please note that this post contains affiliate links. As an Amazon Associate, Rewards Style influencer and Jane Influencer, we earn from qualifying purchases and any sales made through such links will reward us a small commission – at no extra cost for you.
Mom is still recuperating after her surgery and I am in the throws of wedding planning, so needless to say we have a lot going on 🙂  We thought for today's post we would take you back to one of our first projects on 2 Bees that we just love!  In fact this piece is in mom's living room.
When we were out thrifting for a deal (our normal pastime) we found this great table at our local Goodwill.  I spied a very nice looking end table – solid wood(we think it's cherry), very good shape, nicely made,  Ethan Allen table.  I looked at the price tag, looked up at mom wide-eyed and said "this table is $5.00".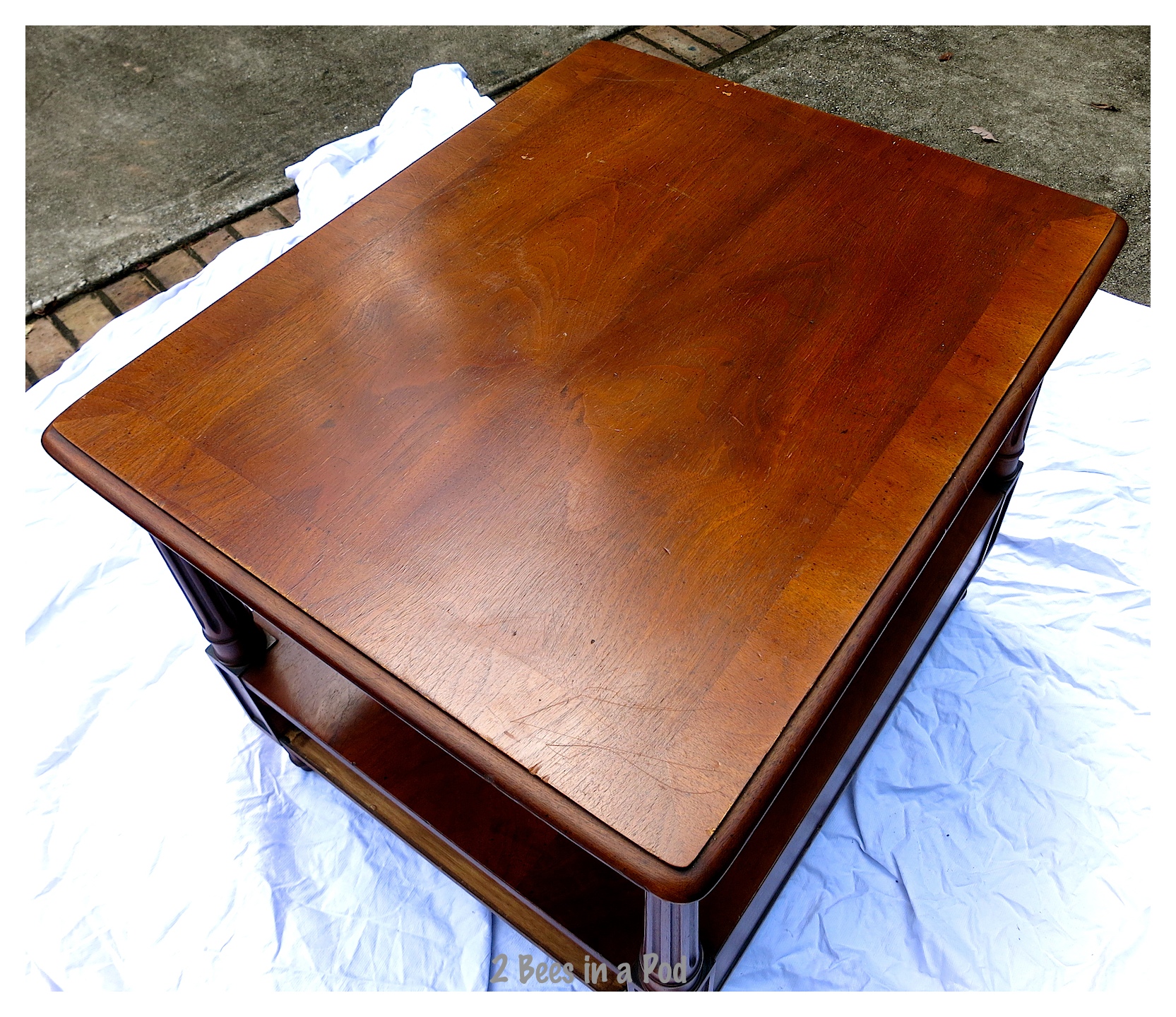 Mom – the ever supportive mother – said "No way!"  I mean, we are very thrifty with our finds but this was a great deal.  The next question was – "What's wrong with it?"  Honestly, it is practically perfect.  The table is missing a drawer.  The good news is that the drawer isn't really needed.  We can totally conceal the open space by placing that side against the wall.  We can eventually find a basket to go in its place but we don't think it is necessary.
Here is our $5 Goodwill table before we started transforming it.  See the empty space where a drawer used to be?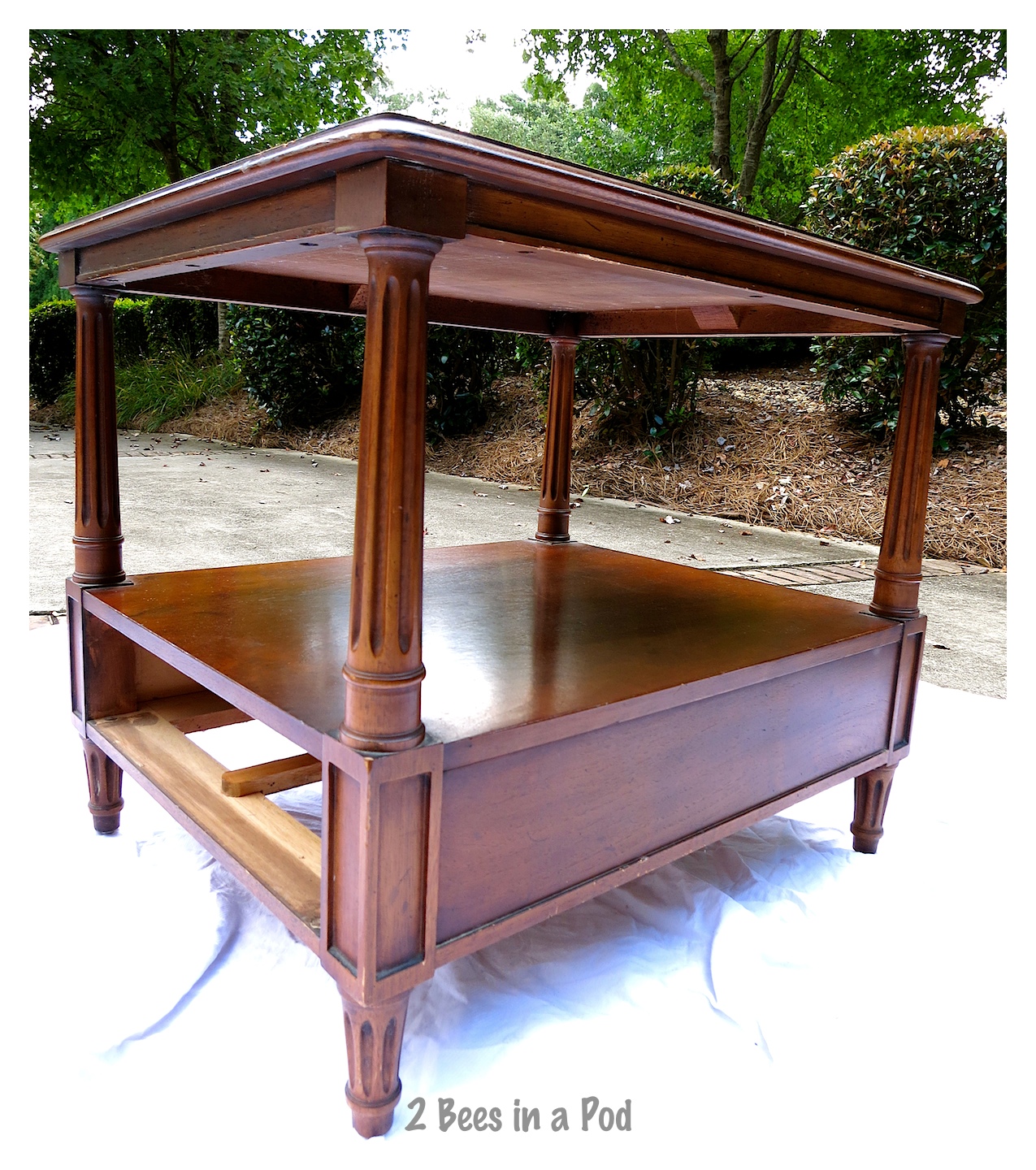 I primed the end table with our go-to-every-time Zinsser gold.  I then painted one coat of Antique White paint.  We were surprised that one coat of paint gave such great smooth coverage.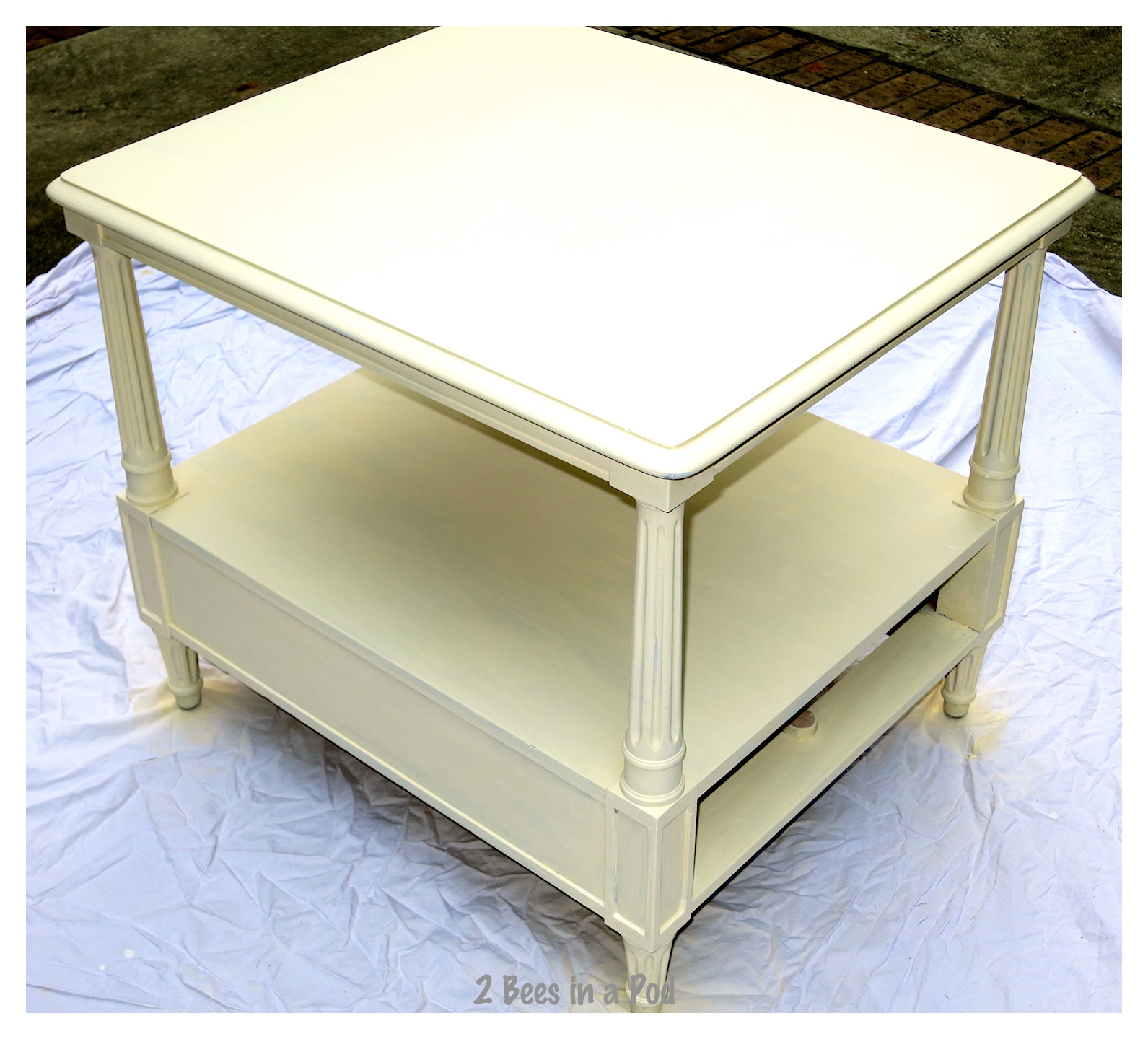 Next, mom began the antiquing process to obtain the French look that we wanted.  This is the stain medium that she used – can you tell the Danish Oil has been used a lot?
Just put a dollop on a rag or paper towel and begin rubbing onto your surface.  You can use more if you want to achieve a darker look.  Work quickly and in small areas at a time.
This is a photo shot before the excess Danish Oil was rubbed off.  After the excess oil was removed, a thin coat of paste wax was added to the top for an even smoother finish.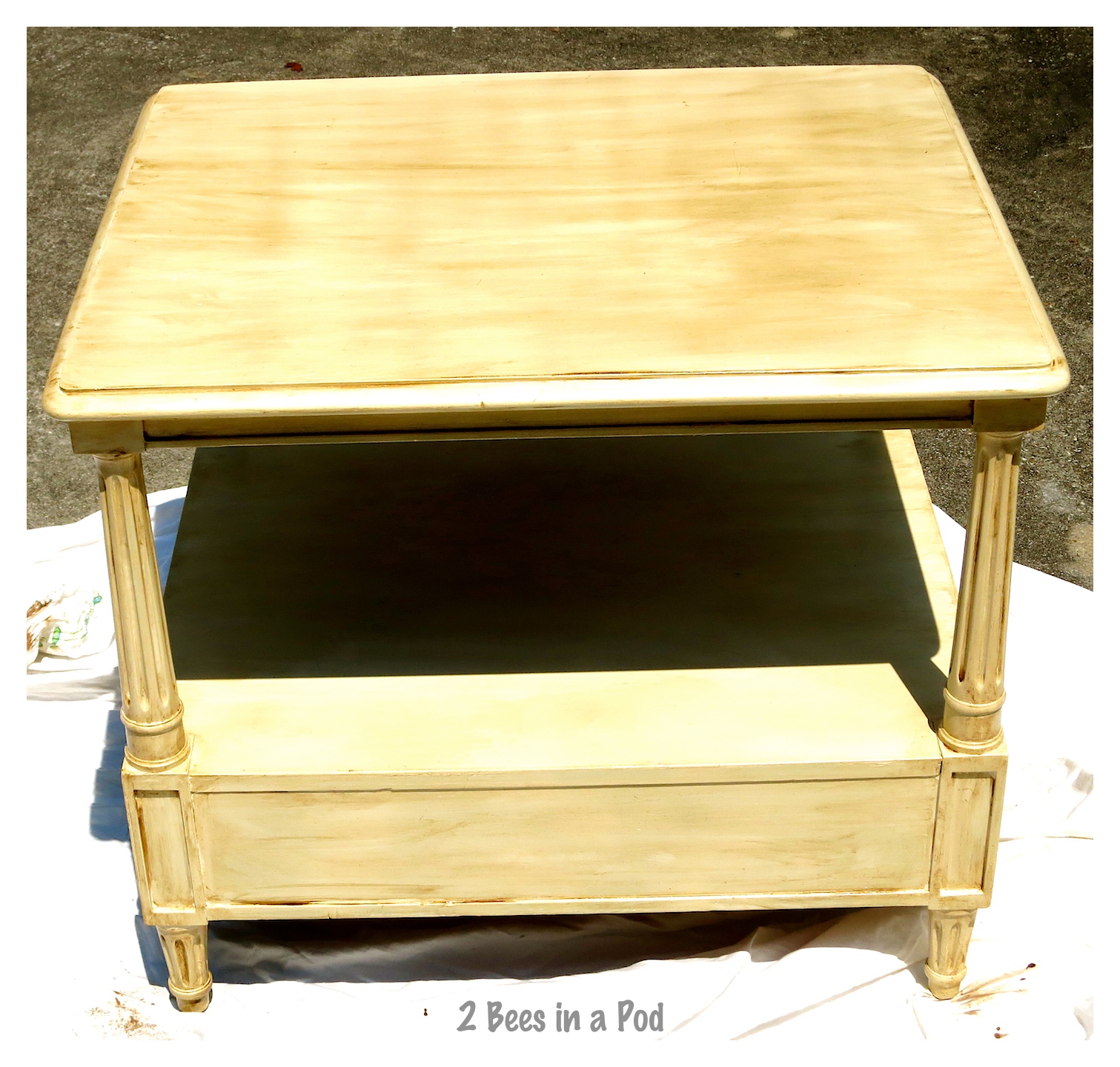 Ta Da… we think this side table turned out great.  The drawer isn't even missed.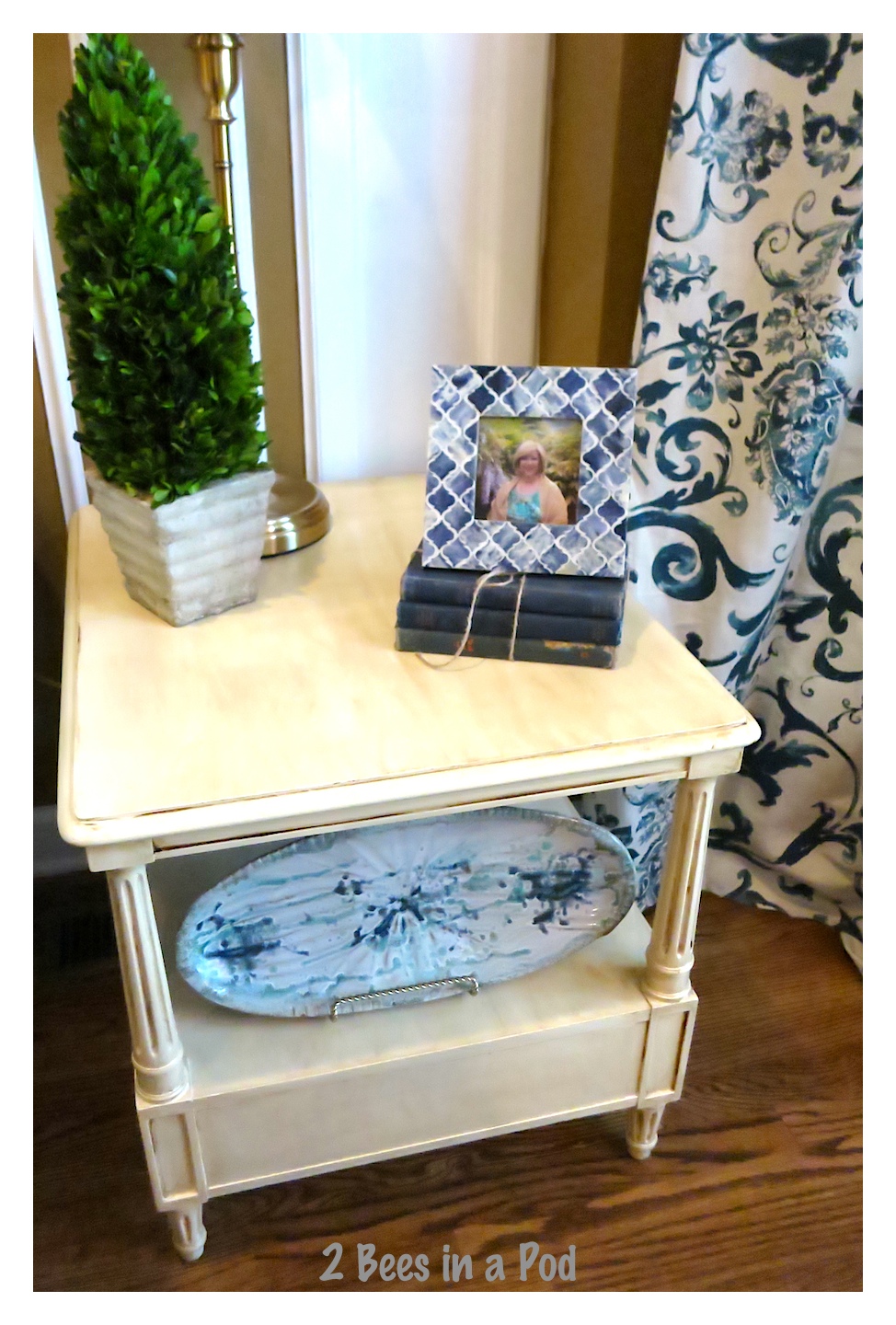 Here's a close-up of the detailing and antique finish.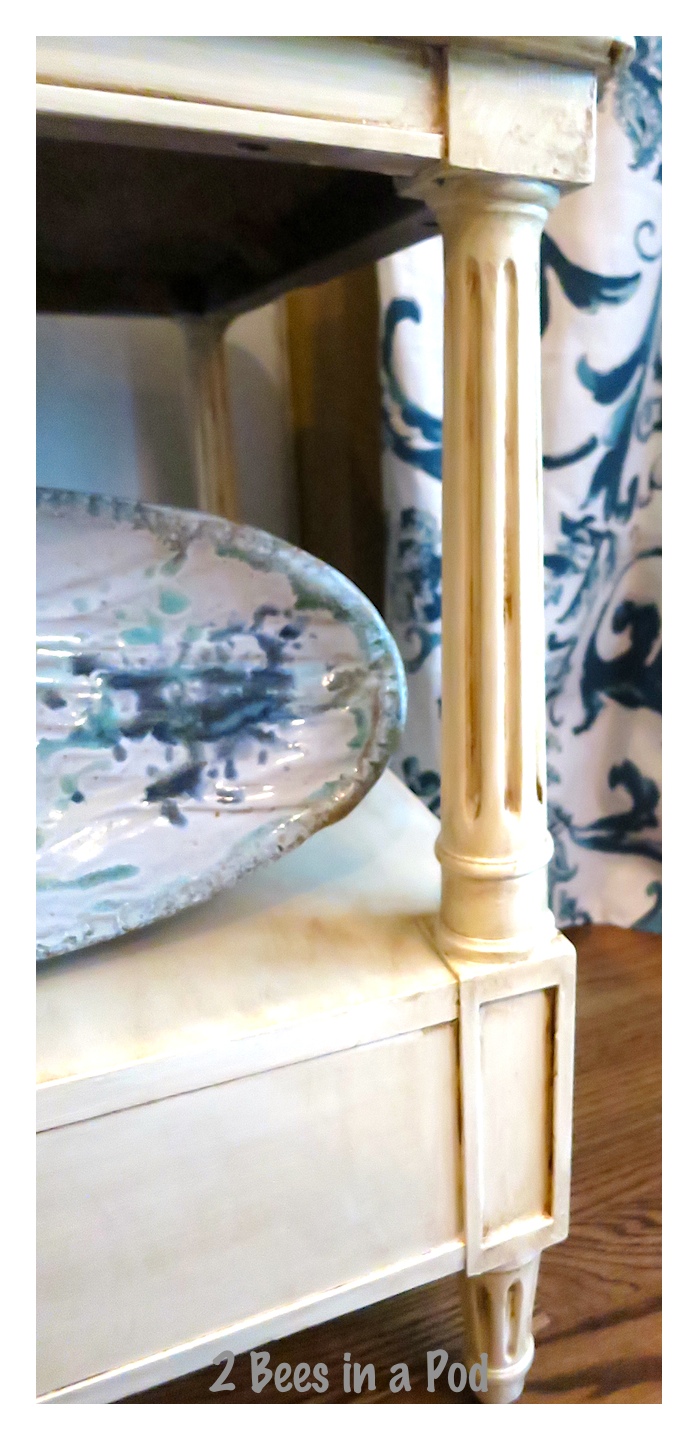 No one would ever know that this started out as a $5.00 thrift store find.  We are always amazed at how just a little bit of paint and polish can totally update and change the look of a piece of furniture.
Have y'all found any fabulous thrift store deals lately?
You can Pin the project directly to your Pinterest Board HERE