Painted Thrift Store Frames
Please note that this post contains affiliate links. As an Amazon Associate, Rewards Style influencer and Jane Influencer, we earn from qualifying purchases and any sales made through such links will reward us a small commission – at no extra cost for you.
Hey y'all…I've been busily working on some projects in the house, most that I have been putting off for one reason or another. One project that I am excited about is updating the sitting room in our bedroom. I staked a claim to this space as soon as we moved into the house. There is a small built-in corner bookcase in the room that I'm starting to pull items together for.
When I really thought about the purpose of this space it really made me focus on what I wanted this room to be.  I want it to be:
comfortable
a cozy place to read
a quiet place for meditation
a place with laughter filled telephone conversations, catching up with family and friends
After creating this list I had a strong pull to include family photos on the shelves.I cherish my rich family history…I have vintage photographs throughout my home. I decided that I wanted to include some of these great photos on my shelves in the bookcase.
Truth be told…my picture frames came from my basement – not the thrift store. You may already have several mismatched frames that you can do this project with. Or you can find many of these frames – different shapes and sizes for very little money at thrift stores and yard sales.
Here's my collection…they are wood and plastic.
I wanted to create a cohesive look, so I decided to paint them. I removed the glass inserts and the backs…
I used leftover chalk paint in a creamy white. This is the first coat…
I had intended to lightly distress the frames and apply some dark wax. But, after the second coat of paint dried I decided that I really liked the frames just as they were. By just adding a bit of paint in the same color, the frames became a collected look – instead of mismated styles.
Aren't these photos the best? That's my mom and dad sitting on the picnic table…
This sweet photograph is of my mother in an enamel basin…
…and this is my great grandfather sitting on the porch.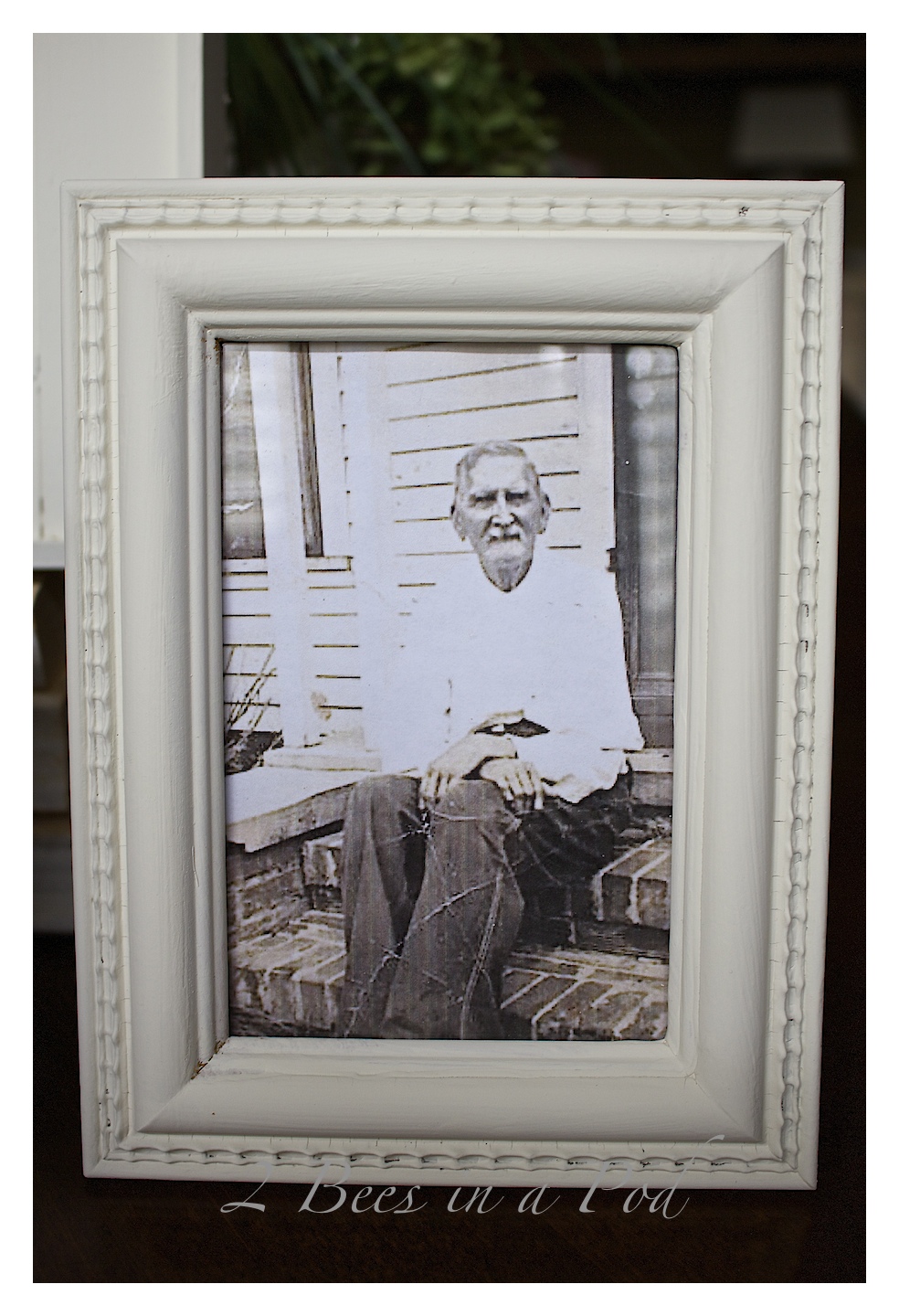 I hope to complete the room and show it to y'all next week. Now that I completed this project it makes me excited to get all of the elements in the room. Hmm…what else can I put in there?
Until Monday,
XO~Vicki