4th of July Place Settings – Mother/Daughter Bloggers
Please note that this post contains affiliate links. As an Amazon Associate, Rewards Style influencer and Jane Influencer, we earn from qualifying purchases and any sales made through such links will reward us a small commission – at no extra cost for you.
4th of July Place Settings
Happy Monday friends! Are you gearing up for any big 4th of July holiday festivities? We thought it might be fun to showcase our mother/daughter decor and see how different or similar our style really is. 2 Bees in a Pod will be showcasing 4th of July place settings – one in Vicki's (mother) and one in Jenn's (daughter) style.
We are pairing up with another mother/daughter team – Janette and Jordan of The 2 Seasons. This fabulous duo will be sharing recipes. You can catch their post below.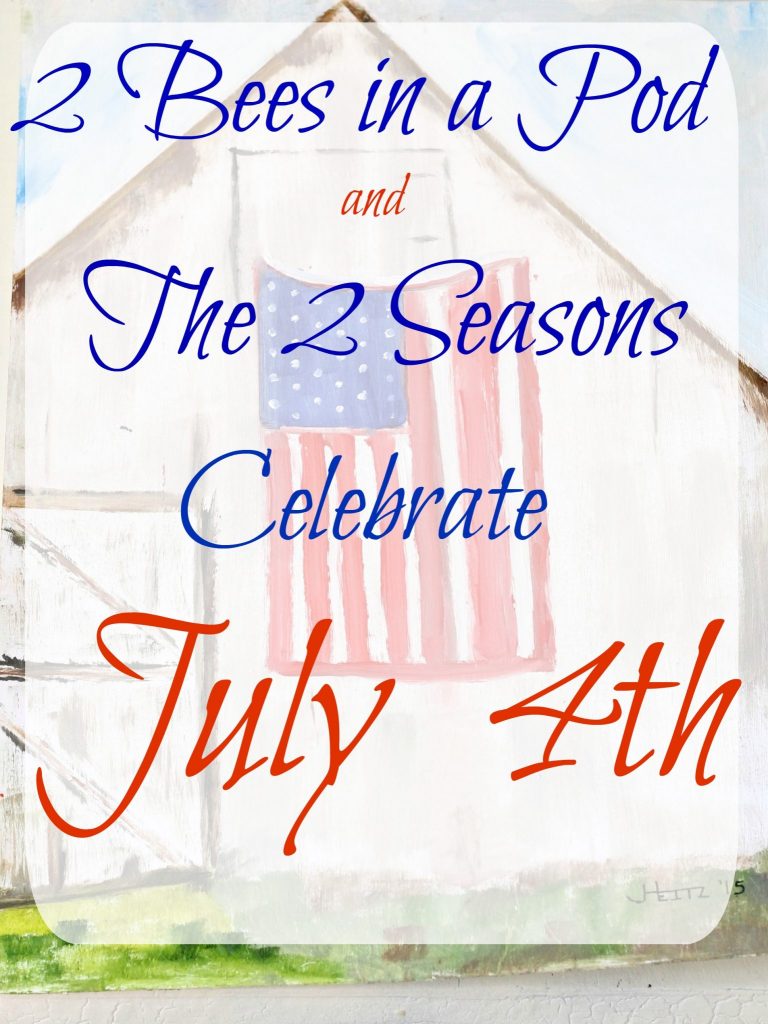 Vicki's Place Setting – Mother Decor Style
When I think of 4th of July it conjures up images of summertime nostalgia. Town parades led by bright red fire trucks with big American flags floating behind. Hand-churning peach ice cream in my grandparents back yard with the promise of the first bowl for all of my hard effort. Family fish-fry that just wouldn't be complete without yummy grits, hush puppies and fresh-grown tomatoes. The day finished off with all the kids running through the field with lit sparklers and the adults lighting up firecrackers and bottle rockets.
Sometimes I think this is why I love almost all things vintage. It reminds me of family, home and love. Today's 4th of July place setting is no different. Even though I start with pieces of my grandmother's china, I sprinkle in other casual elements to make it less formal and stuffy.
Both of these china patterns are treasured pieces. By the way – I don't lock them up in a cabinet to admire as museum pieces. They are definitely used at my dinner table.
A few years ago I purchased a box of these cute American flag appetizer picks. Well, I think they keep multiplying in the drawer. I created simple place cards for each guest.
This vintage spice can is the perfect vessel for flowers for each place setting.
Grocery store roses were divided up for each arrangement and then red flowers from my garden were added in.
Fast, fun and easy! Mixing and matching what you have is any easy way to make the old look new again. Now, lets see what Jenn is up to.
Jenn's Place Setting – Daughter Decor Style
Hey y'all! I'll admit that I don't have a whole lot of 4th of July decor. We're always going to the lake with mom and dad, so I've never needed to decorate for it. Of course I assumed I could find things I already had around the house, which is what I consider one of my specialties, but I was mistaken. I have barely anything red and most of my blue decor consists of decorative pillows and throws, which wouldn't really work on a dining room table.
So, I did the most logical thing and took myself to Target. We are obsessed with the dollar spot, you know the place at the front of the store that gets you every stinking time, and I knew I could find some great items. This project had to be on a budget. I did the entire place setting for under $5, with extras to spare for the other place settings. I used a dishtowel I had to act as a placemat, which I loved how it turned out.
Aren't these napkins adorable? They were only $1 for a pack of 10.
These were treat bags that I thought would be perfect to hold silverware.
This little lantern was only $1, and with the red clothes pin, makes for a cute little name card.
I love how this turned out and was glad I was able to do it on such a budget! The little stars were also from the Target dollar spot.
We hope that our 4th of July place settings offered some inspiration for next week! Now, don't forget to visit our friends Janette and Jordan. We love that they too are a mother/daughter blogging team and dare we say that they are as close as we are. Click on any of the links or photo below to see what they have to share today and learn more about these fabulous ladies!