Beautiful Table Settings with Thrifted Finds – Thrifty Style Team
Please note that this post contains affiliate links. As an Amazon Associate, Rewards Style influencer and Jane Influencer, we earn from qualifying purchases and any sales made through such links will reward us a small commission – at no extra cost for you.
Beautiful Table Settings with Thrifted Finds – Thrifty Style Team
Hopefully you love visiting thrift stores as much as we do. Even while vacationing we manage to shop thrift stores and antique malls. Last week while on a Florida beach vacation and visiting with my bestie, Bambi, we managed to bring home a great haul. The thrift stores really seemed to be bigger, better and over-all less expensive. What I want to share today is my fabulous score on a partial set of antique ironstone dishes. I will also share how to use these beautiful table settings with thrifted finds.
Timing could not be more perfect as today we are joining our Thrifty Style Team friends. We each showcase our individual thrifty style. Needless to say, thrifty is fabulous – not boring. You can see their great ideas at the end of this post.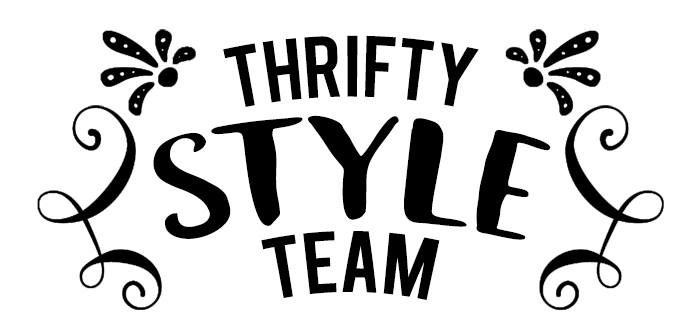 Thrift Store Score
Even though I purchased "tons of stuff" according to Honey Bee, today is all about these octagon dishes.
As you can see, each piece was .99¢. Sadly, there were only five salad plates, five salad bowls and one large vegetable bowl. So a little less than $11.00 for ironstone dinnerware.
They are slightly heavy pieces and I just fell in love with the shape.
Always look on the bottom for makers mark and information. This mark by Johnson Brothers cued me in that these dishes might be antique.
Once I returned home, I began an online search. Immediately I discovered that the dishes are indeed antique and the pattern name is Heritage White. But this isn't even the best part! On the Replacements website, I learned that this is what they are selling my same pieces for!!!
Salad Plate
Cereal Bowl
Vegetable Bowl
So, if you are keeping a tally:
Me $ 10.89
Replacements 299.89
Potential Profit $ 289.00 😍
This is why Jenn and I love thrifting so much! You never know what you will discover or buried treasure you will find.
I couldn't wait to play with my other fabulous thrifted plates and dishes. Mixing different dishes and patterns is one of my favorite ways to create an eclectic and beautiful table setting.
In the photo below, every single piece was a thrift store find. See how lovely the octagon plate looks when layered.
For this example, every piece is thrifted except for the cute pink egg. It was a Dollar Spot score last year for $1.00 each.
Last year I created this Pretty in Pink tablescape for Spring and Easter. My inspiration came when I found these rose plates for just $1.00 each at an antique booth.
Other thrifty items are the candlesticks, pink glasses, pink napkins, DIY painted books and Oui™ yogurt jars as mini vases.
My sincerest wish is that you have been inspired in some small way today. Hopefully you are heading out to your closest thrift shop right now!
Jenn and I would love to see your latest thrift scores. We will be sharing more of our haul with you over the next couple of weeks!
Don't forget to visit all of our creative friends below!
Pin this to your favorite Pinterest Board!