Sometimes I am struck with inspiration when I least expect it. Like this project today. I was in a dollar store and saw this tin bucket. I wasn't even looking for one, but there it was sitting pretty and shiny on top of a shelf. The one dollar price tag is a sweet deal too. Right then and there I knew exactly what I wanted to do. Here's how I made my DIY Galvanized Bucket for Fall. (This post contains affiliate links.)
This bucket was a bit too new and shiny for my taste. You can purchase a similar bucket here
. I wanted to create a vintage look of a galvanized finish. I dug through my paint stash and found this leftover hammered silver spray paint, which you can get here
. Then, I gave the bucket one quick coat.
The finish already looked much better. For the vintage fall fabrics, I searched the website of Graphics Fairy. If you are in need of inspiration please head to her site. She has tons of graphics that are free for you to use.
I chose this sweet antique postcard. I changed the wording and printed in a 5×7 size.
I used Mod Podge
 in a matte finish and spread it onto the back of the graphic and adhered it to the galvanized bucket.
After it dried completely, I added another coat of Mod Podge to the front of the graphic. I was very careful not to get any of the adhesive onto the galvanized bucket.
When this coat dried completely I added a small amount of dark wax to the graphic. You can find a similar dark wax here
.
This was blended in very well. I then added a generous coat of dark wax to the entire bucket. It really made the bucket look authentically galvanized.
Love, love, love how this turned out!
This project set me back a whole dollar! I already had the paint and wax on hand and the graphic was free.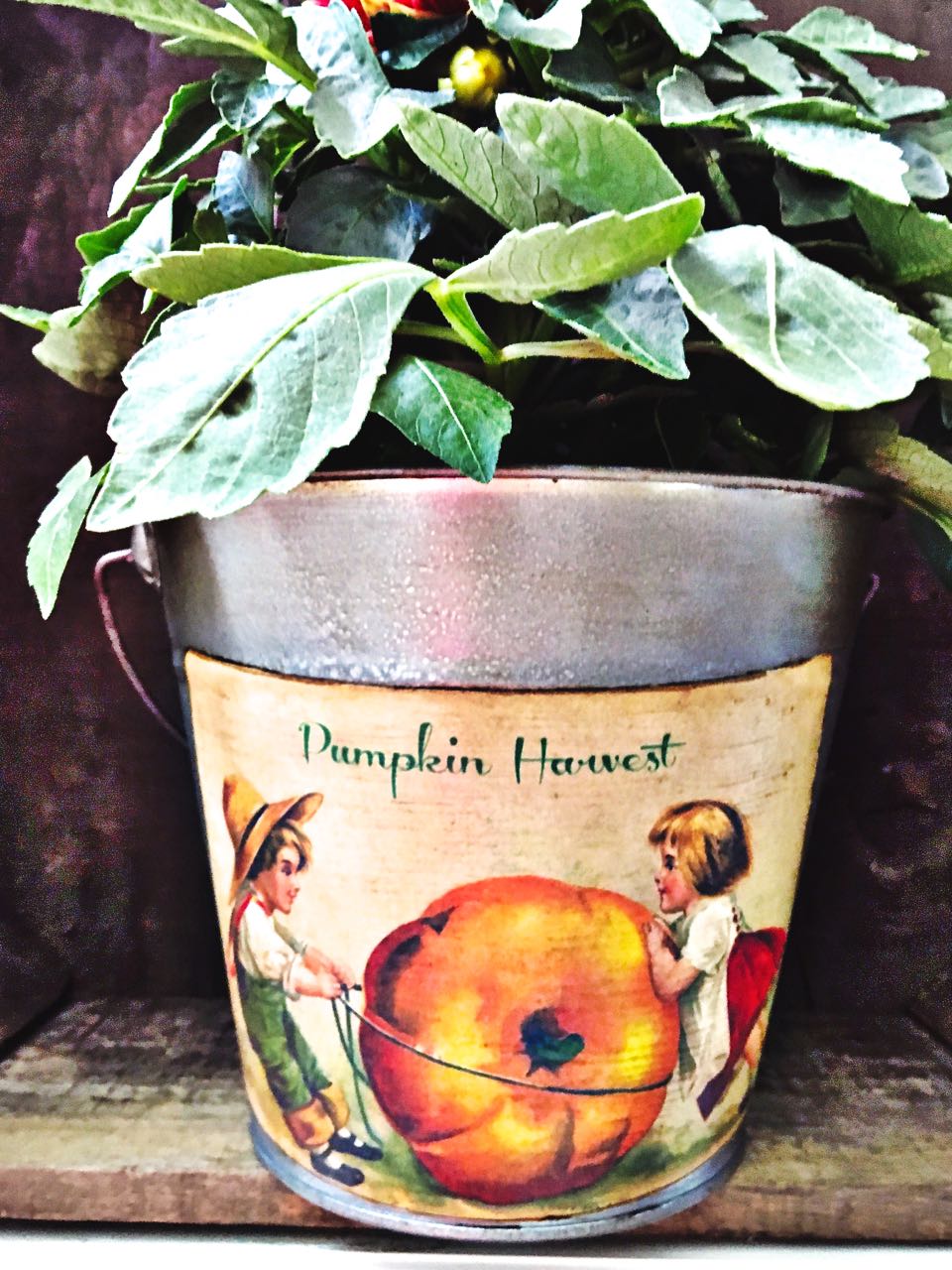 This bucket is going to get a lot of use in my Fall decor. I can't wait to showcase it in vignettes with different displays.
Have you found anything fun and interesting at the dollar store recently?
Until tomorrow…
XO~Vicki
Let's be Pin Pals. Don't forget to Pin this to your favorite Pinterest board…