Rustic Wine Sign and Free Fall Printables
Please note that this post contains affiliate links. As an Amazon Associate, Rewards Style influencer and Jane Influencer, we earn from qualifying purchases and any sales made through such links will reward us a small commission – at no extra cost for you.
As promised, I'm showing you how to create my rustic wine sign and we're giving away free fall printables too! You may have seen a glimpse of it in Tuesday's post for our Fall Tablescape. I don't want to strut like a peacock or anything , but I'm pretty proud of this. For Honey Bee to ask "Where did you buy that?"…well, that's all the compliment I need to hear!
I started this project with a piece of old fencing that I sprayed down with diluted bleach water. I just wanted to be sure that there wasn't anything living on, or in the wood before I brought it into the house.
I found these fabulous metal letters in a shop near the lake for .75 cents each. They are lightweight and 3-dimensional. At first I was looking for flat metal letters. I did find some online but they were $5 a piece. So, when I happened upon these raised letters for such a great price I pounced 🙂 You can find similar letters in the craft store, as well as here
.
I laid out the letters to be sure that they fit my board and that I liked the look.
I also envisioned a menu or interchangeable art for my sign. I like to change things up each season or to personalize the board each time guests come over. I determined that a clip would be the best and easiest way to do this.
I didn't have an office clip in my stash but I did have this clip from the back of a conference name badge.
Have you used this glue? I love it! I'm not getting paid to say that or anything 🙂 This is just my honest opinion. When this stuff dries it is strong and permanent. It takes a bit of time to dry, but it is worth the wait! I've used this on a lot of items – even DIY hanging hooks – and this glue holds. You can purchase the glue here
I am thrilled with how it turned out! This is the menu I created for our wine dinner party.
Gosh, I just love weathered wood!
I kept the board long in case I have a really long menu for Thanksgiving.
It looks great for outdoor dining too!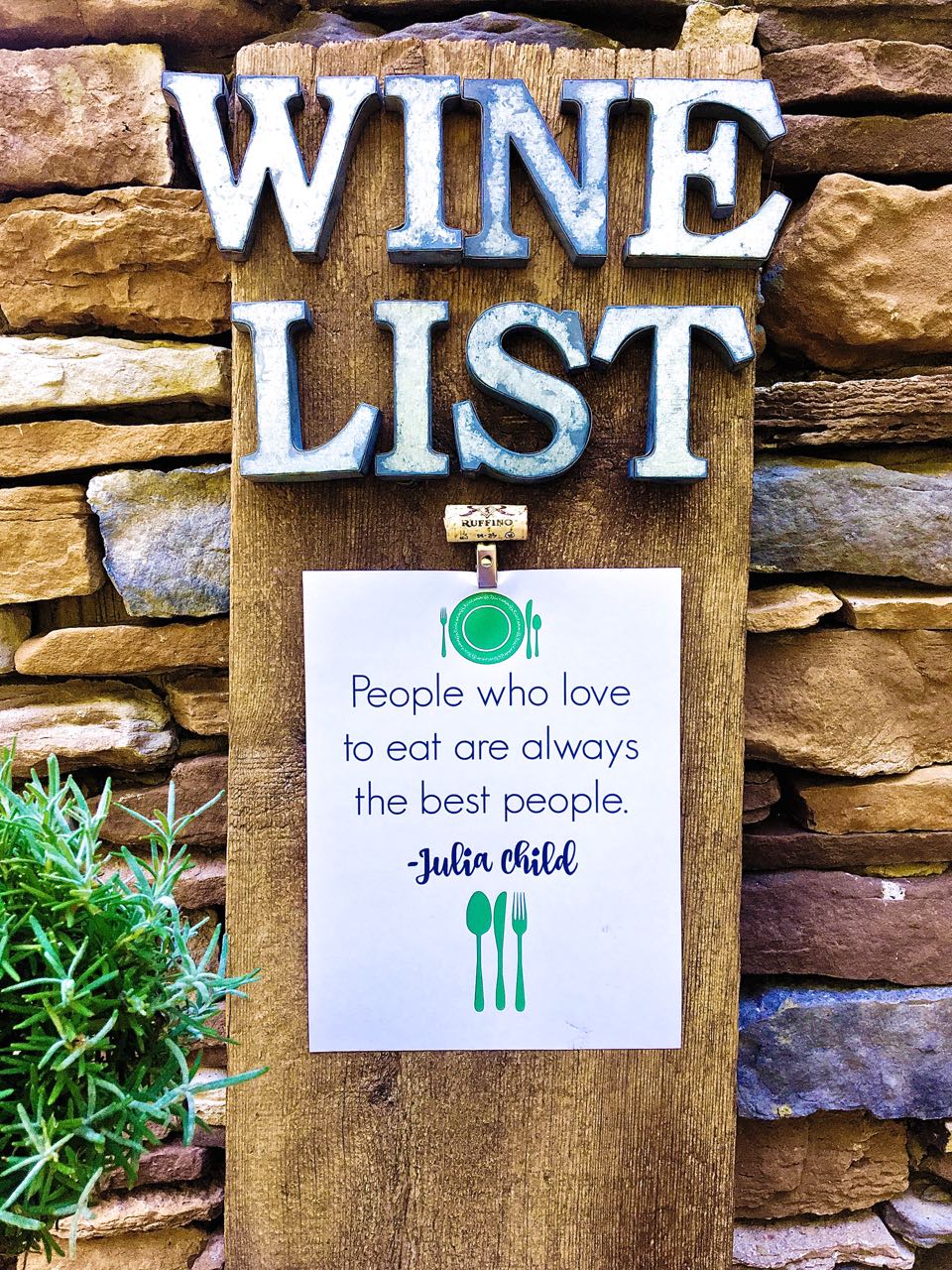 This is our favorite Julia Child Quote…
You can create and personalize different letters for your home…DINE, EAT, YUM, SWEETS – well, you get the idea.
So…What do you think?  It's a big hit in our house. I'm already brainstorming lots of ideas for future parties and holidays.
Here's other party posts if you missed them: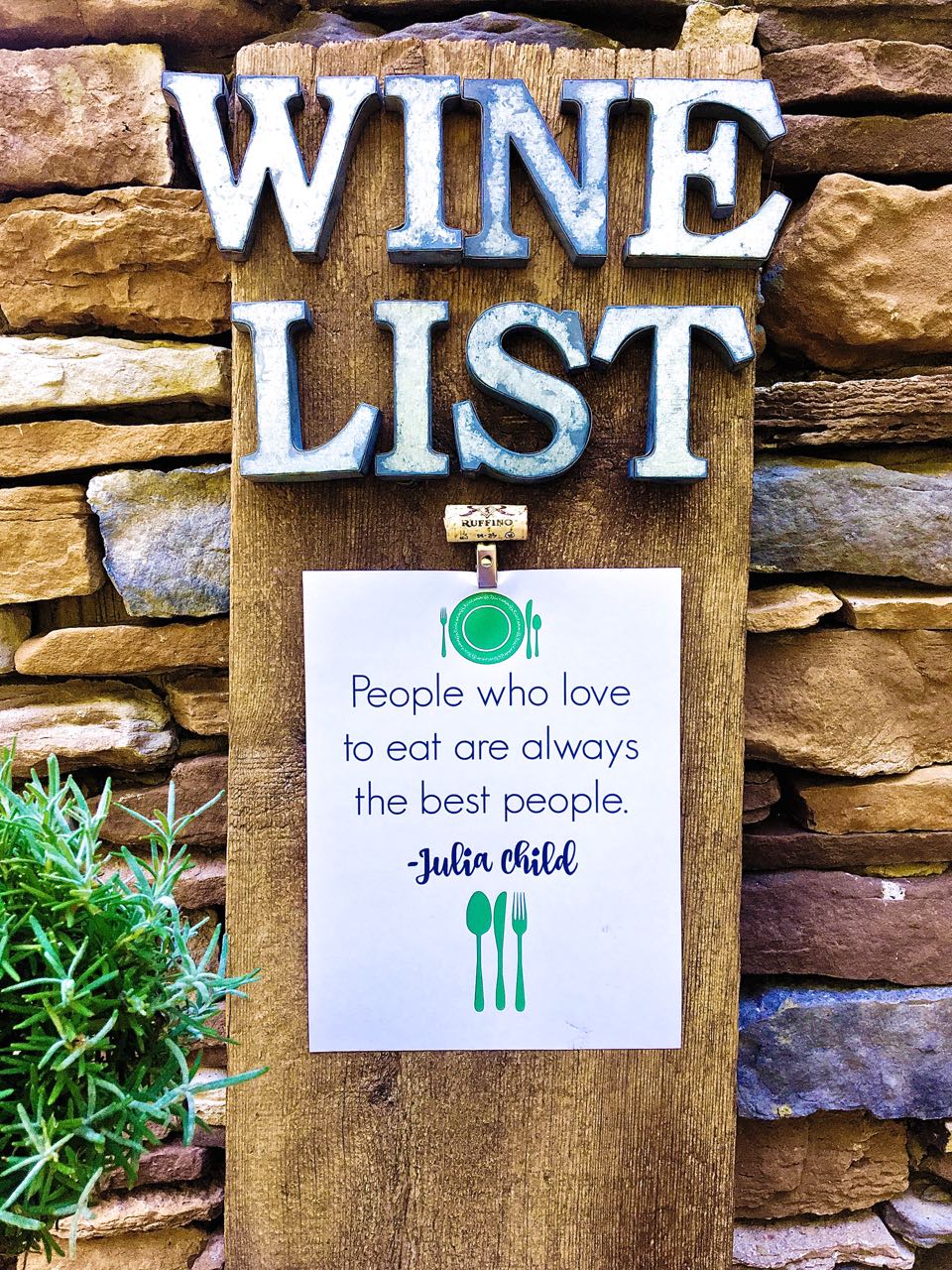 This is our most favorite Julia Childs quote.
As a big

"Thank You"

to all of our readers I've created a few versions of this Fall artwork. These are all

FREE

printables just for you! Each one is full-sized at 8 1/2 x 11. I trimmed mine to be square. I feel they print and look best on thick card stock. Enjoy…
Free Printable      Fall Quote Printable       Menu Printable      Wine Selection Printable
I hope your Fall is off to a fabulous start!
Until Tomorrow,
XO~Vicki